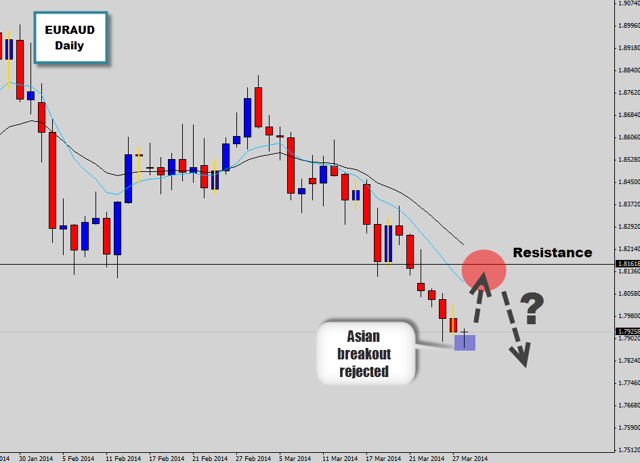 The GBPAUD daily chart has come to life as sellers push price below a critical support level around the 1.8160 mark, which was containing price for some time. Now the market conditions have gone from flat/choppy to a market with nice bearish momentum.
The bears have extended price down into new lows, where now we're seeing some evidence that price is stalling. An asia breakout to the downside was denied this session, evident by the lower tail on the current day's candle at the time of this writing. These failed Asia breakouts can be an early indicator of what to expect in the following London/NY session.
If the bulls follow through here, we may see price start to recoup some of it's losses and look to retest the old support 'breakout level'. It's here we will be waiting for a bearish price action signal to consider short positions. This is a high value area for bearish reversal signals to be printed as the support level could be a critical swing level within the trend, and co-exist with the mean value. This creates what we call a bearish 'hot spot'. Make sure you have this one on your watch list for next week.