An excerpt from the most recent AMM Dividend Letter.
Catalyst for dividend growth and price appreciation:
Earlier this year SLM Corp. announced that it will be spinning off its high growth, high return on equity private education loan business while the parent company will retain and manage its large student loan portfolio. The private bank, the spin off, will be named Sallie Mae Bank. The parent company will change its name to Education Loan Management. Splitting the company in two via a spinoff is a classic value creating strategy. Conceptually, the parts should be worth more than the whole, since investors can now value the high growth business independently of the operating performance of the slower growth business. The spinoff is expected to occur sometime in calendar year 2014. We outline the attributes of each post spinoff business below:
Education Loan Management (predictable cash flows, consistent return of capital to shareholders):
This entity will manage the cash flow from a student loan book that will amortize in 20 years and will remain the largest education loan servicer in the country. After accounting for operational expenses and discounting back the expected and reliable cash flows for the next 20 years we arrive at a value of $25 per share for Sallie Mae's student loan portfolio. Ultimately, we expect Education Loan Management to return more capital to shareholders via share buybacks and dividends after the spinoff is completed. The potential exists for the value of Education Loan Management to increase if they are able to acquire more blocks of federally guaranteed student loans.
Sallie Mae Bank (high growth, high return on equity):
Sallie Mae Bank will retain the most recognized brand in the education loan industry, along with a leading market share (~47%) in private loan originations. We estimate the private bank business (the spinoff) is worth between $5-7 per share based on a comparison to similar publicly traded companies.
Based on our valuation analysis, the combined value of the two entities following the spinoff could be as high as $32 per share.
Sign up for the AMM Dividend Letter here.
(click to enlarge)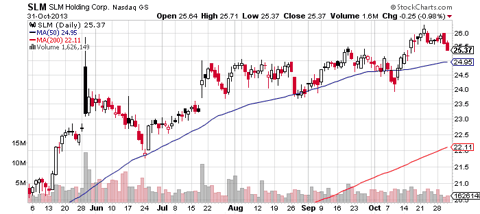 Click to enlarge
Disclosure: I am long SLM.
Additional disclosure: Clients of American Money Management LLC may also have exposure to the stocks mentioned in this article.