Before anything else, the reason this is published as an Instablog rather than an article is that Seeking Alpha does not like to focus on technical analysis in articles, and this is pure technical analysis. The savvy readers that follow news flow will find there way to this. A second bit of information for readers. I receive no compensation for anything that I publish as an instablog.
For quite some time Arena (NASDAQ:ARNA) has been exhibiting very bearish behavior. With the nice move up today, we finally have something from a technical standpoint to sink our teeth into. Whether this move holds is yet to be seen, but let's look at the information we have.
There are many things to look at from a technical standpoint. Everyone has their own metrics to identify and watch for. I prefer to look primarily at volume, support & resistance, and exponential moving averages. I also keep an eye on the Relative Strength Indexes (RSI's).
The theory behind volume is pretty straight forward. Moves on high volume have strength. If volume dries up, it is a signal that a move is coming to an end. I maintain the 200 day average volume as my baseline. I also consider the more near term volume. It is why I track several averages.
Support and Resistance is fairly straight forward. I track the levels and assign the strength of the various levels on a scale of 1 to 10. In this scale 1 is the weakest and 10 is the strongest.
The exponential moving averages are essentially tracked against the price of the equity as well as against each other. It is the goal to see each successive average higher than the next. when that happens it develops a green flag. If the level is lower, it develops a red caution flag.
As stated, Arena is finally showing some bullish signs. It is not out of the woods yet, but what we are seeing right now is positive. From a technical standpoint entered a buy signal when it passed through two resistance points on higher than average volume. This is one reason I watch volume. Moves on strength can be an early indication of a shift in the technicals before other indicators produce and show the shift.
(click to enlarge)

Click to enlarge
What we want to watch for tomorrow is that volume holds up. If there is strength in this run the volume needs to be equal to or better than we saw today. If volume is weaker, it could be a signal that the equity is cresting. That does not mean a retrace, but is likely an indication that in the near term a top is forming. Depending on how active you are at trading would determine whether or not that lower volume would be a selling point. Typically it is less risk, to see confirmation with the following day exhibiting similar behavior.
Support and Resistance
The support and resistance chart finally looks like something other than just a sea of red. The equity closed just below a strong resistance level of $7.50. Above $7.50, the next level with strength is $7.89. The key tomorrow is to see what happens early on at $7.50. We want to see this level taken out on volume. If it does not happen, the retracement will be the thing to watch. There is no real support level until $7.20, and that level is not very strong. It would be more bullish, if the equity dips, to see it happen slowly. This would allow for some support to develop at levels higher than $7.20.
(click to enlarge)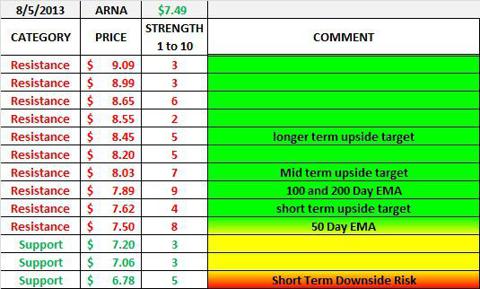 Click to enlarge
Exponential Moving Averages
The EMA's are also finally showing life again. We have short term bullish signals in play. The 5 day EMA is above the 13 and the 20. It is barely green on the 20 day, and is a long way away from being green over the 50 day EMA. These small bullish signals are great, but it will take a lot more time in this price territory before the needle moves to deliver more green flags.
(click to enlarge)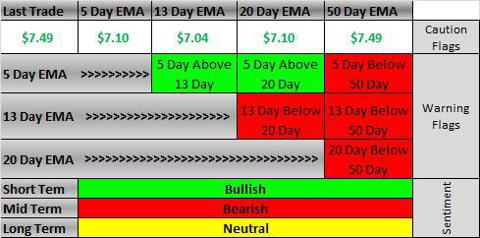 Click to enlarge
RSI's
The easy way to understand RSI's is understanding the values. Think of a scale from 1 to 100. An RSI of 30 or less would indicate an oversold condition. An RSI of 50 is considered neutral. An RSI of 70 or more is considered overbought. After today's action we saw the RSI spike to 57. This is graduating from neutral and getting toward overbought. Typically when the RSI gets into overbought territory a top is forming. When it gets into oversold territory the bottom is forming. At a level of 57 we have a bit more potential room to the upside before we get too overbought. At that point bwe need to consider the potential for the equity to settle down.
Summary
For the moment enjoy the ride up and watch the volume and the RSI's. Some consolidation between $7.20 and $7.50 would actually be healthy. Arena is sensitive to news and is a traders stock, so be aware that volatility will exist. The fundamental story is in its infancy, and until such time that it is more mature, speculators in both directions will be playing the game. Stay Tuned.
Disclosure: I am long ARNA.