It was a wild session for Arena (NASDAQ:ARNA). If you missed yesterday's technical update, the link is here. Those that read it were likely more prepared for the action today. I got quite a few communications today wondering why I did not cover Arena on it's up day. It would appear that many have not found the instablog section of Seeking Alpha. Yesterdays technicals were written after the close last evening.
What we saw today was a feeler testing higher levels, and a feeler testing lower levels, and settling down right in the middle. The positive is that this equity has clearly indicated an ability to move up above the $7.50 level under the right circumstances. We also saw that the equity can hold $7.20. Investors need to bear in mind that this stock is sensitive to news flow. There is still volatility.
One item of note is that the volume was lighter than the previous day that started the run. That means that the run was not as strong as it could have been. Active traders, long and short, have their hands in this as well. They will play and control this equity until the sales numbers come in high enough to put an end to this ongoing trend.
Volume
As stated, the volume was lighter than the previous session. It appears to me, absent news, that this equity will range trade between $7.20 and $7.50. Consolidation in this range is actually quite healthy, and the more consolidation we have, the bolder the next move can be.

Support and Resistance
Support and resistance remains essentially in the same shape as the report yesterday. There is a strong resistance at $7.50. That level needs to be taken out on volume above 8 million to hold. When $7.50 does get taken out the next wall is at $7.89. That is the CRITICAL WALL. Just above that we cross above the 100 day and 200 day moving averages. Passing $7.89 on good volume will allow an impressive run to form up.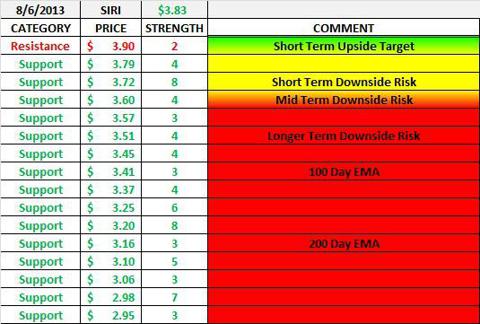 Support below sits at $7.20. That is an important level to hold. If $7.20 breaks, it is possible that we go back down and test $6.78. Keep that in the back of your head.
Exponential Moving Averages
The EMA's actually look slightly better today than they did yesterday. We have a caution flag up at the 50 day EMA, and the 50 day EMA is an issue right now. We want to see the equity stay in the trading range, and preferably at the higher end of it. We want the 50 day to be much closer to the other averages. There are two ways to make that happen. One is to spike up substantially higher. The other is to consolidate and let it be more organic. The spike sounds nice, but usually there is little strength in such moves. Stay tuned, and watch the volume at critical levels.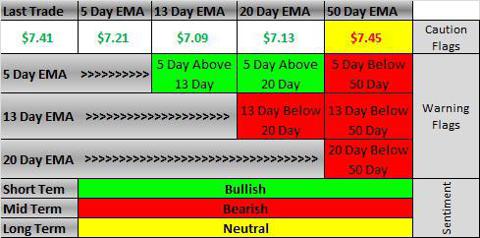 Keep up with the instablog, this technical service may be finding a new home on the web and will be subscription based. Membership does deliver privilege.
Disclosure: I am long ARNA.