Retrophin (NASDAQ:RTRX) is trading substantially higher than the price set for a public stock offering. The offering was priced at $8.50, but the company is trading as high as $11.75 on the day that it has been authorized to trade on the NASDAQ Global Market.
I initially purchased Retrophin shares a year ago at $3.50. I saw potential in what the company was doing, and liked the pipeline. Retrophin has a concentration on what many term as "orphan drugs". These are drugs that have potential to treat debilitating diseases and conditions that do not have currently available treatment options. Often, getting orphan drug status allows for a more streamlined FDA approval process as well as a premium price for the drug or treatment.
The Company is currently focused on several catastrophic diseases, including Focal Segmental Glomerulosclerosis (FSGS), Pantothenate Kinase-Associated Neurodegeneration (PKAN), Duchenne Muscular Dystrophy and others.
The company has begun enrollment in a potentially pivotal Phase 2 clinical trial of its lead compound, Sparsentan, for FSGS. In addition, Retrophin also intends to reintroduce Syntocinon Nasal Spray (oxytocin) in the U.S. to assist initial postpartum milk ejection and also initiate clinical trials for the drug as a potential treatment for schizophrenia and autism. It is said that 1 in 90 babies born in the United States suffers from Autism. Retrophin plans to initiate a Phase 1 pharmacokinetic trial of RE-034, an ACTH analog, in the first half of 2014
PIPELINE
Retrophin is focused on finding and developing treatments for conditions with specific characteristics, including those:
(1) that are debilitating and often lethal, with a high cost to the system and patient, and where patients experience a low quality of life
(2) that are well understood, with scientific consensus regarding the cause
(3) for which we believe the development timeline will be rapid.
If you consider this strategy, it makes good sense. A treatment for debilitating and lethal conditions carries an immediate need. Drugs are often weighed by a risk/reward system. If the condition has very bad implications, the risk associated with a treatment may be viewed as positive when compared to long term debilitation or death. A rapid approval timeline is great from an investment standpoint because it means that the dollars expended on expensive trials can be minimized up front while the potential to get a drug generating revenue more quickly helps the bottom line.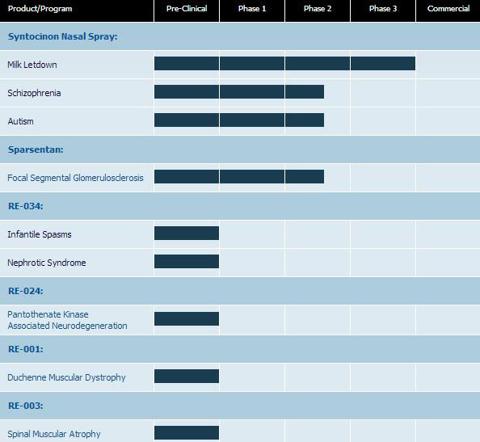 For investors this is a small cap company that carries potential of getting products onto the market in a much shorter timeframe than many may imagine. The current market cap for Retrophin is 201 million and the CEO of the company holds a substantial stake in that (2,816,246 shares). Institutional investment is in its infancy, and in many ways, Retrophin is still an unknown in the biotech sector.
Retrophin has been working deals, setting up trials, and getting its pipeline established and ready. There is potential for some trials to initiate in 2014. The "spread" in the pipeline presents a lot of opportunity for positive developments to be announced during the course of the year, while also having a drug that currently sits in a phase 3 trial and very well could be on the cusp of approval.
Are there risks? Of course there are, but there is also a lot of potential. Retrophin, for me has been one of those companies that had me bet on the potential. As stated, Retrophin stock has more than tripled in the past year, and that could be just the beginning. In my opinion this one is worth taking a stab at on potential alone, but each investor has their own strategies. Stay Tuned!
Disclosure: I am long RTRX, . I wrote this article myself, and it expresses my own opinions. I am not receiving compensation for it (other than from Seeking Alpha). I have no business relationship with any company whose stock is mentioned in this article.