The Canadian dollar currency trust ($FXC) has been trading on the defensive over the past 3-months and attempted to break down below support levels on Thursday before bouncing back on Friday. Dovish statements from central bank governor Stephen Poloz and higher yields in the US has created a dynamic that is negative for the Loonie.
Statements from central bank governor Poloz, and stronger US yields have conspired against the Canadian dollar driving the USD/CAD toward resistance levels. After last week's monetary policy meeting by the Federal Reserve, Janet Yellen discussed that the Fed would hold rates unchanged for a considerable period after the bond purchase program ended before the Fed would considered increasing interest rates. When pressed she stated that a considerable period could be 6-months which was shorter than the interest rate market had priced in. This held the greenback gain traction and pushed the FXC lower.
Last Friday in Canadian economic news, Statistics Canada reported that retail sales in January 2014 rose 1.3%, with 7 of 11 subsectors, representing 83% of total retail sales, posting higher monthly sales. Volumes of goods sold were higher, with constant dollar sales increasing 1.4%. Economists had expected headline retail sales to climb 1% in February.
Motor vehicle and parts dealers posted the biggest advance, 2.2%, boosted by gains in new and used car dealers and other motor vehicle dealers. The largest decliner, in dollar terms, was the health and personal care stores subsector, down 1.3%.
On the inflation front, the Consumer Price Index rose 1.1% year over year in February, following a 1.5% increase in January, according to Statistics Canada. It said the smaller year-over-year rise in the CPI in February compared with January was mainly attributable to gasoline prices, which fell 1.3% in the 12 months to February, following a 4.6% increase in January.
Canadian dollar futures have also come under pressure. According to the latest commitment of traders report released for the week ending 3/18/14, gross short Canadian dollar positions jumped 20k contracts to 97.6k. It is the largest jump in shorts since last December.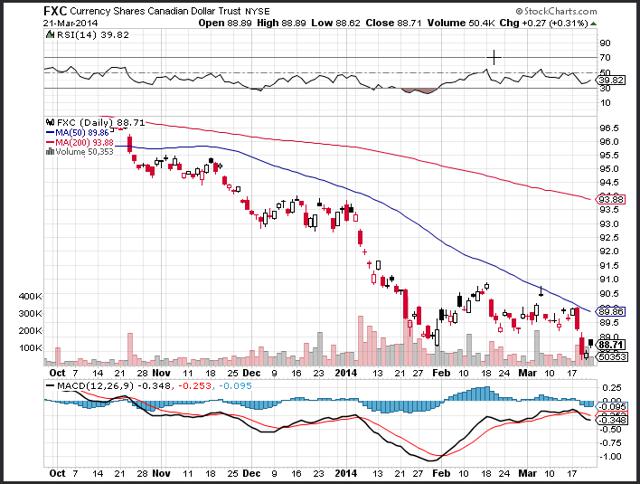 The FXC could move up to resistance near the 50-day moving average near 89.90, while support is seen near 88.50. Momentum is negative with the MACD (moving average convergence divergence) index generating a sell signal. The RSI is printing near 39, which is on the lower end of the neutral range.
For more information, please visit day trading course