Despite the decline in the broader equity markets, energy shares have held up well and are poised to move higher in the weeks to come. Earnings season began on Tuesday, and now investors will concentrate on actual returns and guidance from companies for the balance of 2014. The XLE Energy Select Sector SPDR has climbed 15% year to date, but when evaluating its relative performance to the broader market, the XLE is still undervalued.
Over the past 5-year the XLE has traded in a range between 0.61 and 0.47 relative to the broader market reflected by the SPY (S&P 500 index ETF). The mid-point of the ratio (which is calculated by dividing the price of the XLE by the price of the SPY) is 0.54. This would mean that the XLE could climb an additional 6% relative to the SPY to reach the mid-point over the course of the past 5-years.
The RSI (relative strength index) of the ratio between the XLE and SPY is printing a reading of 52, well off the highs seen earlier this year near 72, and currently reflecting a neutral reading. Support on the ratio between the two ETFs is seen near the 50-day moving average at 0.50.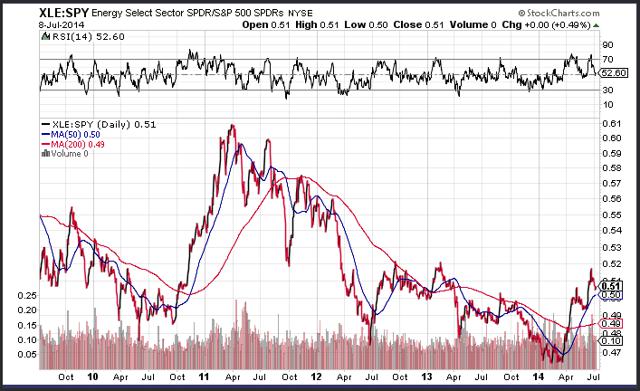 The XLE has also been hindered recently by the decline in oil prices, which have slipped from their recent highs above $107.50 on a WTI basis to below $103 per barrel. The decline in prices comes despite continued geopolitical unrest, but the recent decline in demand has also played a roll.
Solid reports on U.S. economic activity should continue to buoy oil prices, and although WTI could slip to $100 per barrel, there is still upside to energy stocks at these levels.
Inventories remain robust except in distillates. U.S. commercial crude oil inventories excluding those in the Strategic Petroleum Reserve decreased by 2.4 million barrels from the previous week. At 382.6 million barrels, U.S. crude oil inventories are above the upper limit of the average range for this time of year. Gasoline inventories increased by 0.6 million barrels last week, and are in the middle of the average range. Distillate fuel inventories increased by 0.2 million barrels last week but are near the lower limit of the average range for this time of year.