Should You Jump On Thursday's Big Market Rally, Bail Out, Or Wait A Bit?
The strong market rally we saw on Thursday following Europe Central Bank (ECB) bond buying news was the biggest move we've seen in either direction in over a month (or even longer). But will it stick, is this a technically important breakout that will lead to much more market upside in a rapid manner? There's some indication that it will and that this is potentially the start of another big bullish move … but the bottom line is we need more confirmation here to make sure this isn't a false breakout that will quickly be reversed lower within a week, for example. And an important new level has developed for the S&P 500 Index (SPX) (NYSEARCA:SPY) that will be important to watch as a guidepost as to whether the bull run can continue through the end of this year.
Let's start off with the big picture and zoom down. The following chart is the SPX Weekly Chart with Fibonacci Retracement that encompasses the 2007 market high and the infamous '666' March 2009 market low. To some degree, we're still feeling repercussions from those events today in both the economy and the stock market. This is a chart that we've been watching for some time as a big picture outline of how we're retracing and recovering the big decline (and subsequent rally). It was very accurate in giving yearly targets for the market in both 2010 and 2011.
So where are we now on this SPX Weekly Chart with Fibonacci Retracement Lines? Well, we've taken out the highest Fibonacci level of 1361 (or 1360 to use a round number), which was a 76.2% recovery of the losses from the '07 peak to the '09 bottom. That was a level that we've focused on and mentioned many times was key and it has been important technically. Now you can see that we've peeked above the 2012 highs and are pushing up against a key level reached in 2008. There isn't much overhead resistance here on the way to potentially SPX 1500 and even the 2007 highs of 1561 - but notice the horizontal white line we've drawn here. This line is at SPX 1420, which is actually a level brought into focus more by the Daily and Hourly SPX charts to follow (because it was basically the previous 2012 high that we had failed to overtake several times). But it has been a key area multiple times since 2007 - and just popping above it for 1 day (or even 1 weekly close in the case of this chart), is not quite enough to give a full confirmation.
Remember that we had a "buy the news" reaction to events on Thursday. But Friday we have a jobs report (which may well come in stronger than expected), will there be a "sell the news/take profits" reaction there ahead of the weekend? It's certainly a possibility. Then next week we have an expected German decision that may have a far-reaching impact on the markets - and a "sell the news" is certainly possible there.
So this Weekly SPX chart is looking, to use a simple phrase, 'very nice' - there is a potential breakout going on here that could take us to 1500. But it's not confirmed yet - we would look for 2 or more weekly closes above the 2012 highs and to remain above the 1420 area on pullbacks to give more confidence in this possible breakout.
SPX Weekly Chart
(click to enlarge)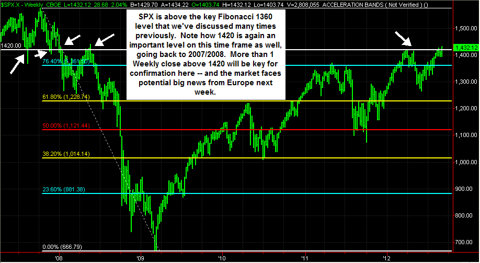 Click to enlarge
Now let's zoom in to the most common chart, the Daily SPX, see below. Here we pasted a Fibonacci Retracement from the late-2011 low to the Spring 2012 high. First notice how the downtrend reversed right around the 50% retracement area of SPX 1290 in June - this is the type of thing seen time and again and is why Fibonacci sequences are useful in so many fields other than just charting / technical analysis.
We recovered back to the highs of the year, which were SPX 1422 (there is the SPX 1420 area again) - the market failed to overtake this in April/May and again in August. But this time we have surpassed this - you can see it looks like a fairly clear breakout on this Daily chart. Remember though, that this is just 1 Daily close above this key level … once again it needs more confirmation to avoid being faked out or falling into a bull trap. We would look for Friday and Monday to close above the old highs in order to confirm … and would still be wary going into that big news next week from Europe. So it's not a done deal yet on this breakout either.
Note that Percent R (the BigTrends way, devised by our founder Price Headley) at the bottom of the SPX chart has been consistently bullish for months now. This is always a great technical indicator, and it's been particularly good in timing this market this year. See how it stayed consistently in bullish territory and above mid-levels throughout the spring rally, then moved into bearish territory during the April to June weakness, then has been consistently strong again throughout the recent rally? This is why we've tended to be on the right side of the market in our analysis all year - and on our trading which uses Percent R and other optimized smoothed trend strength measures like Stochastics, CCI, etc. It's been dead on this year for the SPX … and now we've hit basically the max Williams Percent R value of 100 on both the Daily and Weekly charts due to Thursday's price action … certainly a sign of strength but one we're taking with a bit of a cautionary eye because of previous failures around this area.
SPX Daily Chart
(click to enlarge)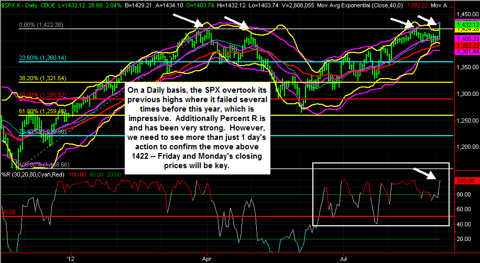 Click to enlarge
Now let's zoom in once again to the SPX Hourly Chart, see below. You can see that we had been in a quiet range that was mildly uptrending since August 3rd - that was broken to the upside by the move on Thursday. This is where the SPX 1420 area again comes in as important area. Note that the top line of the bigger channel we were in coincided with that area, as does another overlapping trendline - this is a logical support area for the SPX on pullbacks and basically must hold if the market uptrend acceleration breakout is to have legs. We've drawn other trendlines on this stripped down chart, note the narrowing "lower highs" that were coming to a mild head with the solid support a bit below 1400 - this type of narrowing is often followed by a breakout … this time it was to the upside.
But once again, before we get too excited about a potential big rally .. look at the left side of the chart at the last big Daily move we saw. It was on August 21 and that basically had very little follow-through - notice how similar that chart patterns is to Thursday's move. So it's not a done deal that the rocket ship is lifting off here. Bottom line on this chart is that 1420 area is key on pullbacks and 1400 beyond that … and once again more confirmation is needed.
SPX Hourly Chart
(click to enlarge)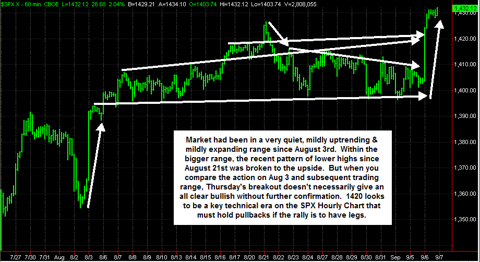 Click to enlarge
We don't mean to sound overly skeptical as to whether the market can continue this potential breakout - we've been on the bullish side of the market in our trading and nightly update analysis in our premium services for all of the big rallies we've seen this year. The quiet "stealth" rally amid a great deal of skepticism, economic/international concerns, and cash on the sidelines was a great setup for further gains. However, the rally is not quite so quiet anymore … now is perhaps a good time to pause, take a breath and wait to make sure you're not buying a false breakout. Let a week or two go by and keep an eye on this SPX 1420 area which is emerging as a new very key technical level - maintaining above that is important in our view.
Moby Waller
BigTrends.com
ETFTRADR & Rapid Options Income
1-800-244-8736