ChIndia Rears Its Head Again
April 14, 2009

ChIndia is a term that refers to the China & India regions.  These are considered pretty much the two biggest world economic growth prospect countries for the future, as their massive populations present the enticing prospect of billions of people entering the middle and lower-middle classes for the first time.
Stocks from these countries have declined heavily since late-2007, similar to the rest of the world.  For the purposes of this analysis, we will utilize the following ETFs as proxies for China and Index:  FXI (the iShares Xinhua China 25 Index) and PIN (PowerShares India).  The SPY and QQQQ ETFs are used to track the S&P 500 Index and NASDAQ 100 Index, respectively.

Recently however, with the market bottoming in March, these two "fallen dragons" have begun to show impressive outperformance.  If you examine the following chart that shows relative percentage performance, you can see that both FXI and PIN have strongly outperformed the SPY and QQQQ since March 1st.  They have gained roughly 20% more in that time frame. 

The resurgence of China began on March 1st, several days before the markets bottomed here around March 9th.  India's surge in performance began around March 23rd, when it began to diverge from the U.S. indices ... now the PIN has basically matched the FXI performance over this time frame.
FXI, PIN, SPY, QQQQ Daily % Performance Chart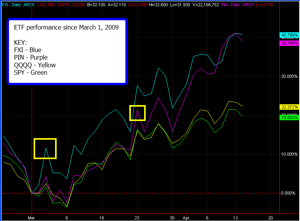 The outperformance of these two emerging giants would seem to show that they are leading the perceived world economic "recovery" ... or what may be called a "return from the precipice".  One could say that continued strength by FXI and PIN would augur well for a continued market rally here.

The Top Holdings of FXI and PIN (data from Yahoo Finance ):

FXI  Top 10 Holdings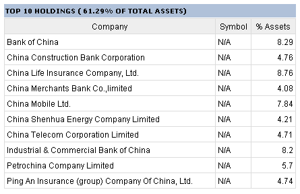 PIN Top 10 Holdings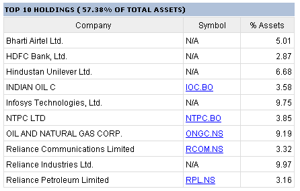 Moby Waller,
BigTrends.com
For information on the premium trade advisory services that Moby Waller runs for BigTrends, please call 1-800-244-8736.
Disclosure:  No positions.