First Solar (NASDAQ:FSLR) is a leader in the Solar Panel industry.  The shares reached over the 300 level in early/mid 2008, before dropping as low as 85 in November 2008, and have since recovered to the 165 area.  This analysis is an example of the kinds of subjects and strategies we examine in our BigTrends ACE Coaching Program and that I utilize to provide trade recommendations in BigTrends Advanced Options Strategies premium advisory service.  This is not a specific recommendation of any sort of trade, only an educational analysis.  And I do not have any position or trade in FSLR currently.

FSLR came up on a screen I designed to find stocks that have relatively high or low option implied volatility versus the statistical volatility of the underlying shares.  Usually, when a company's options are priced "high" relative to its underlying volatility, it is because of an upcoming news event such as an earnings report.  However, FSLR is not due to report earnings until July 30th, according to my data.
You can see on the following chart from OptionVue that FSLR options are trading around a 71% implied volatility, while the stock is only trading at around a 51% volatility recently.  Normally, this might be considered "expensive" options that one would consider selling to collect excess time premium.  However, this is not always the case ... each scenario requires its own research and analysis. 

If you examine the chart below you can see that the last 2 times where implied volatility (blue line) clearly diverged from statistical volatility (brown line), the stock subsequently had strong gaps (one up, one down).  Both of these previous volatility divergences did come right before an earnings report, which is a logical time for implied volatility to be very high ... but as I mentioned, this time earnings are not due for over a month from now.

FSLR Implied vs. Statistical Volatility Chart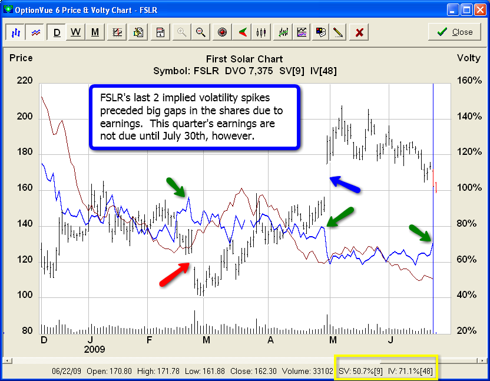 Click to enlarge

The lowered volatility in the underlying shares can also be seen in the width of its Bollinger Bands.  The following chart includes a tracking of Band Width at the bottom.  You can see that the FSLR bands have been narrow on a relative basis for most of June.  However, recently this has coincided with a Percent R breakdown to bearish levels.  Previous contractions in the Bollinger Band that then had a Percent R breakdown seemed to be a trigger that preceded a move in the shares ... 2 down moves following low Percent R readings, and 1 upside move after a high Percent R reading.

FSLR Daily Chart with Percent R and Bollinger Band Width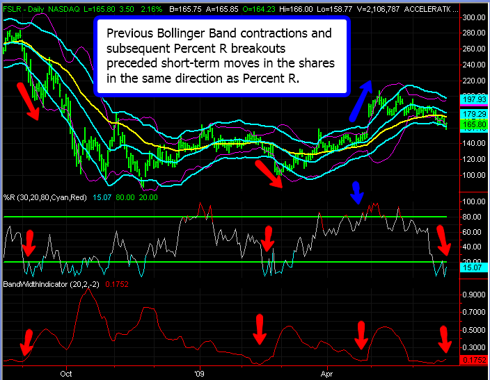 Click to enlarge

Certainly, the market has been showing increased implied volatility and put buying recently, which has been seen by some upside whips in the VIX, rising implied volatility in VIX options, and high Put/Call ratios.  So some of that increased fear may be showing itself in FSLR option pricing.  However, the previous readings that were similar to this preceded big moves in the shares and higher stock volatility.  With no imminent conference or announcement coming soon from the company that I am aware of, this scenario bears watching.

Moby Waller
BigTrends.com
1-800-244-8736
Disclosure - no position