Article rejected by SA so posting as instablog.
Not too very long ago everyone was in love with the BRIC countries and sick of the PIGS. Over the last twelve months there has been a complete reversal of fortune. Europe is seen by many as being much stronger and could lead us higher. By comparison Brazil has seen its currency devalued by over 13%. At the beginning of December I suggested that early January may be a good time to go shopping for ADR's. A few days later while researching "The World Cup, A World of Opportunity" I came Across (NYSE:BBD).
Banco Bradesco SA is a Brazil-based bank that I highlighted in the article. I feel that the recent price decline makes it an attractive proposition for 2014. Although I believe it will benefit from the World Cup this year and the Olympics in 2016, there has to be more to it to get my attention.
The Basics
Price $11.66 Mkt Cap 50 Billion
EPS (NYSE:TTM) $1.37 RevenuePS $6.14
CashPS $23.46 Revenue Growth Q(yoy) 6.1%
P/E 8.54 FP/E 8.20
Yes this stock is very unloved, the P/E 8.54 says it all. Compare that to something like Bank of America (NYSE:BAC) which has a P/E 25.5 and it makes no sense. Admittedly the bank has missed earnings for each of the last six quarters but by a fraction of a penny. Bank of America missed by 50% in Q1 2013 a full $0.12 per share. Banco Bradesco's earnings have been extremely stable especially given the headwinds caused by currency devaluation.
| | | |
| --- | --- | --- |
|   | EPShare |   |
| 2012 Q1 | 0.38 |   |
| Q2 | 0.35 |   |
| Q3 | 0.34 |   |
| Q4 | 0.34 |   |
| 2013 Q1 | 0.35 |   |
| Q2 | 0.34 |   |
| Q3 | 0.32 |   |
Earnings for the fourth quarter and full year 2013 are due out on January 27th. The low estimate for the quarter is $0.31. If we add that to the rest of the results for the year we get to $1.32. The current consensus estimate for FY 2013 is $1.30. To put it another way; If they have their worst quarter in four years $0.31, they still beat full year estimates by $0.02. Historically Q4 has been equal to, or better than, Q3 so 0.32-0.34. The high end of estimates would just make more sense. I will go out on a limb and suggest they will report 0.35. Even without beating all expectations on the quarter they should still beat for the year and a low ball P/E 10 translates to $13.20 almost 20% upside.
Catalysts.
If you believe that China is not dead or feel they might show a pulse in 2014 Banco Bradesco might be the way to go. All of Latina America will benefit from any uptick in demand.
As I mentioned in my previous article they will also benefit from the World Cup and the Olympics. Foreign transaction charges at their ATMs will be big business for both events. This will be nothing compared to some real growth in their economy. If you can add any kind of support from the Brazilian currency and Banco Bardesco could be headed for all times highs. A P/E 15 on 2014 estimates gets you to $21.45 and I do not think that is unreasonable.
Conclusions.
I think that Brazil is just too hated. The inconsistencies between analysts' quarterly and annual estimates are almost inexplicable. The only thing I can think of is that they have gone to sleep on this one. Perhaps they think that it is so hated that no one is paying any attention any more.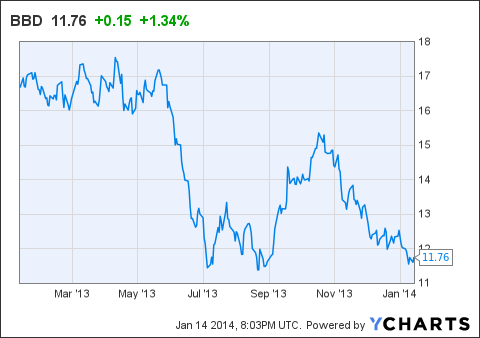 From a technical point of view we are trading near long term support. If we can hold above $11.29, the previous low, we should form a solid W bottom. I anticipate price appreciation from now until earnings and continued gains throughout the year. I have a cautious price target of $20 almost a double from here. I almost forgot about the dividend. Regardless of what else happens the dividend should pay you around 7% next year. The small monthly dividends are not much to talk about, but the semi annual additions bring it up to a 6.5% yield relative to today's price. We have had over a 10% decline in price since my last article and I feel that now may be the time to get involved with Banco Bradesco. At current levels the bank should be considered an income investment with the added bonus of capital appreciation.
Disclosure: I have no positions in any stocks mentioned, but may initiate a long position in BBD over the next 72 hours. I wrote this article myself, and it expresses my own opinions. I am not receiving compensation for it. I have no business relationship with any company whose stock is mentioned in this article.
Additional disclosure: This article may contain certain forward-looking statements. I have tried, whenever possible, to identify these forward-looking statements using words such as "anticipates," "believes," "estimates," "expects," "plans," "intends," "potential" and similar expressions. These statements reflect my current beliefs and are based on information currently available. Accordingly, such forward-looking statements involve known and unknown risks, uncertainties and other factors which could cause actual results, performance or achievements to differ materially from those expressed in or implied by such statements. I undertake no obligation to update or provide advice in the event of any change, addition or alteration to the information contained in this article including such forward-looking statements