I decided to peek under the kimono of the two main data center REITs: DLR, and their closest REIT competitor - Corsite (NYSE:COR), to get a better grasp of what is going on with AFFO, dividend payout ratios and recurring property charges (to be discussed in the next post).
Before we get to the data, here are some important terms that will be helpful to get familiar with before diving in:
1) Net Income - this is a GAAP concept representing revenues minus expenses. It does not contain capitalized amounts for which cash may have been paid, but the cost winds up on the balance sheet and the statement of cash flows (typically as an operating cash flow or investing cash flow amount).
2) "Diluted" - when you look at an income statement you may see the earnings presented as both "basic" and "diluted" per share. The difference between the two is basic only reflects earnings per issued and outstanding common share, whereas diluted reflects diluted earnings on all potential common shares&units. For example, if a REIT derives all of its activity from a 50% operating partnership interest and the remaining operating partnership investors can convert their partnership units to REIT common shares, dilution will look at earnings available to both the existing REIT common shareholders and the LP partners that can potentially convert to common shares. Similarly, convertible bonds and convertible preferred stock have a similar impact (add their share of the earnings to the diluted earnings and add the potential common shares they can convert into to the total diluted shares denominator). To be able to compare apples to apples, I've calculated per share amounts on a diluted basis.
3) FFO - this is a non-GAAP measure defined by NAREIT. In general it is calculated by adding back GAAP real estate depreciation to GAAP net income and excluding GAAP gains from the sale of real estate. My calculations are on a diluted FFO basis.
4) AFFO - this is neither a GAAP measure nor an amount defined by NAREIT. However, analysts typically expect a publicly traded REIT to disclose a reconciliation between FFO and AFFO in the earnings release presentation for comparative valuation purposes. AFFO is a lot closer to distributable cash from operations because various capitalized items such as capitalized repairs/maintenance, capitalized leasing commissions, capitalized tenant improvements, straight line rent (non-cash item) and other depreciation/amortization amounts are adjusted against FFO in arriving at AFFO. The rationale is that these items reflect cash uses of operating funds and would not be available for distribution to shareholders as they are consumed in the business. However, AFFO does not typically reflect changes in working capital which are timing differences (they are reflected in operating cash flow on the statement of cash flows, but not in AFFO). AFFO also doesn't reflect capitalized interest.
5) "Distributable AFFO" - this is my term and is essentially AFFO reported by the company minus capitalized interest (which is capitalized into the basis of development projects and ultimately shows up as depreciation - which is not part of AFFO). I wanted to adjust AFFO for capitalized interest because if the interest is not being paid out of regular operating earnings, then it is being paid out of debt/equity issuance or the sale of long term assets - none of which are sustainable practices. Thus, after adjusting AFFO for capitalized interest, I believe we get a lot closer to the funds generated by operations available for distribution - hence "Distributable AFFO". If a REIT pays out less than 100% of the "Distributable AFFO" to shareholders, the shortfall is being used somewhere in the business - typically in other development/investment activities which offsets the need to issue additional preferred/common stock or more debt for that amount.
Additionally, as I only have 2013 data through Q3, I've used estimates based on guidance from each company for Q4 2013 where I could, and used the Q3 amount for Q4 where guidance did not have sufficient detail.
Before we move on, I want to stress that I take no responsibility for your investment decisions and that you must perform your own due diligence. This data and any analysis are for informational purposes only and are intended to promote financial literacy.
Thus, here is the data - first on DLR, then on COR:

Summary of key data from the above spread sheet.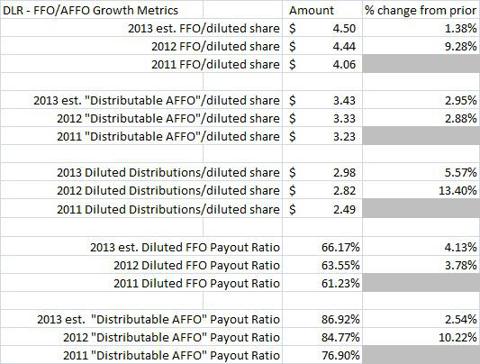 I was thinking of titling this blog "Fee Fi FFO - do I smell blood in the streets?", but thought better of it because I don't think we're quite there yet.
Take-aways: 1) growth is slow or slowing - but there is growth; 2) distributions are growing faster than earnings growth (Both FFO and "Distributable AFFO"); 3) the "Distributable AFFO" Payout Ratio is much higher than the FFO Payout Ratio. Not shown here (but can be assessed from a review of the statement of cash flows and financial statements) the remaining ~13% of "Distributable AFFO" is being used to finance non-periodic enhancements to the properties and to finance development activities; accordingly, it does not appear to be available for distribution at this time.
-----------------------------

Summary of key data from the above spread sheet.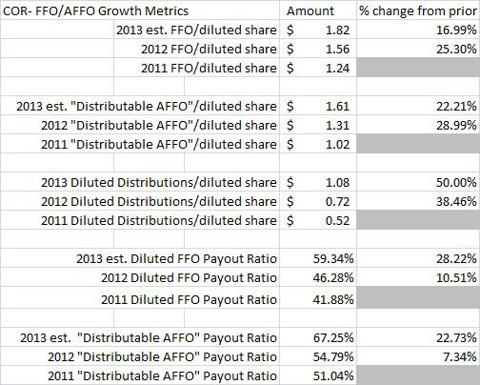 Take-aways: 1) growth is slowing, but remains at an elevated rate above 20% annually - well above DLR's "Distributable AFFO" growth rate of just under 3%; 2) dividend payout is accelerating very fast at 50% growth from 2012 to 2013, and 38.5% from 2011 to 2012 - much faster than DLR's dividend growth rate of 5.6% and 11.4% for the same periods respectively; 3) the "Distributable AFFO" Payout Ratio is accelerating and is somewhat above the Diluted FFO Payout Ratio, but remains much lower than DLR's Payout Ratio at 67.25% for 2013 (estimated) and in the mid to low 50's for 2012 & 2011. The ~33% of "Distributable AFFO" that is not paid out is being reinvested in development activities.
As COR has very low liabilities and only one tranche of preferred equity, it seems that COR has an opportunity to raise debt or preferred equity capital and divert less of its earnings ("Distributable AFFO") to its development projects which will allow the dividend to be raised quite a bit more from its current level without any additional FFO/AFFO growth.
----------------------
Since this post is getting rather long, I'll share my data on recurring property charges (i.e. maintenance) for the two companies in the next post.
----------------------
Best of luck to everyone.
Disclosure: I have no positions in any stocks mentioned, but may initiate a long position in COR over the next 72 hours.
Additional disclosure: I have no affiliation with either company and I wrote this post myself. I may initiate a long position in DLR preferred stock in the next 72 hours.