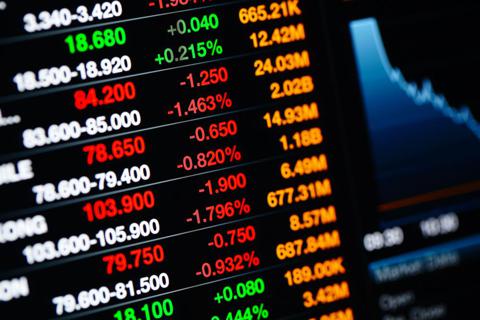 The Great Recession - a terrifying term that applies to the 2008 financial crisis we have all been struggling to bounce back from while we only slowly place our trust once again in global financial markets. Despite the worldwide effects of the most recent economic downturn, you may be surprised to discover that it actually pales in comparison to the Great Depression of the 1920s in terms of percentage loss in the stock market, a differentiation partially caused by the massive discrepancy between the trading volume of today's stock market compared to that of one hundred years ago. What have been the ten worst days in terms of points lost (not as percentages) in the history of the Dow?
1. August 4, 2011 - 512.76 points
Occurring years after the beginning of the Great Recession, this drop probably occurred thanks to a self-fulfilling fear of it being a double-dip recession combined with the ailing economies of the European Union, namely Spain and Italy whose debt crisis peaked during this time. With a drop of over 500 points or about 4.3%, this day cost investors about $2.3 trillion in wealth.
2. October 22, 2008 - 514.45 points.
As the last of three historically large drops in the Dow in October of 2008, this was actually the smallest at 514.45 points. This drop was sparked thanks to ever loudening fears of a recession and weak corporate forecasts, losing 5.7% of investors' money in a day.
3. October 27, 1997 - 554.26 points
A symptom of the Asian market crisis occurring thousands of miles away, this market plunge was so momentous it caused the New York Stock exchange to momentarily shut down business for thirty minutes per the "circuit breaker" rule. This rule was created after the market crash of 1987 whereby a snowballing selling spree resulted in a 22% drop in one day. This time around, the first circuit break didn't do the trick and points continued falling, prompting another hour-long break and the eventual early closing of the stock exchange, losing 554.26 points or about 7.2%.
4. April 14, 2000 - 618 points
At the start of the new millenium, the startup tech scene was booming. As predicted by many, this tech boom was bound to burst eventually and finally did when the Fed warned that inflation might rise faster than expected. The Nasdaq, a tech-centric index, saw its biggest drop in history with 10% of its value gone, while the Dow dropped by 618 points.
5. August 8, 2011 - 634.76 points
On this day, the Dow shot down in a six hour window thanks to a rating downgrade of the U.S. by Standard and Poor from AAA to AA+. This half point decrease in score disrupted financial markets around the world, causing the Dow to plummet 634.76 points and cost investors $2.3 trillion dollars. The influence of ratings agencies could never again be underestimated.
6. October 9, 2008 - 678.91 points
Still not the worst stock market day that October 2008 would see, this dive in the stock market was again caused by increasing fears but primarily due to predictions that sales in the auto industry would reach record lows that were expected to continue throughout 2009. Stock in General Motors dropped 31% while that in Ford lost 21%.
7. December 1, 2008 - 679.95 points
The stock market took a blow on this day due to a simple acknowledgement by the U.S. government that the American public was, indeed, suffering from a recession that wasn't expected to end for at least another year. This announcement had ripple effects around the world and combined with the worsening situation in the Eurozone, bringing the Dow down 680 points or about 7.7%.
8. September 17, 2001 - 684.81 points
This day marked the opening of the New York Stock Exchange after the shocking attacks of September 11 that forced it to close for one week. Upon opening, the Dow dropped 685 points with most losses coming from the transportation industry.
9. October 15, 2008 - 733.08 points
As yet another response to government actions, the second largest drop in Dow history came the day after President George W. Bush announced his government's plan to bail out the ailing banks with $250 billion of public money in the largest state intervention into the banking system since the Great Depression. The Dow dropped 733 points or almost 8%.
10. September 29, 2008 - 777.68 points
The worst drop in Dow history occurred after the housing bubble had already lost much of its volume, decimating the mortgage-backed securities market and pushing Lehman Brothers to bankruptcy. What really sparked this dive, though, was the U.S. House's failure to agree on a bailout plan, prompting panic and the largest single day drop of points in Dow history.
As you can see, a financial recessions signs can quite often remain hidden for long periods of time, that's why it can be important to have a trusted stock negotiator on your side when things start to go sour.
Disclosure: I have no positions in any stocks mentioned, and no plans to initiate any positions within the next 72 hours.