This morning.  
Equity futures are flat, having moved lower on disappointing U.S. weekly jobs claims and durable goods, and mixed news overseas. Equity markets open this morning with the DJI, SPX, and NYSE composite at fresh multiyear highs, while the Nasdaq is -0.95% last Tuesday's recent multi-year high. March SPX futures are at 1291.60, down -1.43 points after fair value adjustment.  Next SPX resistance is at 1300.26.  Next support is at 1292.49.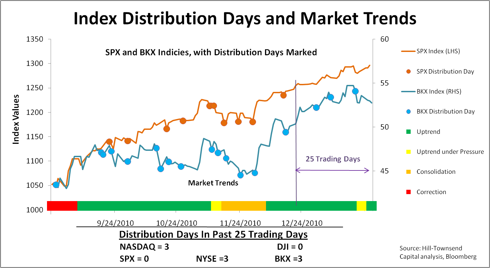 Yesterday, markets again defied pundits and many market technicians by shrugging off recent weakness and testing resistance at 12,000 on the DJI, and 1300 on the SPX. Volume increased on all exchanges but the DJI. Markets are in a confirmed uptrend. Distribution days number 3 on the NASDAQ and NYSE.  The DJI and SPX have no distribution days in the past 25 trading days.
Overnight, the Nikkei, Hang Seng, and Shanghai closed mixed, +0.74%, -0.27%, and +1.49%, respectively.  The Nikkei advanced despite a S&P downgrade of Japanese sovereign debt to AA-, from AA. The SHCOMP, which has been in correction since early November, staged an interesting intraday reversal, gapping -1.11% lower at the open, before rallying through the day to end near its intraday high. There were encouraging Chinese inflation reports, but investors expect continued monetary tightening in coming weeks.  Volume was heavy, rising +74.2%.  All market segments closed higher, though financials were the worst performing, up +0.58%.  Telecommunications, industrials, and health care were the best performers. The Eurostoxx50, FTSE, and DAX are up +0.42%, +0.26%, and +0.52%, respectively. On the EuroStoxx, financials are the best performing market segment, up +1.59%, on news reports that the U.K. independent commission on banking will not recommend that the largest banks be broken up.
LIBOR trends remain unremarkable.  Overnight USD LIBOR is 0.23563%, down slightly from 0.23688% Wednesday and down from 0.25188% at year-end.  USD 3-month LIBOR is 0.30438%, unchanged since Monday, and compared to 0.30281% at year-end.  In early trading, the dollar is slightly weaker against the euro and pound, but better against the yen.  The euro trades at US$1.3724, compared to US$1.3713 Wednesday and US$1.3681 the prior day.  For the 6th consecutive day, the euro closed above its 50-, 100-, and 200-day moving averages and appears overbought at these levels.  The dollar trades at ¥83.02, compared to ¥82.17 Wednesday and ¥82.25 the prior day.  Treasury yields are higher, with 2- and 10-year maturities yielding 0.633% and 3.448%, respectively, compared to 0.625% and 3.415% Wednesday.  The yield curve spread widened to +2.815% compared to +2.790% the prior day.  In the past year, the 2- and 10-year spread has varied from a low of +1.959% on August 26, 2010, and a high of +2.89% on February 17, 2010.  Commodities are mixed, but mostly lower, with lower petroleum and  natural gas, lower precious metals, but higher aluminum and copper, and mixed agricultural prices.
U.S. news. 
The latest week's initial and continuing jobs claims disappointed, rising to 454K and 3991K, respectively, well in excess of survey. December durables goods orders surprised with a decline of -2.5%, compared to an expected rise of +1.5%. Weakness may be attributable to weather in December. Pending home sales for December are released at 10:00. On Friday, 4Q2010 GDP revisions are released.
Overseas news.
   Standard & Poors downgraded Japan's sovereign debt rating one notch to AA-, the fourth highest level and on par with China, citing the country's debt burden and an incoherent political strategy to address it.  In January, German inflation rose less than expected.  January's Euro-zone consumer confidence rose, matching expectations.  Barclays CEO Bob Diamond said the U.K.'s Independent Commission on Banking will not recommend splitting up large banks' consumer and investment banking components. 
·

        
EWBC – price target raised to $26 from $22 at Cantor
4Q2010 Earnings. 
The quarter's first earnings results have so far exceeded EPS and revenue expectations.  Of the 138 S&P500 companies that reported earnings to date, 73% (101 of the 138) beat operating EPS estimates, versus the historical average of 62%.  Companies beat by an average of +6.6% (versus a historical average of +2%).  EPS is up +68.3% over the prior year.  Though challenged in the current operating environment, 104 companies (75%) reported increased revenues and 104 companies (75%) beat revenue estimates. 
With 23 of the 24 BKX members reporting, 74% (17 out of 23) beat operating EPS estimates.  Bank revenues have disappointed slightly, missing estimates by -0.60% on average.  Fourteen banks (61%) reported increased revenues over the prior year's quarter and 16 banks (70%) beat revenue estimates.
Wednesday's equity markets.  
Equities enjoyed another strong day, and the DJI, SPX, and NYSE composite set new multi-year highs.  Also, the DJI and SPX spent much of the day testing 12,000 and 1,300, respectively, though both closed below those levels. Volumes increased on all exchanges but the Nasdaq. And though the Nasdaq closed below its recent January 18th high, it led the other exchanges yesterday, rising +0.74%, compared to increases of +0.64%, +0.42%, and +0.07% on the NYSE, SPX, and DJI, respectively.  Basic materials, oil and gas, and industrials led the rally, while financials and health care trailed.
Markets moved higher despite a Congressional Budget Office estimate that the Federal deficit will approach -$1.5 trillion in FY 2011. In the Fed's Open Market Committee report at 2:15 pm, there was literally nothing to surprise in its report, and markets were a bit weaker in subsequent trading.  The Fed's inactivity probably confirms markets' generally bullish tone. The major themes remain: 1) hawkish comments or actions from monetary authorities in all but the United States; 2) commodities weakness; 3) rotation toward high cap names; 4) reassertion of the fundamental trade, and abatement of the macro-trade; 4) the BRICs grow cold, as capital flows toward Europe and the United States. 
Technical indicators are generally positive. Markets are in a confirmed uptrend that began in early September, which after consolidating in November, have extended over the last several weeks. After last week's mixed results, there are indications that the uptrend is under pressure, especially as markets are unable to push through resistance. Still, the trade in the U.S. equity markets seems increasingly driven by fundamentals and less by the technicals, or the macro trade, as was so common in recent months. Fundamentals are improving.
All of the major indices closed above their respective 200-week and 20-,50-,100-,and 200-day averages. Markets remain in a bullish configuration, with the 50-day moving average above their respective 200-day moving averages. The relative strength indicator rose to 67.35 from 63.80, near the top of a neutral range.
Financial stocks closed lower, with the XLF, BKX, and KRX -0.09%, -0.43%, and -0.70%, respectively.  While the broader indices are at multi-year highs and have recovered their post-September 2008 losses, bank stocks have not, with the BKX closing -8.97% below its April 2010 highs and -36.1% below its best level of 82.55 in September 2008.
NYSE Indicators. 
Volume rose +1.088 billion shares, from 1.046 billion shares Tuesday, and compares to a 991.8 million share 50-day moving average.  Market breadth was positive, but up volume exceeded down volume.  Advancing stocks led decliners by +1161 (compared to +219 Tuesday), or 2.25:1.  Up volume led down volume by 1.64:1.
Valuation. 
The SPX trades at 13.5x estimated 2011 earnings ($95.71) and 12.0x estimated 2012 earnings ($108.50), compared to 13.5x and 11.9x respective 2011-12 earnings yesterday.  The 10-year average median Price/Earnings multiple is 20.0x.  Since the beginning of 2010, analysts increased 2011 and 2012 earnings estimates by +3.5%, and +4.2%, respectively.  Analysts expect 2011 and 2012 earnings to exceed 2010 earnings by +19.4% and +35.4%, respectively.
Large-cap banks trade at a median 1.52x tangible book value and 11.1x 2011 earnings, compared to 1.48x tangible book value and 11.2x 2011 earnings yesterday.  These compare to the 10-year average median multiples of 3.08x tangible book value and 15.9x earnings.  Analysts expect 2011 large-cap bank earnings to exceed 2010 earnings by +35.1%.  Analysts' estimates for bank 4Q2010 earnings are 19.6% higher than were estimates for 3Q2010 earnings.  In 3Q2010, large-cap banks earned $13.78 (the sum of 31 banks' operating EPS), compared to $5.32 in 3Q2009.  In 3Q2010, the BKX earned $0.71 per share, compared to -$1.24 per share a year earlier.
SPX.
  On higher volume, the SPX rose +5.45 points, or +0.42% to 1296.63, setting a new two year high.  Volume rose +0.56% to 832.40 million shares from 827.77 million shares Tuesday, above the 777.57 million share 50-day moving average.  For the 68th consecutive day, its 50-day moving average closed above its 200-day moving average (1243.79 versus 1155.05, respectively).  The SPX closed above its 200-week moving average (1182.54). 
The SPX opened higher.  Testing and failing resistance at 1294 by 9:35, the index retreated to 1292, its intra-day low.  A strong rally took hold at 9:50, and the index surged through resistance and breached 1299 by 10:45.  Small profit-taking pushed the SPX lower through 11:30.  Equities began a gradual ascent that lasted through 1:50 that brought the index back above 1298.   The market fluctuated after the Fed released its monetary policy statement, spiking up above 1299 and then falling down to 1295 before settling back in its 1297-1299 trading range.  The index set an intra-day high of 1299.75 at 3:13, and continued to fluctuate towards the close, finishing on a lower fluctuation point.  The index closed +4.25% above its 50-day moving average, closing above that average for the 100th consecutive day, and +12.26% above its 200-day moving average.  The 20-, 50-, 100-, and 200-day moving averages rose.
Technical indicators are positive.  The SPX set a new two-year high, closing above its April highs for the 38th straight session and above 1280 for the 10th straight session.  The directional momentum indicator is positive, with a declining trend.  Relative strength rose to 70.55 from 67.98, moving into the lower end of an overbought range.  Next resistance is at 1300.26; next support is at 1292.49. 
BKX.
  On lower volume, the KBW bank index closed at 52.75, down -0.23 points or -0.43%.  The index closed +22.73% above its August 30 closing low of 42.98, the trough of the recent prior correction, but -8.97% below its April 23rd closing high. 
Financials underperformed the market, and regionals underperformed large-cap banks.  Banks stocks opened higher with the broader markets.  The BKX set the intra-day high of 53.22 at 9:31 but quickly traded into negative territory by 9:45.  A brief rally began at 9:50 in conjunction with broader equities, but the bank rally was sold at 10:50, and the BKX fell back to negative territory at the 52.80 level.  Bank stocks made several attempts to retake the break-even line in the early afternoon, but momentum waned after 2:00.  The BKX fell gradually into the close, finishing at the day's low.  The index closed above 50 for the 26th straight day.   Volume fell -6.68% to 129.62 million shares, down from 138.89 million shares Tuesday, and below the 162.33 million share 50-day average.
Technical indicators are mostly positive.  The BKX closed above its 50-, 100-, and 200-day moving averages (50.17, 48.46, and 49.06, respectively), closing above the 200-day average for the 33rd straight session.  The index closed below its 20-day moving average (53.17) for the fifth time in 6 sessions.  The 20-, 50-, and 100-day averages increased while the 200-day decreased.  The 50-day moving average closed (by +1.18 points) above the 200-day moving average, closing above it for the 10th straight day.  The directional movement indicator is positive, but narrow, and trend strength is declining.  Relative strength fell to 52.98 from 54.69, the middle of a neutral range.  Next resistance is 53.07; next support at 52.59.