Dialog Semiconductor (OTC:DLGNF), a provider of highly integrated innovative power management, audio, AC/DC and short range wireless technologies, published third quarter earnings ending September 30, 2013. Despite 22% year on year revenue growth share prices are down 9.7% since third quarter earnings were published on October 29, 2013 (see graph below). This article will discuss third quarter earnings and full year outlook.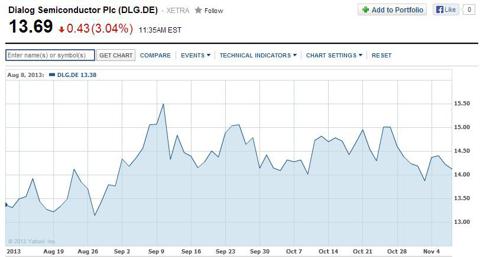 Operational highlights
During the third quarter Dialog Semiconductor made solid progress regarding the integration of iWatt, a market leading AC/DC and LED SSL manufacturer. Dialog Semiconductor completed the acquisition of iWatt on July 16, 2013. Dialog Semiconductor entered into an agreement to acquire iWatt on July 2, 2013 for a cash payment of approximately $310 million, with additional contingent consideration of up to $35 million, based on achieving future revenue targets. iWatt contributed $18.4 million in revenue and $1.3 million EBIT to third quarter earnings on a underlying basis.
Third quarter was a great quarter when in comes to product development. The company delivered new products to meet customers demand. Dialog Semiconductor licensed Tensilica HiFi Audio/Voice DSP IP, which positions the company to develop next-generation audio solutions for connectivity products. Further, the company made progress in the migration to 0.13nm BCD technology. First sampling products will be available next quarter. Additionally the company disclosed information regarding a fourth platform win with Samsung, announced October 24, 2013.
Financial highlights
The company reports according to IFRS accounting principles. Revenue was up 22% year-on-year to $219.5 million. Gross margin declined by 250bps to 35.5%. EBITDA amounted $24.4 million, a 7% decline compared to 2012. Net income in third quarter 2013 was just $3.6 million or $0.05 per share. Operating cash flow increased to $18.4 million compared to negative cash flow of 19.6 million in third quarter 2012.
Financial IFRS results in third quarter 2013 were influenced by the acquisition of iWatt. iWatt consolidation adjustments lowered IFRS revenue by $5.4 million and IFRS EBIT by $16.2 million. Revenue on a underlying basis was up 25% to $224.8 million. Gross margin improved 180bps instead of a 250bps decline on a IFRS basis. Underlying basic earnings per share increased 18% to $0.33 a share.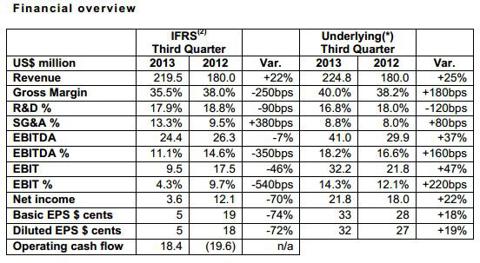 Outlook and analyses
Dialog Semiconductors expects stronger demand for its products during second half of the year. Given third quarter results and intake of orders year-to-date the company expects revenue growth momentum to continue in fourth quarter 2013. Underlying revenue will be in the range of $270 million to $295 million, including adjustments made for the acquisition of iWatt. Full year underlying revenue will be in the range of $826 million to $851 million, a 10% year on year increase compared to 2012.
The company's stock performance does not cope with strong third quarter earnings. Stock performance is flat year to date. IFRS results were down compared to Q3 2012 due to one-time IFRS adjustments regarding the acquisition of iWatt. When the IFRS adjustment are not taking into accountant, underlying revenue increased 25% year-on-year, earnings per share were up 18% year-on-year and operating cash flow was $18.4 million positive.
Dialog Semiconductors also made progress in expending customer base, given the agreement with Samsung published on October 24, 2013 and the acquisition of iWatt announced on July 2, 2013. As a result of these announcements, the company is less depended on Apple sales in the future. Product improvements and new licenses positioned the company for further growth in 2014.
Disclosure: I am long OTC:DLGNF. I wrote this article myself, and it expresses my own opinions. I am not receiving compensation for it (other than from Seeking Alpha). I have no business relationship with any company whose stock is mentioned in this article.