11/18/13
Featured Chart: China Working Age Population (as a % of Total)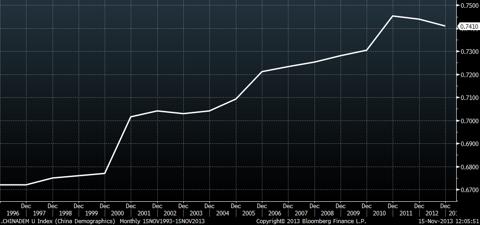 China took a big step last week by announcing plans to phase out its one-child policy after nearly 30 years. The one-child policy has thrown a huge wrench in China's future demographics, and is even having an impact currently as 194 million citizens over the age of 60 struggle with few children to rely on for aid. China's elderly population is 11% of the population today, but is projected to be 31% by 2050 if the current trend is not reversed. A mammoth labor force has been a big part of China's rise to economic prominence over the past few decades, but if productive starts to decline, capital will likely flow to India which has very young demographics and projects to have the world's largest population before long.
Gold in the Headlines:
Billionaire Paulson Sticks With Gold Wager as Prices Rebound - Bloomberg
Paulson & Co., the largest investor in the SPDR Gold Trust, the biggest exchange-traded product for the metal, held 10.23 million shares as of Sept. 30, unchanged from June 30, according to a government filing yesterday. Billionaire George Soros took a stake in the Market Vectors Gold Miners ETF.
Nice Trick For Gold Traders - Forbes
Only little people pay income taxes, in the immortal words ascribed to Leona Helmsley. Big people avoid them with sophisticated loss-harvesting schemes.
Thailand Has Become A Major Hub For Gold - Business Insider
"The prospect of a devaluation of the Thai baht boosted demand among domestic investors as a means of storing wealth. The increasing prevalence of small gold bars within jewelry retailers across the Asian region supported demand."
Gold Making People Crazy in Search for Sunken Treasure - Bloomberg
Captain Robert Mayne stands at the wheel as he guides the steel-hulled Aqua Quest from the docks in the Florida Keys, pointing the vessel toward what he's been assured is a gold-laden shipwreck that may be worth tens of millions of dollars.
Overnight Macro Developments:
Asia
China is considering changes to the way it calculates GDP; the adjustments would take into account the income earned by farmers from the sale of land and would better measure the contribution from housing. The changes would have the effect of raising the size of China's economy - DJ
China home prices continue to gain - average new home prices in China's 70 major cities in October rose a record 9.6 percent from a year earlier. Prices in the capital Beijing rose 16.4 in October from a year ago, with Shanghai up 17.8 and the southern cities of Guangzhou and Shenzhen up about 20 percent - Reuters
Japan - the country will compile the second round of its growth strategy in June of next year and will focus on attracting foreign firms to Japan while enhancing the competitiveness of domestic companies - Reuters
India - the country's CB governor is planning a "dramatic remaking" of India's banking system - FT
Israel vs. Iran - Yaakov Amidror, the country's former national security advisor and one of Netanyahu's closest advisors, said Israel could stop Iran's nuclear program "for a very long time". Netanyahu will not hesitate to launch a unilateral strike against Iran's nuclear infrastructure according to Amidror - FT
Europe
ECB's Nowotny says Europe's economic rebound hasn't been as strong as hoped, and that the ECB still has a number of measures it can take if the low inflation trend persists. - Reuters
Italy - Berlusconi warned that if the senate votes to expel him from parliament that he couldn't support Letta as PM; however, Berlusconi went on to say he doesn't presently have the numbers to bring down the entire government - NYT
Spain - Spanish banks' Sept bad-loan ratio came in 12.68%, up from 12.14% in Aug - Bloomberg
London IPOs - the London IPO pipeline for 2014 is "exploding" in size as investors search out opportunities to expand their European exposure; bank stocks in particular are in demand - FT
Greece - NBG, the country's largest lender, is close to a deal to sell a majority stake in its real estate arm to Invel for >EU600M - Reuters
Swiss banks - US DOJ officials are urging Swiss banks to come forward lest they risk prosecution over tax dodging-related charges - Reuters
Americas
Military spending - the Pentagon is discussing how to cut compensation and benefit outlays as part of an overall cost reduction drive - WSJ
Jobs recovery - women have recouped all the jobs lost since the crisis but men continue to lag; 67.5M women are working today, up from the pre-crisis peak of 67.4MM; however, 69M men are employed, down the 70.9M peak from '07 - WSJ
Retailers, inc. WMT, are growing concerned about how much influence the ACA will have on sales; WMT is nervous that the individual mandate will eat into discretionary income - WSJ
Woodward thinks the ACA rollout could be worse but doesn't feel it rises to the level of Watergate or Lewinsky in terms of the risk to Obama's presidency - Politico
Asset mgmt. firms criticize Treasury plan for oversight - some of the country's biggest asset mgmt. firms, inc. Blackrock and PIMCO, have criticized a push for the Treasury to expand its oversight of the industry - WSJ
Volcker Rule - the Fed is considering giving banks until Jul '15 to comply w/Volcker (right now they need to be in compliance by Jul '14); the rule's final language should be prepared by Dec - FT
Fed's Rosengren thinks some larger banks need to hold more capital in order to reduce risks. "Given the risks that broker-dealer funding models pose, and the failure of many of the large broker-dealers during the crisis, it would seem appropriate that these organizations should be holding more capital" - WSJ
"Bubble trouble" - Barron's cover story - discusses how some sectors of the stock market, such as social media and cloud computing, are exhibiting bubble-like signs but generally speaking the tape overall isn't excessive - Barron's
Israel vs. US - ties between Israel and the US are more strained than they have been in decades according to the WSJ w/Iran just the latest wedge driving the two countries apart - WSJ
Commodities
OPEC - may be forced to cut output in '14 giving rising supply from producers outside the group - Bloomberg
Cotton (-): China has been stockpiling cotton over the past two years and futures have started to fall on the back of concerns the release of supply will crush pricing. The expectation is that the China National Cotton Reserves Corp., which manages the stockpiles, will release the first batch of cotton around late November or early December - Barron's
Copper: FCX has agreed to pay Jiangxi Copper 31% more in fees to process copper starting in FY14. Reuters believes that this may put pressure on rival BHP to do the same - Bloomberg/Reuters
Coal + UK: The FT writes that coal is experiencing an "unexpected renaissance in UK despite gov't policy focused on reducing carbon emissions. The article goes on to say that the cost of generating electricity from coal are half of that for nat gas - FT
China is making its third attempt in two years to have a bigger say in pricing iron ore. This time it may have hit on the winning formula. Brisk trade in the first month on Dalian iron ore futures brings Beijing a big step closer to its goal of a China-based pricing benchmark for the world's second most traded commodity after oil, and the biggest earner for top miners Vale, Rio Tinto and BHP Billiton - Reuters
Metals/Mining
Canadian gold miners Goldcorp and Barrick Gold are looking to sell their jointly owned Marigold mine in Nevada, according to sources familiar with the situation. Goldcorp, which owns a two-thirds stake in the project, has retained BMO Capital Markets, the sources said. Barrick, which owns the remainder, has separately engaged RBC Capital Markets to explore a possible sale of the high-cost mine - Reuters
South African platinum producer Northam Platinum said talks on Friday had failed to break a deadlock over wages with the National Union of Mineworkers (NYSE:NUM), leaving no immediate end in sight to a strike which started almost two weeks ago. "Northam has indicated its willingness to continue with facilitated talks, and is encouraged by the NUM's positive reaction to the recommendation of further discussions," the company said in a statement - Reuters
GBI Data Points*: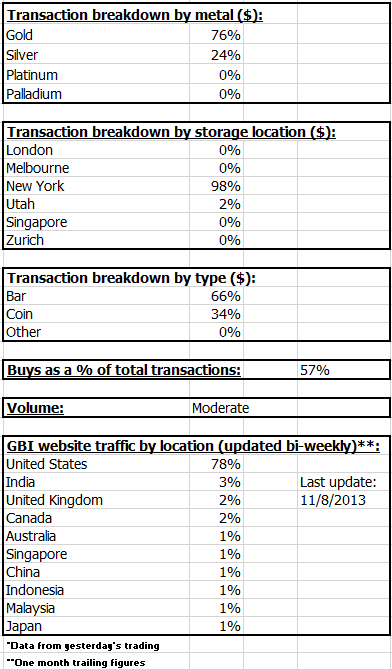 Ruminations:
Things continue to be difficult for US banks. On Friday, Moody's cut the credit rating of Morgan Stanley, Goldman Sachs, and JPMorgan Chase based on the idea that the federal government will be less likely to bail them out during future crises. On Thursday, Wells Fargo and US Bancorp warned of another ugly quarter in the mortgage banking business as new home sales fail to offset the big drop in refinancing.
KBW Bank Index / S&P 500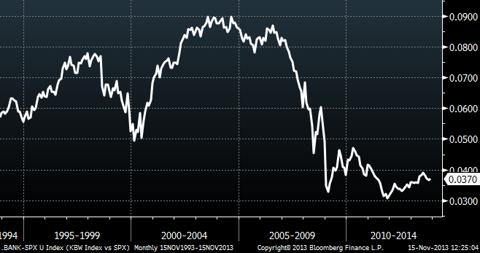 In addition, banks are still fighting numerous lawsuits with the Department of Justice (with potential for more down the line) and the Volcker Rule could be further delayed - providing even more uncertainty for a sector that has dramatically underperformed the S&P 500 (chart above) over the past decade.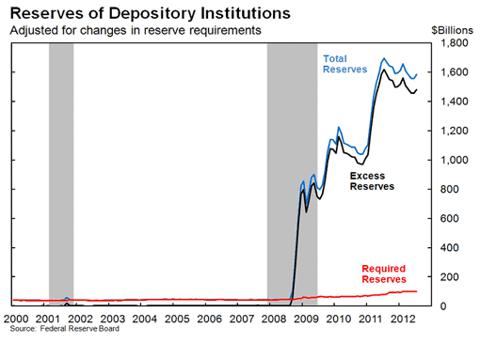 If all that wasn't enough, in her testimony before Congress last week, future Fed Chairwoman Janet Yellen didn't dismiss the notion of lowering Interest on Excess Reserves (IOER). Lowering the IOER rate would incentivize banks to lend more, but runs counter to the government's emphasis on banks being well capitalized. Perhaps no sector is as entangled with Federal bureaucracy as banks but if the outstanding issues are resolved, they could stage a major rally.
Bonus: Do you know more about the news than the average American?