11/22/13
Featured Chart: Percentage of the US monetary base backed by gold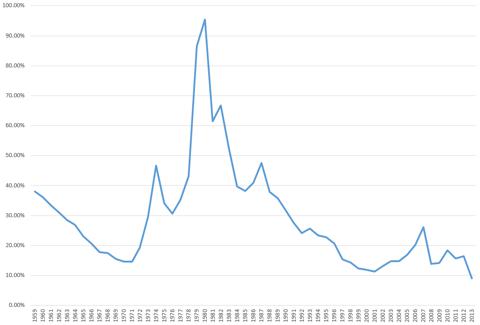 Many thanks to Santiago Capital for bringing this fact to our attention: the United States now has less than 9% of its monetary base backed by gold. Since the Lehman bankruptcy in September 2008, the US monetary base has more than tripled. The government's official gold reserves have remained flat in terms of ounces since the late 1980's but fallen in value over the past two years along with the gold price. Such a small percentage of the monetary base backed by gold is not necessarily a problem but does clearly show that the economy is in unchartered waters.
Gold in the Headlines:
China's Gold Production Increases But Is Dwarfed By soaring Consumption, Which Is Driven By Central Bank Gold Buying - IBT
Hong Kong-based consultancy Precious Metals Insight estimated that the central bank bought 300 tonnes of gold in the first half of the year alone, and that pace may have been maintained in the second half as China looks to diversify its holdings away from U.S. Treasury bonds, said Philip Klapwijk, managing director of Precious Metals Insight.
Switzerland Rejects 'Save Our Swiss Gold' Initiative, In Rebuff to Central Bank Gold Restrictions - IBT
The Swiss federal government on Wednesday rejected a right-wing political initiative known as "Save our Swiss gold," which sought to restrict the country's independent central bank's ability to sell and control gold, and urged lawmakers to vote down the measure.
Gold rush in space? Asteroid miners prepare, but eye water first - Reuters
Within three years, two firms plan prospecting missions to passing asteroids. When even a modest space rock might meet demand for metals like platinum or gold for centuries, it is little wonder storytellers have long fantasized that to harness cosmic riches could make, and break, fortunes on Earth.
4 reasons gold is poised for a comeback - Marketwatch
Admittedly, there are still some big challenges for the precious metal - especially in the last week or so when prices have been steadily rolling back again. But even if investors are a bit early as they turn to gold, fears of overbought domestic stocks may make even an uncertain bet in gold a preferable alternative to some right now.
Overnight Macro Developments:
Asia
China's new family planning rules could drive a "baby boomlet" but prob. won't boost growth - WSJ
China's love affair w/bitcoin - China's largest bitcoin exchange has seen its daily trading volumes surge - FT
Japan - Kuroda dismissed worries about Japanese stocks being in a bubble and said the yen weakness wasn't excessive; "I don't think there is any bubblelike, abnormal yen weakness right now in the currency market… I have no particular concerns that a bubble may be in the making in the asset markets" - WSJ
Japan - Kuroda said the BOJ was ready to adopt further accommodative measures if the present inflation goal came under threat - Reuters
Japanese government plans to issue fewer bonds next fiscal year as tax revenues are expected to rise on economic recovery and sales tax increase - Bloomberg
Rio Tinto: Chairman du Plessis said that Australia's mining boom has enable the country to develop "bad and lazy" habits and has masked the weakness of a slowdown in productivity improvements - The Australian
Europe
German Q3 trade numbers - exports came in +0.1% Q/Q (vs. the St +0.3%) while imports were +0.8% (vs. the St +0.6%)
German Ifo - the Business Climate came in 109.3 (vs. the St 107.7); Current Assessment was 112.2 (vs. the St 111.5), and Expectations was 106.3 (vs. the St 104)
Eurozone money markets are pricing in further ECB accommodation in '14 but not a negative deposit rate - Reuters
Europe + dark pools - European financial regulators have reached an agreement that would cap trading in "dark pools" - FT
Money market funds - global money market funds are set to lose ~1/3 of their AUM result of new industry rules and regulations according to a new Moody's report - FT
Americas
Appaloosa's David Tepper doesn't think stocks are in a bubble and he remains bullish on equities; he warns that Fed tapering may cause a brief negative reaction but this is a dip that should be bought. He said one of the biggest risks are those who run hedged books and don't have on enough long exposure as their performance will suffer - Bloomberg
Convertible bond sales are booming as investors seek to buy paper that can convert into equity. Sales of hybrid instruments have surged to ~$38B+ so far this year vs. ~$19B at this time in '12 - WSJ
Health Care - insurers are slashing the fees paid to doctors under the policies sold through the new health care exchanges. The development is raising concerns doctors won't participate in the new plans - WSJ
Commodities
Farm bill seems unlikely - the farm talks "stumbled badly" on Thurs and it doesn't seem likely that a deal will be on the House floor by mid Dec - Politico
China + Crude: China has taken steps towards launching its own crude futures market - Business Insider
Metals/Mining
Gold - HF manager John Paulson told clients he wouldn't personally invest more in his gold fund as it isn't clear when inflation will accelerate - Bloomberg
China will start interbank swaps trading of gold next week in a move to further open up the domestic precious metals market - Bloomberg
Germany, the world's second biggest holder of gold reserves, cut its bullion holdings in October for the second time in five months, data from the International Monetary Fund showed on Friday. Gold holdings by central banks are keenly watched since the group became net buyers in 2010 after two decades as net sellers. The 2008 global economic crisis triggered a wave of official sector interest in gold - Reuters
China's importers of refined copper face a shortfall of about 30,000 tonnes this month and the next as a typhoon-hit Philippine smelter has delayed metal deliveries, supporting spot premiums near 4-year highs, traders said on Thursday - Reuters
GBI Data Points*: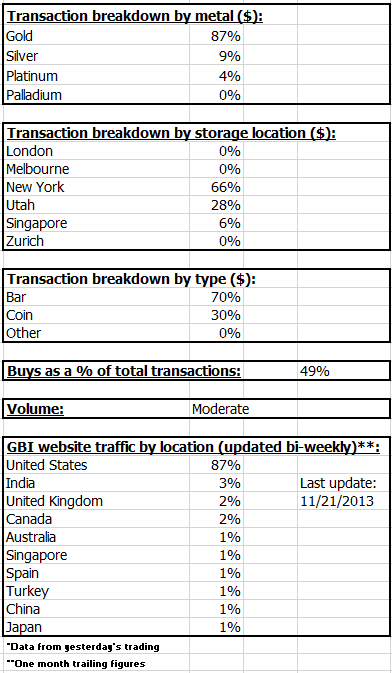 Ruminations:
In an under the radar story, the PBOC announced yesterday that the country does not benefit any more from increases in its foreign-currency holdings. This follows the news that the monetary authority will widen the Yuan's (NYSEARCA:CNY) daily trading band. If the Chinese follow through with this, it could be a major development as their FX reserves are more than triple those of any other country and bigger than the GDP of Germany.
China FX Reserves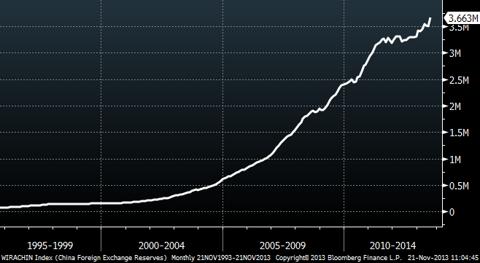 The Chinese accumulated these reserves by intervening in currency markets to keep the CNY artificially weaken relative to the USD - which made their exports cheaper and supported the manufacturing industry. Now that the Politburo seems intent on shifting the economy towards a more consumption driven model, a weaker CNY is no longer needed and FX reserve growth should slow as a result.
China FX Reserves (white) - Chinese holdings of US Treasuries (orange)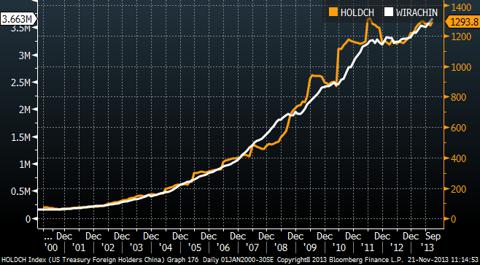 This is an important development for the US, because the Chinese have been recycling their reserves into US Treasuries (chart above), giving the US bond market a big boost over the past decade. Without a constant bid coming from China anymore, Treasury yields will rise unless another large buyer can take their place (perhaps the Fed?). This will happen very slowly and is certainly not a prediction of an imminent bond market collapse but this news is certainly a major turning point in global currency flows.
Bonus: The story of how a guy from Detroit was able to con just about every sports league in the country.