11/25/13
Featured Chart: Nikkei Index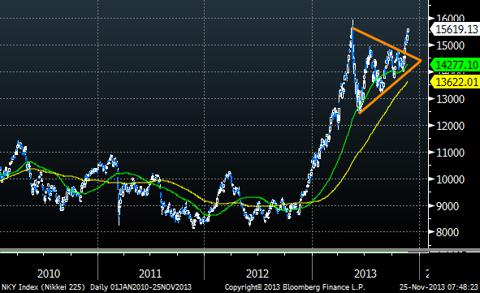 The Japanese Nikkei appears to be on the move again. After consolidating big gains from late 2012-early 2013, the index effectively traded sideways for the better part of six months. The latest Bank of Japan meeting revealed that central bankers have no intention of scaling back their latest asset purchase program that launched in April, aiming to revive the country's long-stagnant economy and stand ready to increase stimulus should conditions worsen. Also lifting the market was news that the Government Pension Investment Fund, the world's largest, is looking to invest more of its $2trn in assets into stocks and other riskier investments. Even a small change in allocation to such large sums of money make a big difference, and the Nikkei still has plenty of upside as it remains 61% below its nominal all-time high from 1990.
Gold in the Headlines:
Gold Analysts Most Bearish Since June on Fed Taper - Bloomberg
Gold analysts are the most bearish since June as the Federal Reserve signaled it may ease stimulus "in coming months" as the economy expands, cooling demand for an investment haven.
China to start gold swaps trading on Nov. 25 - Reuters
China, set to overtake India this year as the world's top gold consumer, will start gold swaps trading on the interbank market next week, giving more hedging tools for banks dealing in bullion. The Shanghai-based China Foreign Exchange Trade System will start gold swaps trading on November 25th, with the Shanghai Gold Exchange responsible for related settlement and delivery, the National Interbank Funding Center said in a statement on Friday.
Gold Option Wagers on Surge to $3,000 Was Most-Active Yesterday - Bloomberg
Call options giving owners the right to buy gold at $3,000 an ounce by December 2015 traded 7,250 contracts yesterday on the Comex in New York, more than double the amount of the next most-active option, data compiled by Bloomberg show. Futures for December delivery slumped 1.1 percent to $1,243.60 on the Comex in New York today. Prices reached a record $1,923.60 in September 2011.
Paulson Said to Inform Clients He Won't Add More to Gold - Bloomberg
Paulson told clients at his firm's annual meeting yesterday in New York that he personally wouldn't invest more money in his gold fund because it's not clear when inflation will accelerate, according to a person familiar with the matter.
Overnight Macro Developments:
Asia
China port stocks rally amid speculation the gov't may allow more cities to set up free-trade zones - Bloomberg
China local gov't debt - a finance ministry official said China's overall local gov't debt levels were at a controllable level although risks are rising; China's public sector debt now stands at ~50% of GDP according to this official - Reuters
China - the NYT discusses a trend of reverse immigration whereby more affluent Chinese citizens are leaving the country's cities and seeking out more rural climates to escape urban pollution - NYT
China + Airlines: Asian airline officials will have to notify China of flight plans before entering the contested air space over the East China Sea. The move forces carriers to acknowledge China's new "Air Defense Identification Zone" and has intensified the dispute between China and Japan - Reuters
Japan - Kuroda on Mon stressed his resolve to maintain the present policy stance and said he won't hesitate to adopt further accommodation - Reuters
Europe
Europe countenances the idea of fiscal transfers for the first time; new plan would loan out money at below-market rates in exchange for countries agreeing to economic reforms - Reuters
Germany's fin min no longer sees the risk of contagion in Europe - "The euro is stable, financial markets are no longer concerned about the future of the euro zone and there are no risks of contagion anymore" - Reuters
German savers are suffering as a result of ECB policies but this likely won't deter Draghi from pursuing further accommodative measures should conditions warrant such a move - WSJ
ECB's Hansson said the CB is prepared to cut interest rates further. Hansson doesn't see the ECB running out of options - Bloomberg
Swiss voters rejected a proposal that would have limited executive compensation to 12x that of ordinary workers - Bloomberg
Italy - the Letta government is looking stronger than ever and could very well survive into 2015. However, many leading Italian businesses are increasingly alarmed by the prospect of another 18 months of the present regime. The Letta government has done little as far as economic reforms are concerned - WSJ
Greece - the country's PM has warned troika officials of "reform fatigue" - FT
Americas
Iran/US - Tehran and the P5+1 powers late Sat night struck a 6-month nuclear deal that would see Iran take certain confidence-building measures in exchange for some sanctions relief. During the 6-month period both sides will attempt to negotiate a broader nuclear arrangement. As part of the weekend pact, Iran has agreed to stop enriching uranium beyond 5% and will convert its current stockpile of uranium enriched to 20%. As for the Arak reactor, which has been a source of contention, Iran agreed not to put the plant into operation or produce fuel for it - NYT
Israel - PM Netanyahu called the Iranian nuclear deal a "historic mistake" and said Israel was not bound to it. Netanyahu repeated that he wouldn't allow Iran to acquire a nuclear weapon and that Israel reserved the right to defend itself - USA Today
US banks warn the Fed they may start charging depositors for keeping money in the bank if the IOER rate is lowered - FT
Fed's message is getting through - traders don't anticipate the Fed raising rates until late 2015 despite rising tapering talk - Bloomberg
Fed - the Fed could decide to focus asset purchases at the shorter-end of the curve as they taper along the back-end; this way it would help reinforce their commitment to ZIRP - Bloomberg
Volcker - bank regulators are considering pushing forward and passing a version of the Volcker Rule despite objections to the present language from Gary Gensler, head of the CFTC, and Kara Stein, a member of the SEC. The Treasury has been pushing for the regulatory bodies to agree on Volcker by year-end but that deadline may be impossible given the Gensler and Stein objections - WSJ
Democrats are worried the party leadership and White House are in denial about the party's electoral prospects heading into the '14 mid-terms; some Dem candidates are nervous the party isn't doing more to help the races next year - Politico
Wall St Strategists are tempering their enthusiasm into 2014; even the bullish ones are only forecasting gains of mid-to-high single digits; many don't think multiples can expand much more while reduced Fed accommodation could hurt risk appetites - WSJ
Commodities
Sugar: The USDA sold 216,750 tons of sugar to domestic ethanol makers at a ~90% discount. The sale is a part of efforts to reduce excess sugar the gov't was stuck with after domestic processors defaulted on a $136.9M loan - WSJ
Iran + crude: The IEA said that even if int'l sanctions on Iranian exports are lifted, it would be difficult for the country to increase oil production to former levels quickly - Reuters
Metals/Mining
Gold - the group of traders and banks that set int'l gold prices are tightening their procedures and standards to protect against the type of manipulation that plagued LIBOR - FT
Eligible gold stocks sitting inside U.S. exchange warehouses have risen to a seven-month high, a sign that physical demand has weakened after April's historic price drop unleashed a bout of pent-up buying. The return of some of the gold to the warehouses after an earlier outflow suggested the wave of physical buying might have run its course, removing a key support to prices - Reuters
GBI Data Points*: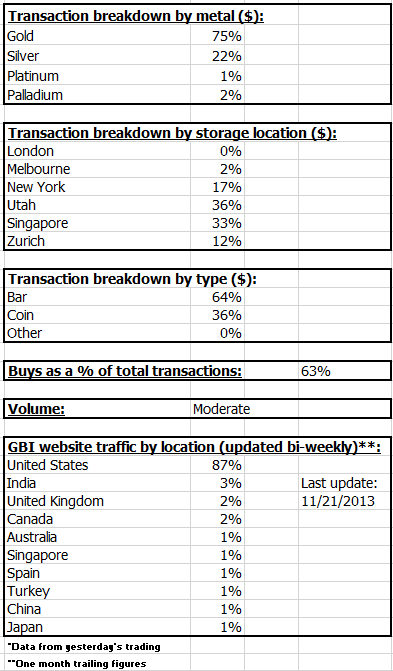 Ruminations:
Emerging markets have been a trendy investment strategy for several years now, but they've been outpaced this year by so called frontier markets, which are at an earlier stage of development relative to EM and include countries like Nigeria, Pakistan, Iraq, and Vietnam. Interestingly, the MSCI Frontier Index has been less volatile than the MSCI EM Index this year mostly because the individual frontier countries have little correlation with each other.
MSCI Frontier Market Index (orange) - MSCI EM Index (white)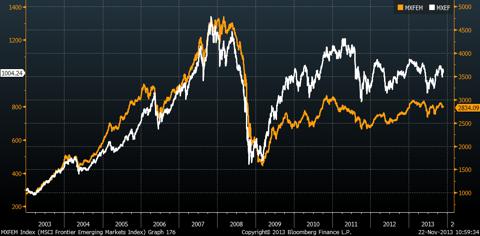 The MSCI Frontier index is comprised of 142 different constituents, whose combined market capitalization is around $130bn - equivalent to the size of PepsiCo. For such a small market, strong inflows can have a big impact.
MSCI Frontier Market Index (orange) - S&P 500 Index (white)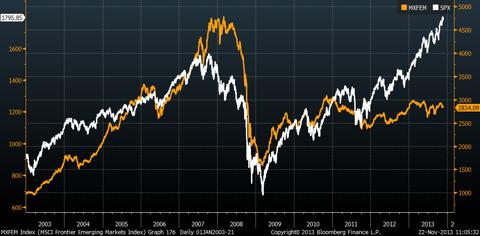 Some of the bigger risks that frontier markets have to contend with relative to their developed competitors include: political instability, social unrest, corruption, and stifling regulations. However, this is clearly an underdeveloped segment of the financial market and many of these risks are priced in already. In order to get access to potential growth in faraway countries like Morocco, Kuwait, and Egypt a frontier index might be the best bet.
Bonus: Stupid things finance people say.