12/6/13
Featured Chart: US 10-Year Real Interest Rates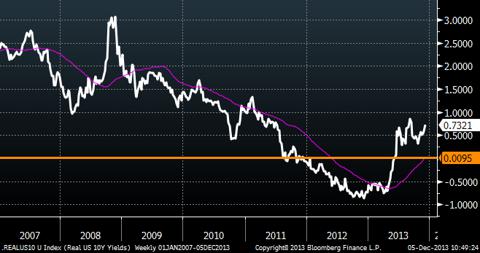 This chart clearly shows that real interest rates in the US look to have bottomed for now. At least some degree of tapering has been priced into the market already, but the picture will get much clearer in a few hours after the November employment figures are released. Thus far higher rates have not resulted in a stronger USD on a trade-weighted basis, which will make Janet Yellen's job easier when she takes over the Fed next month. A weaker USD would help stimulate inflation the Fed so desperately wants but it will be hard with rising real interest rates.
Gold in the Headlines:
Turkish gold imports hit highest on record in 2013 - Reuters
Turkey's gold imports have surged to their highest on record so far this year after a hefty drop in bullion prices, with further progress signposted if restrictions on trade with Iran are formally eased.
Barrick's Thornton Weighs Return to Gold Hedging - Bloomberg
Four years after Barrick Gold Corp. (NYSE:ABX) stopped hedging bullion sales, its next chairman, John Thornton, says the practice makes sense and is worth considering.
These Charts Hold The Key To Gold And Silver's Next Move - Forbes
Gold is sitting directly above its psychologically important $1,200 support level that stopped this past spring's bear market in its tracks. If this support level is broken on a closing basis, gold's bear market will probably begin another leg down that may take it to the next important support level at $1,000. The ultimate taper announcement is the most obvious catalyst that may cause this level to break.
Overnight Macro Developments:
Asia
Japan - the head of the Government Pension Investment Fund's advisory panel said JGBs should be sold now as funds are deployed into higher-risk/higher-return assets. JGBs should be ~52% of fund assets vs. 58% now. "GPIF needs to start reducing bonds as soon as possible," Ito said in an interview in Tokyo today. "Now is the right time to sell, while the BOJ is buying." - Bloomberg
Japan to Double Currency Swap Line with Indonesia, Philippines - DJ
China - Shanghai ordered 30% of government- used vehicles off the road because of severe air pollution - Bloomberg
Europe
German growth est raised - the Bundesbank has raised its 2014 growth forecast for the German economy. 2014 is now seen +1.7% (vs. the prior +1.5%) - WSJ
Germany - factory orders come in light; the Y/Y was +1.9% vs. the St +4.1% - Bloomberg
UK home prices jump more than expected - Nov home prices jump 1.1% vs. the St's +0.8% - Reuters
Norway - the country is preparing a proposal targeting asset sales and could dispose of holdings such as its stake in Statoil - Bloomberg
Americas
Budget talks close to deal; there is yet another article (this one in the WSJ) discussing how Murray and Ryan are close to a budget deal that will hold discretionary spending at $1T for the next two fiscal years - WSJ
Hedge funds trailing US stocks by widest gap since '05; funds are on pace to return ~7.1% this year, ~2200bp less than the SPX. The performance gap is the worst since '05 -Bloomberg
Central banks ratchet up warnings over Bitcoin; officials in France, China, and the EU have been stepping up their warnings re Bitcoin - WSJ
Bitcoin plagued by fraud, hacking, and outright theft - NYT
Commodities
US facing major crude oil glut - the WSJ discusses how the Gulf region is awash in high-quality crude, causing domestic prices to drop sharply of late. "The ramifications could be far-reaching, including lower gasoline prices for American drivers, rising profits for refineries and growing political pressure on Congress to allow oil exports" - WSJ
Deutsche Bank - the co is closing the bulk of its commodities business - FT
Metals/Mining
Strong demand from the auto sector and an unpredictable supply from above-ground stocks suggest a physical shortage could take place in the palladium market as early as next year, an executive at the Russia's Norilsk Nickel said on Thursday. Anton Berlin, Norilsk's head of strategic marketing, also said a possible ban on metal shipments by Indonesia government could significantly reduce an oversupply of nickel, but the metal's price may not receive a boost until huge stockpiles are sold. London Metal Exchange nickel stocks are record high above 250,000 tonnes - Reuters
Barrick Gold Corp investors have taken in stride news that the world's largest gold producer may consider hedging its gold exposure, but they are roundly panning its plan for more diversification into other commodities. John Thornton, who was confirmed after markets closed on Wednesday as Barrick's next chairman, told reporters he would consider revisiting a hedging strategy for selling the company's output because of the volatility of gold prices
The Shanghai Gold Exchange is considering launching an offshore platform in the city's free trade zone that will offer products for overseas investors and allow free yuan use, the Shanghai Daily reported on Friday. "We want to tap the opportunity from Shanghai's pilot free trade zone and launch an international board to attract offshore yuan to invest in the mainland," Xu Luode, chairman of the exchange, was quoted as saying in the paper - Reuters
GBI Data Points*:
Trader Commentary: Silver Eagles continue to be marked up and delayed as the US Mint prepares for production of 2014 coins. The premium on Palladium Maples has increased industry wide.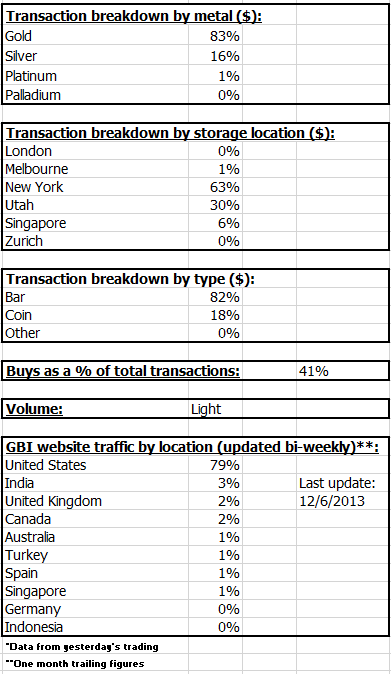 Ruminations:
Many analysts agree that the Bakken shale formation in North Dakota is the world's most important oil discovery of the last 50 years. Estimates are that the Bakken's break-even cost for crude oil is currently around $62 per barrel - considerably lower than other parts of the world. Because transportation of this oil remains constrained to trucking and rail there remains a glut of oil in the region, keeping Bakken oil prices significant below (currently $10) the US WTI benchmark.
Bakken Spot Oil Prices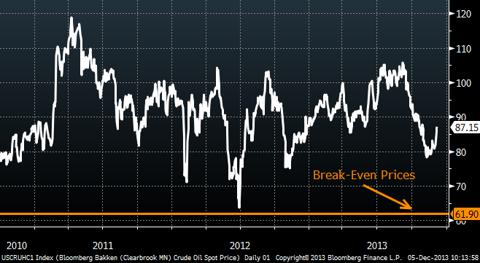 Analysts estimated that $80 per barrel is the sweet-spot for drillers to attract capital investment. In this regard, Bakken wells are doing just fine. Experts say that 1mn barrel per day output level is expected to be breached early next year - a significant psychological barrier.
Brent Crude - WTI Crude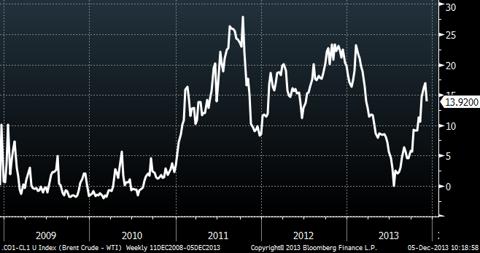 And the global picture is still clearly shifting in the US's favor as oil imports decrease. Brent crude is trading at a $13 premium to WTI (chart above), driven not only by supply-demand fundamentals but also geopolitical risks which are becoming increasingly apparent. Saudi Arabian exports to the US have remained stable, but this is probably more of an appeasement after the US government went against the Kingdom in Egypt, Syria, and Iran.