1/21/14
Featured Chart: Inflation-Adjusted NASDAQ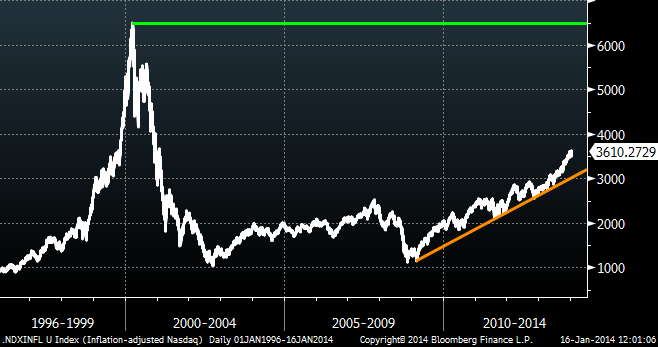 On a nominal basis the NASDAQ is now less than 30% below its all-time high from 2000. And considering that the tech-heavy index gained 35% in 2013, some would say there is a realistic chance that high could be breached this year. However on an inflation-adjusted basis the NASDAQ is still roughly 45% below its 2000 peak. This chart shows clearly that the 2013 returns accelerated above trend growth since the 2009 market bottom and that tech-stocks would have to skyrocket in order to set fresh highs. More than anything this charts shows how badly markets can diverge from fundamentals during market bubbles.
Gold in the Headlines:
Bundesbank to Recall 30-50 Tons of Gold From New York in 2014 - Bloomberg
The Bundesbank plans to repatriate 30 to 50 metric tons of gold stored in New York this year under a plan to ship home half of its bullion reserves held abroad. The central bank transferred 32 tons of gold from Paris and five tons from New York last year, according to a Bundesbank spokesman. The bank expects to repatriate the reserves at a pace of about 50 tons a year, he said.
Gold Sentiment Shifts Modestly - Largest ETP Fund Inflow In One Year - IBT
Sentiment towards gold has picked up modestly in January, as the precious yellow metal closed just above $1,250 per ounce on Friday, a psychologically key threshold, amid other encouraging signals. "A modest build in speculative positioning, an increase in ETP holdings, and a strong start to coin sales implies investor appetite may be less of a drag on prices and in turn is a key area to watch," wrote Barclays PLC analysts in a note on Monday.
Income Tax department to check people bringing gold from abroad - The Economic Times
New Delhi: Financial details of Indians bringing in gold from abroad after duty payment will be shared by customs authorities with Income Tax department to check suspicious ferrying of the yellow metal into the country.
Gold contrarians say it's time to start buying - MarketWatch
It's known as the contrarian approach to investing, and there's a lot more talk about it after gold's hefty 28% plunge last year and as analysts slash their forecasts on gold for the year. Investors are selling low and contrarians have an opportunity to buy cheap. "The analyst landscape is uncommonly bearish," said Dennis Gartman, editor and publisher of The Gartman Letter. "Even the 'gold bugs' are neutral of gold and that is stunning, really."
Overnight Macro Developments:
Asia
PBoC delivered on its overnight pledge to ease the increasingly tighter liquidity conditions going into the Lunar New Year holidays in February; Central bank injected CNY180B in 21-day reverse repos and CNY75B in 7-day reverse repos, making the largest injection since Feb 2013 as well as its first open market operation in nearly a month. Repo rate opened up lower ahead of the announcement, and the 7-day SHIBOR saw an 80bp drop to 5.53%. Shanghai Composite and the Hang Seng both rallied by over 1% in the morning session following the announcement.
Former PBoC adviser/director of National Economic Research Institute Fan Gang: China potential growth rate may slow to 7-8% in this decade; China's local debt problem is manageable; Real estate market has stabilized
Hong Kong Dec Unemployment Rate: 3.2% v 3.3%e
Japan Econ Min Amari: US, Japan needs to work together to bring Trans-Pacific Partnership (TPP) positions closer
Japan Vice Finance Minister Furukawa reiterated the view that it could not cut corporate tax rate to 25% without other sources of revenue to make up the shortfall
NEW ZEALAND Q4 CPI Q/Q: +0.1% V -0.1%E; Y/Y: 1.6% V 1.5%E (highest level since Q1 2012)
Europe
Deutsche Bank released a preliminary Q4 pretax loss following Friday press speculation of lower guidance
German ZEW - the data was a mixed picture: expectation fell for first time in 6 months and came in at 61.7 (vs. the St 64). The current situation though was very strong, coming in at 41.2 (vs. the St 35) - Bloomberg
Germany Dec PPI M/M: 0.1% v 0.0%e; Y/Y: -0.5% v -0.6%e
Greece PM Samaras considering a cabinet reshuffle and possible snap election as SYRIZA has said it will try to force elections in February
Anti-riot police clashed with protesters in Kiev, Ukraine on Sunday after several thousand marchers tried to break through the police cordon around the government parliament building
Americas
USD is supported by an opinion piece from WSJ Fed watcher Hilsenrath, who argues that the FOMC is still on track to continue to taper asset purchases. Hilsenrath sees another $10B reduction in the overall program to $65B/month, noting that Fed officials will see the surprise decline in December non-farm payrolls as a statistical aberration and the result of bad weather conditions - WSJ
UPS and Amazon are recovering from losses seen after UPS cuts its FY14 guidance and offered sub-par Q4 guidance before the open. UPS said the reduced guidance was due to higher costs incurred in deploying more resources than estimated to deal with a heavier-than-expected holiday shipping surge, including an "unprecedented" level of last-minute online shopping. Recall that just after Christmas, both Amazon and UPS said they would offer refunds to customers who did not receive orders on time.
Cyberattacks - officials believe malware software created by a 17 year-old was responsible for the security breach at Target and other retailers - NY Post
Commodities
China + cotton - Beijing will end a controversial cotton stockpiling program and instead will provide subsidies to cotton farmers - FT
Iron ore - prices have declined to their lowest levels in 6 months as Chinese buyers retreat from the market amid falling domestic steel production and rising domestic inventories - WSJ
Metals/Mining
State miner Codelco hopes Chile's incoming center-left government will give it a fresh cash injection as it struggles to finance ambitious investments, the chief executive officer said in an interview published on Monday. If president-elect Michelle Bachelet does not grant Codelco extra funding, "the company has two options: reduce its investment plans or change its financing policies, " CEO Thomas Keller told local newspaper El Mercurio - Reuters
South Africa's ailing economy cannot afford more mine labour unrest, Finance Minister Pravin Gordhan said on Monday, as the platinum industry's main trade union served notice on the world's top three producers that it planned to strike this week. A series of sometimes violent strikes in the factory and mining sectors constrained growth to a sluggish 2 percent in 2013, hampering efforts by President Jacob Zuma's government to create badly needed jobs as it braces for elections this year - Reuters
Osisko Mining Corp rejected on Monday an unsolicited C$2.6 billion ($2.37 billion) takeover bid from rival Goldcorp Inc, saying the offer was financially inadequate and not in the best interests of its shareholders. The rejection, which sets the stage for a possibly bruising takeover battle between the two Canadian gold miners, came as no surprise. In its preliminary response to the bid last week, Osisko said the 15 percent premium being offered by Goldcorp was "very low" - Reuters
Chinese gold imports, the lone bright spot in an otherwise disastrous year for bullion in 2013, look set to fall from last year's record levels, adding to pressure on gold as analysts forecast a price decline for a second year. But any drop-off in Chinese demand is likely to be limited by gold's 28 percent price-plunge in 2013, which has kept retail buyer interest high in the world's biggest bullion consumer, even as large investors scour for greater returns elsewhere - Reuters
Germany - the country will repatriate 30-50 tons of gold currently stored in NY during 2014; Germany transferred 32 tons of gold from Paris and 5 tons from NY in '13. Germany has said it will look to bring home 50% of its int'l gold reserves by '20 - Bloomberg
GBI Data Points*: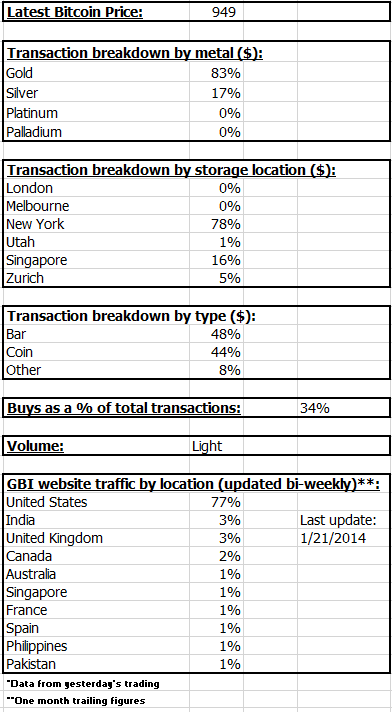 Ruminations:
For a country where transparency has always seemed to be the enemy, the Russian economic ministry has been awfully blunt the past few months. First they acknowledged that their economic slowdown was the result of domestic vulnerabilities like weak labor productivity, not just a weak global environment. Then they slashed their economic growth forecasts for the next two decades, warned that oil-fueled growth is over and that there is nothing to take its place given the poor infrastructure and investment climate.
Russian CPI Y/Y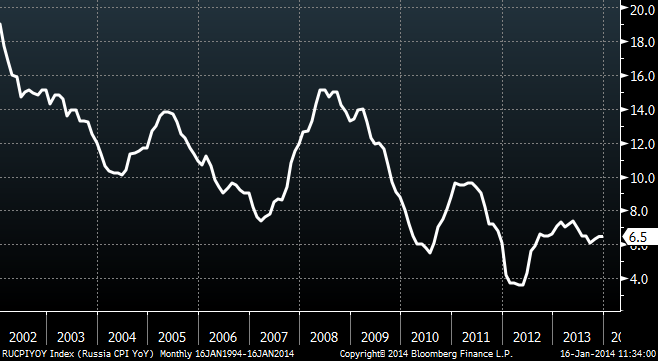 Now, a top Russian central banker is saying that the country is suffering from stagflation. Stagflation leaves governments in a pickle, because cutting interest rates to spur growth can cause inflation to run out of control.
Russia GDP Y/Y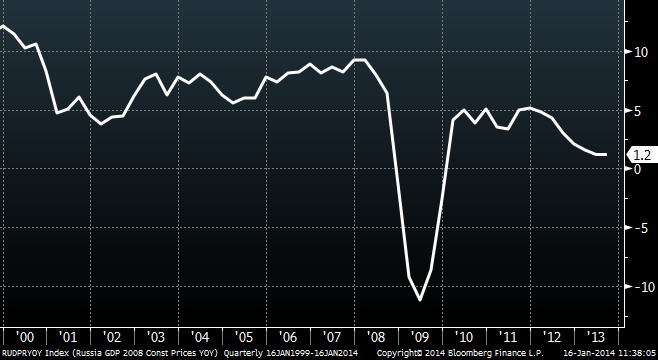 The economics ministry estimates that 2013 capital outflows were in a range between $55-60bn, which put a dent into Russia's current account surplus which is now less than 2% of GDP - down from more than 5% in 2012 and 18% in the early 2000's. It's clear that the only way to reverse this decline is structural reform but a rising oil price would sure make it easier for them. In an example of the structural problems that plague the country: the Sochi games next month cost an estimated $51bn - the most expensive in history and more than three times the budget of the 2012 London games. The costs have soared above projections amid "allegations" of corruption and favors doled out to the oligarchs.
Bonus: Steph Curry hits full-court shot.