1/24/14
Featured Chart: US Dollar / Turkish Lira (TRY)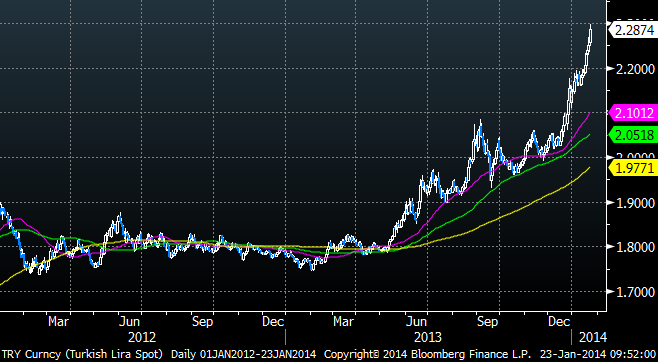 The political crisis is still getting all the headlines, but an unraveling economy is probably the more important story in Turkey. The Turkish Lira (TRY) is hitting fresh lows against both USD and EUR after the Turkish central bank declined to raise interest rates from 4.5% level earlier this week. The domestic fundamentals are very weak with inflation running at a 7.4% Y/Y clip and the current account deficit at an unsustainable at 7% of GDP. Prime Minister Erdogan has become increasingly authoritarian and has vocally supported keeping interest rates low in order to bolster growth during an election year. Turkish stocks are down 30% from the 2013 highs, and the central bank started intervening directly in currency markets Thursday for the first time in two years. In a one-sentence statement, the central bank said it was intervening with direct foreign-exchange sales because of "unhealthy price developments." The data shows that much of the TRY selling has come from within the country. Foreign investors' ownership of Turkish assets only dropped from 66% of equities in May 2013 to 62% currently, and the foreign share of bond ownership slipped from 25% to 22%. Perhaps the Turkish citizens hoarding dollars know something that the foreigners do not.
Gold in the Headlines:
China becomes top gold consumer in 2013 - FT
Its hungry factories and mushrooming cities have made China the number one global consumer of industrial metals such as copper, aluminium and zinc. Now, for the first time, gold has been added to that list. In 2013, soaring purchases of jewellery, minted Panda coins and small gold bars helped China overtake India as the world's biggest gold consumer, according to the Thomson Reuters GFMS gold survey - the most widely followed report on the industry. Chinese demand reached 1,189.8 tonnes last year, a 32 per cent year-on-year jump and a fivefold increase since 2003.
Sonia Gandhi seeks gold import duty cut, jewellery stocks soar - The Economic Times
Congress president Sonia Gandhi has written to the commerce ministry seeking a cut in the import duty on gold, reports ET Now, citing government sources. Ms. Gandhi is said to have pushed for the relaxation of 80:20 scheme on the import of the yellow metal.
Pakistan Imposes Ban on Gold Imports - WSJ
Pakistan has imposed a temporary ban on gold imports to curb a sharp rise in smuggling, which threatens to put pressure on local foreign exchange companies. The country's finance ministry said in a brief statement that the temporary ban will be effective for 30 days and the move is based on "credible reports" indicating that a steep increase in import taxes on gold in a "neighboring country" has led to a surge in smuggling activity.
The Fed is trapped; buy gold now, Peter Schiff says - CNBC
"Gold has already priced in whatever taper is coming," Schiff, CEO and chief global strategist of Euro Pacific Capital, told CNBC. "If anything, it has overpriced it."
Overnight Macro Developments:
Asia
Singapore Dec Industrial Production M/M: 5.2% V 0.5%E; Y/Y: 6.2% V -1.4%E
Vietnam Jan Consumer Price Index (NYSEARCA:CPI) M/M: 0.7% v 0.5% prior; Y/Y: 6.8% v 6.1%e
Shanghai Composite is the only regional index to trade higher, with 7-day repo rate falling over 100bps in the wake of China liquidity injection this week; Nikkei225 leads the decliners with a 2.3% selloff in afternoon session, tracking firmer the JPY.
China National Development and Reform Commission (NDRC) to maintain basic stability of general price level in 2014 - Chinese press
China Foreign Minister Wang Yi: Japan PM Abe's remarks in Davos on his Yasukuni shrine visit are unacceptable
Japan Fin Min Aso: Deflationary conditions have nearly ended in Japan; must consider overall perspective for corporate tax cut
Bank of Korea (BOK) Gov Kim: 3.8% GDP target for 2014 is a "reasonably good" estimate; further decrease in yen could hurt South Korean exporters
Reserve Bank of Australia (NYSE:RBA) board member Ridout: AUD has not fallen enough; AUD at $0.80 is fair deal for the economy - financial press interview
Europe
BoEs Weale stated that lowering unemployment threshold won't achieve forward guidance's key aim of greater certainty. New threshold could quickly be overtaken by events.
UK Chancellor Osborne stated that talking about potential exit from QE was a remarkable success and showed that monetary worked. Recovery was underway and supported by the consumer and unemployment is falling (income not debt led). BOE was independent; forward guidance was not a trigger but a threshold. He rejected the idea that BOE's forward guidance was a failure - FT
SNB's Jordan stated that it was in a complex situation and it must be careful with forward guidance not to confuse the markets. CHF currency remained a safe haven and would maintain the EUR/CHF floor and increase its balance sheet if necessary
France Fin Min Moscovici: Need to move faster and further on the reform front
Troika wants to pre-agree to terms with Greece before their return to Athens - press
Americas
January Preliminary Markit US PMI Manufacturing: 53.7 v 55.0e
Brazil Jan IBGE Inflation IPCA-15 M/M: 0.7% v 0.8%e, Y/Y: 5.7% v 5.8%e
Brazil Jan FGV Consumer Confidence: 108.9 v 111.2 prior
Mexico Fin Min Videgaray: Mexico has a free floating currency that works well, peso weakness currency is in-line with emerging market currencies
Metals/Mining
The leader of India's ruling Congress party, Sonia Gandhi, has asked the government to review tough import restrictions on gold, which include a record 10 percent import duty, a television channel and a news website said on Thursday. Her intervention is likely to create pressure for an easing of rules that have hammered the bullion industry and brought a surge in smuggling, but the finance minister said the curbs would not be rolled back anytime soon - Reuters
Barrick Gold Corp will use a lower-than-expected gold price to estimate its bullion reserves, its chief executive said on Thursday, making some of its in-the-ground gold uneconomical to mine and may result in asset writedowns. The world's biggest gold producer will re-calculate its reserves at a gold price of $1,100, down from $1,500 a year ago, resulting in a decrease in its reserve base, CEO Jamie Sokalsky said - Reuters
GBI Data Points*: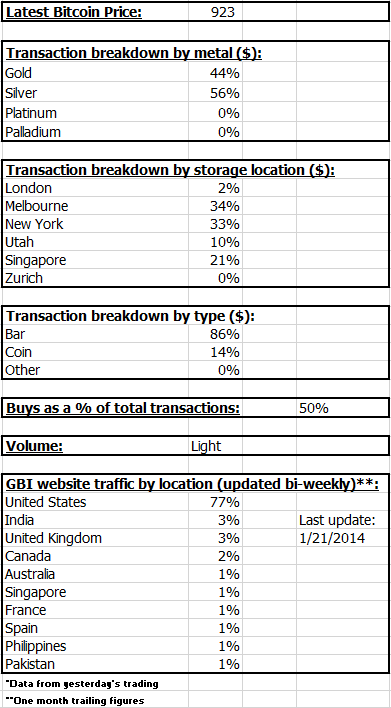 Ruminations:
Last week we highlighted the weakness in Canada, and the Bank of Canada (BoC) did little to paint a rosier picture after its meeting on Wednesday. The bank's statement following the meeting made it clear that they want a weaker Canadian Dollar (NYSEARCA:CAD) and that slightly stronger growth in Canada or the US has not offset downside risks to inflation.
Trade-weighted CAD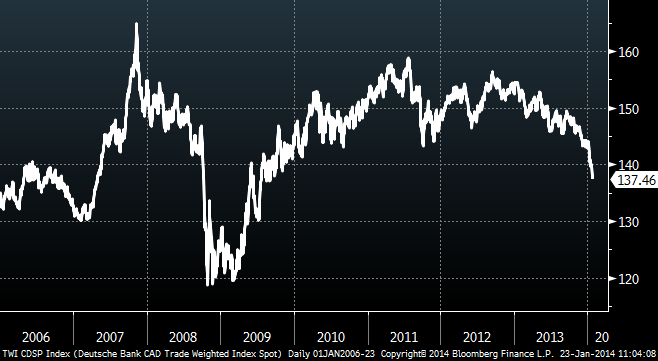 These are five quotes from the BoC's statement that show they believe the currency needs to weaken even further:
"The Canadian dollar has recently fallen to around 91 cents U.S., compared with the 97 cents U.S. assumed in the October Report. This depreciation likely reflects the improved growth prospects in the United States, as well as reduced safe-haven effects that had pushed the Canadian dollar higher in the aftermath of the global financial crisis. By convention, the Canadian dollar is assumed to remain at or near its current level over the projection horizon. Also "despite depreciating in recent months, the Canadian dollar remains strong and will continue to pose competitiveness challenges for Canada's non-commodity exports"
In small type also: "the Bank estimates that commodity prices account for roughly half of the appreciation of the Canadian dollar since 2002 the remainder of the appreciation is in line with the broad-based depreciation of the US dollar"
"Canadian firms should also be more inclined to invest, since the lower value of the Canadian dollar is boosting both activity and profitability in the export sector"
Canadian CPI Y/Y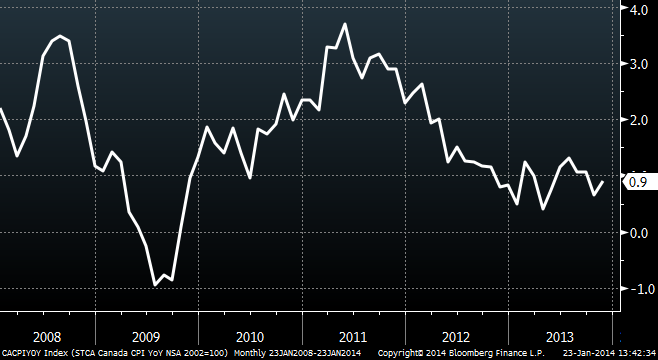 "The depreciation of the Canadian dollar in the past year is also expected to exert some upward pressure on inflation. The lower profile for inflation relative to October mainly reflects the Bank's assessment that the effects of heightened competition on inflation will be more widespread and persistent than previously assumed"
"While prospects for the global economy have improved and the Canadian dollar has depreciated in the past year, the base-case projection is conservative in assuming that only a small portion of this wedge will dissipate over the next two years. However, with the performance of exports still disappointing, there is a risk that the growth rate of exports will continue to fall below that of foreign activity in coming years. This could reflect more intense competitiveness pressures or an inability to respond rapidly to increases in demand, given the reduced production capacity in some export sectors."