REMEMBER THAT I'M A NOOB! PLACE MORE WEIGHT ON YOUR JUDGMENT.

SYNOPSIS: 7/7 Price erosion still associated with volume not showing significant reduction yet. This indicates that there is still downward pressure.
CFTC announces meetings over next couple of months to examine changed and/or additional limits on speculative positions. Could this have significant effect on UNG and NG? Since UNG has already reached the point that it must go to OTC swaps I'm pretty sure there will be an effect.
Let's not forget that a 12 month version has been applied for. What effect on this version? I need to investigate this.
The house energy bill (as opposed to the clean energy bill) has some significant incentives for increased use of NG in transportation. These include for tax credits capex and for new/repowered vehicles. There are also incentives for manufacturers, a $30B R&D support budget and other NG incentives not related to transportation.
Now it's just a matter of time, investment vehicle selection, entry points and patience (for increased understanding) before
SYNOPSIS: 7/6 STILL TOO EARLY. I deleted the original, losing comments from others. SA was kind enough to get the comments where I could at least attach them to here, although you won't be able to see via your normal path. I noticed that the period we are in resembles the early April time, before the lowest prices were seen on 4/30, and the volume drop I was looking for hasn't happened yet (maybe just because of the selling into the long weekend). I had also forgotten to consider "seasonality" - in 2007 August had price drops. I need to check this out more. A little more patience needed. Wait to see if we can get falling volume on the falling price or all indications of an sustained upturn.
I had gotten over-excited as I saw UNG drop below the $13 mark and figured the April 30th lows would be a good entry point. After all that I stepped back and realized what I had not yet done.
IGNORE EVERYTHING AFTER THIS UNTIL THIS SENTENCE GOES AWAY!
I believe the time is near for a long-entry in UNG/NG for a profitable trade. Conditions are right for a minimal down-side risk and the entry can work as both an intermediate-term trade and a short-term (3-6 months) investment. This is predicated on minimal downside risk, the possible start of the long-awaited reduction in injections, and an assessment that the combination of factors in play now will at last cause a quickening in reduction of exploration and development drilling.
A small blip denoting a possible change in one fundamental factor, and technical chart analysis lead me to believe the downside is limited to the approximate April 30th low of $12.68 (let's make it $12.50) and even if not, a judicious purchase of protective puts at an opportune normal intra-day high in the next two weeks or so should provide adequate down-side protection. I would suggest slightly longer-dated puts as the July expiration is the 18th and time-decay (important only if you plan to sell the puts for a profit) is very rapid right now (for protective puts, only the time period for which you want protection and your entry price is really important). Keep in mind that options have their own expiration dates, different than the futures contracts.
Just for reference, the Nymex August and 4 subsequent futures contract termination dates are the 29th, 27th, 28th, 28th and 24th. Options for July and subsequent months are the 18th, 22nd, 19th, 17th, 21st and 19th.
Upside potential on the long-equity portion, at a minimum, should reside at $13.50, the new resistance (if my newly-acquired charting skills are working properly). If it breaks up from there, which I believe it can over the front-month contract life, next resistance would be at $15 or so. Further potential exists if appropriately priced and timed long puts or short calls are selected and one can both exit the long UNG position and the long puts or short calls position at a profit (this would, I believe, require exiting each position at different times). Over a longer time-frame, there could be more upside to the next resistance at $16.50 (I'm thinking of the Oct-Jan contract time-frames). Looking at the current futures deep into the winter, more upside exists, but I've not yet found a good winter forecast on which to base an opinion.
Risks to the strategy are limited, but real:
S&P500 closed below 900 today, possibly indicating what J.S. Kim predicted here is coming true now - a correction that affects the market generally and causes UNG April lows to be severly violated
the true lows may come later (in 2007, they came in mid-august, but "this time it's different" ) - I discount 2008 due to its extreme nature;
if oil continues its decline (seems likely as the dollar index keeps coming back and demand for oil is not strengthening) and folks now believe the new oil:gas price ratio of 19.4:1, they will turn decidedly bearish and dump UNG, but there has been a seeming resistance to this, most folks apparently believing that the older ratios will come back via a rise in NG prices (NB: CNBC talking head today quoted the 8:1 ratio and believes money will leave oil and enter NG - a strong possibility if that's what most advisors are telling their clientele);
if the next couple of weekly injections rise to the 100 Bcf level again bearish sentiment would increase;
if even greater dramatically reduced usage is seen near-term (e.g. an even more mild than predicted summer leading to further reduced peak generation needs, or a severe increased decline in vehicle consumption by such as drayage trucks at ports, waste haulers, metro transit fleets, etc.), bearish sentiment would increase.
I will be hedging these risks with the judicious use of appropriately timed and priced options.
One more risk, but I have no idea of a time-frame, possibility or ultimate effect, is that the new 12-month rolling version of UNG will be approved and cause a mass-exodus from UNG. I have no idea how to evaluate this possitility yet.

DETAILS: As some might know, I've been bearish, near-term on natural gas and UNG (as a proxy for NG) since I began trying to learn about this stuff. In summary, the combination of the state of the economy, unemployment, excess NG supply and my expectation that reduced demand would continue caused a fundamentally bearish outlook.

For a detailed look, warts and all, review Natural Gas: Long-Term Bull, Short-Term Bear (Part 1) and review my comment stream (warning, there's lots of comments on different subjects), where you can also see all those who helped me out.

As my education grew, with the help of so many that were gracious enough to provide comments, links and constructive criticisms, it seemed to me that UNG provided a poor investment vehicle, although it might be a suitable trading vehicle. I had already used it in that capacity once with good results.

I can't possibly individually thank all those who helped in this education process.

As things changed and knowledge improved, in my comment stream you'll see uncertainties and adjustments to views (if Hank Paulson can change plans as new information is available, I can also do so).

Thanks to each and every one of you, individually!.

Now, to the main topic. I had been looking for natural gas to fall at least to $3.9x and stay there or lower for a while. And I had been expecting UNG to continue bouncing around and break below $13.50, its nearest support, if I was interpreting the charts correctly. Keep in mind that I'm also new at technical chart analysis!

Over the time since I first reached my conclusions the scenario seemed to be playing itself out, more or less in line with my expectations (again, thanks to all those that helped refine my understanding). Excessive weekly injections continued, working storage volumes exceeded the 5 year average, bad news about everything that might have helped NG prices just kept on coming. The following chart reflects this state of affairs.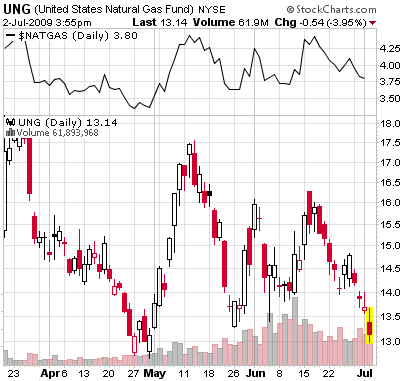 Today, Thursday July 2 2009, began sort of normally but with an opening volume of 2.39MM (about 3 times normal - likely because today is EiA reporting day), down from the prior close of $13.68: O $13.39, H $13.41 L/C $13.36. Volume then dropped right down to normal levels. This was the first time in recent weeks that UNG broke below (what I think is) support of $13.50. Intra-day, at 09:34 EDT it went lower to $13.33. It piddled along from there awaiting (with baited breath I guess) the 10:30 release of the EIA weekly report.

At 10:30 a lower than expected injection was reported by the EIA weekly report. Reported injection was 70 Bcf when the expected had been 82 Bcf (if I recall correctly). An immediate spike in in volume occurred (1.78MM shares in the first minute and approximately 3.3MM more in the next 6 minutes) and the price jumped from a previous $13.43 to $13.67 in that time-span. Then volume again returned to normal.

Was that the start of a big run-up? Nope. UNG then piddled its way down, hitting an intra-day low, $13.33, again 3 times between 12:45 and 12:57 and made an ultimate intra-day low at 14:24 of $12.98. It finally closed the day at $13.11 on daily volume of 63.35MM shares traded, about 50% above the 3 preceding down days average volume around 42MM shares.
NOTE: it's not certain this increase can be attributed to increased bearish sentiment as we have the normal sell-off before a long weekend in play here, possibly demonstrated by the S&P action today, which dropped below $900 on lower volume. Ignoring all that, on a purely technical basis, this would normally indicate that the selling pressure was not yet exhausted. Next week will tell the tale I think.

Although I don't think the price decline was affected by the following factors, we also had oil and gold declining, dollar index strengthening and bad unemployment numbers reported prior that point.
Another thing of note is that the Nymex Henry Hub futures ended the day slightly up, although the prices were by no means awe-inspiring.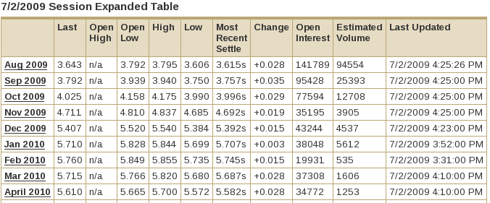 Why do I see a near-term bullish trade here? First, bearishness seems to be nearing maximum, as evidenced on the technical side:
last 9 days trading has been at and below the 20 day SMA and below the 200, 100 and 50 day SMA;
downside risk is minimal because recent lows of 4/30 were the lowest price ever seen on UNG: O 12.82 C 13.13 L 12.68 H 13.27 and I believe they will not be violated in the extreme;
we've had a 4-5 day down trend with recent volumes trending towards normalcy (appx. 30-50MM shares/day) and weakening volume (ignoring today's volume) - this tends to indicate that sellers are becoming exhausted;
RSI/MFI weak (but not yet in oversold condition) at 37.2 and 35.7 and weakening;
stochastic is nearing a turn, but not there yet (I tend to be a little early rather than wait for lagging indicators or confirmation - shame on me);
MACD mildly negative and divergence about as wide as we've seen recently - it's lagging also;
A/D reversed downward recently, but still showing strong accumulation at +178 (but it's lagging and I only look for directional changes on this indicator)
the substantially increased interest in UNG, as evidenced by the huge volume (96.44MM shares traded June 11th) and somewhat-recent temporary price improvement (closed at $17.46 on May 12th) seen over the last few months, combined with continued high daily volume, tells me that big money and sell-siders are making money with churn here.
For your independent verification, here's a 200-day chart.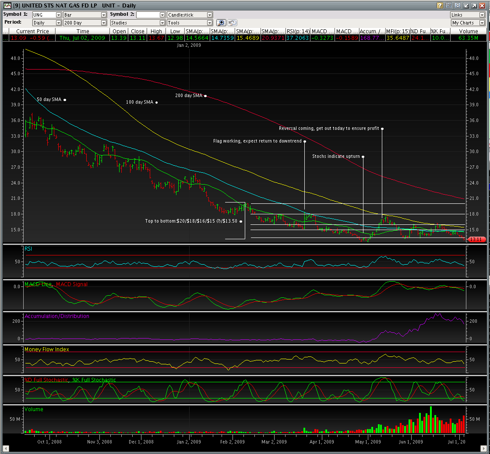 Support for the bullish trade comes first because the underlying contracts were up slightly despite the UNG action. I expect sentiment changes. Even during the very bearish period of late, we've had bloggers touting UNG as a good long-term investment. Now that we've seen even one small bullish indicator, an injection not only less than recent weeks but also less than expected, we should see a few more bullish investment articles appear. They will mention the same old adages, "can't go wrong at this price", "good time to add to your position" (in other words, keep building on a losing position), "the oil/gas price ratio should return to normal" (possibly ignoring that oil is trending down), "summer season generation demand will increase" (ignoring that a milder summer is forecasted), "wait 'till winter comes", "we've entered hurricane season and some capacity is at risk", etc.
Now they'll add that it is obvious operating wells are finally being shut-down (but Baker Hughes shows +1, now 688 U.S. gas rigs this week, but still -851 YoY which is a 56% reduction). With many investors seeing long-term potential and looking to add to their positions, there should be good enough support to prevent a drop much below $12.50.

All this will sway some investors. I also think that some investment advisers and houses will take the same view and play NG directly (driving price up near-term) and maybe even play some UNG (I hear that many have gotten lazy and use ETFs a lot now). This should add a little up-side pressure.
Looking only at 2007 (because 2008 was so unusual), NG prices had a trend down from early July to mid-August and then a turn up. Although 2008 was an extraordinary year, a small remnant of the pattern is still seen in that year. With the huge inflows to UNG this year possibly affecting the underlying's price, this pattern may be slightly truncated and turn up sooner or have more spikes up and down (due to generally high volatility in the energy sector), presentating a trade opportunity.

SUMMARY: So, what do I do here? Enter UNG long at or below $13.00 if it goes and stays down there a bit and a confirmation of bottoming and impending reversal is seen. Once in, wait for normal trading cycles to occur and pick a good high point with signs of reversal coming. When that is seen, I'll either exit with a profit or go long puts or short calls to get some protection and/or generate additional profit. Thereafter, I'll watch things unfold and close-out one or both positions at a profit when indicators dictate.
If the above price condition, below $13, appears unlikely but we see indications of bottoming and sentiment reversal and price is still in the low $13 range, I'll go ahead and enter anyway and execute the rest of the plan as laid out above.
To help assess and time action points, note that the average daily price range over the last year was $1.14. More recently, it was $0,70 and a maximum of $1.45. The median range was $0.63. The other things to watch will will be found in charts.
Remember, you want to buy puts or sell calls when UNG is at a high price, so be patient, but alert in case the price goes to far against you, after opening the long-equity position. Be prepared to minimize losses be exiting quickly if you are in for a trade, not an investment.
If you opened the options just for profit, intending on keeping the stock, you want to lock in profits: close those positions when UNG is at a low price or you can let call options expire worthless if the trend seems to favor that.
If you opened the positions for protection, puts are better. But even calls offer limted downside protection by offsetting losses in the underlying even if they are not exercised by the option holder. Just be sure to pick a strike price you think will accomplish your goals: pick a reasonably deep in-the-money strike if you don't care about keeping UNG shares and you want ensure they are called away, or an out-of-the-money strike that you think will be worthless at expiration if you are willing to make a little less income and want to hang on to the shares (further out-of-the money = less chance shares will be called away).
IF YOU ARE NOT FAMILIAR WITH THE PROPERTIES AND USES OF OPTIONS, I SUGGEST YOU GO TO THE OPTIONS INDUSTRY COUNCIL AND READ AND TAKE THE FREE CLASSES THEY OFFER.
REMEMBER DON'T BE HOGGISH. THINGS CHANGE QUICKLY. BE CONSERVATIVE AND TAKE THE HOUSE'S MONEY EARLY.
REMEMBER THAT I'M A NOOB! PLACE MORE WEIGHT ON YOUR JUDGMENT.
DISCLOSURES: no current position in any energy stock, long-term position in a stock that might benefit from low NG price.