Country Snapshot: Vietnam
Every month we highlight economic developments in one country within the Asia Frontier Capital Universe.
A Brighter Outlook: Vietnam's Equity Markets Begin to Recover
The past couple of years have been extremely volatile for Vietnam's stock markets due to inflation, bad bank loans, and currency devaluations. 2013 has marked a change, however, as Vietnam's VN-Index, a capitalization-weighted index of all the companies listed on the Ho Chi Minh City Stock Exchange, has risen 13.6% YTD and 23.0% over the past year. Although the market has recently fallen on the announcement of the imminent tapering of quantitative easing (foreign investors sold US $37 million of Vietnam shares in August) and the unrest in the Middle East, Vietnam's overall outlook is bright as policymakers move towards reform, inflation slows, and economic growth picks back up.
To address the issue of bad bank loans that contributed to stock exchange volatility, the government set up the state-owned Vietnam Asset Management Company "VAMC", which will issue special bonds to banks to acquire up to 10 trillion dong (US $474 million) of bad debt in the next two months to help banks secure funding from the central bank. The VAMC may eventually buy up to US $3 billion from banks to try and raise investor confidence, resume lending, and kickstart economic growth. However, some banks may shy away from selling non-performing loans to VAMC due to the perception that selling bad loans might create a negative reputation for the banks.
In addition to the creation of VAMC, the Vietnamese government has cut interest rates to spur lending to businesses and to support the country's exports. The export sector has improved, with exports in 1H 2013 reaching US $62.05 billion, up 16.1% from 1H 2012. Vietnam has become an increasingly attractive locale for manufacturers looking to relocate from China due to rising Chinese labor costs and a strengthening Renminbi. The Vietnamese manufacturing sector has expanded from lower value goods like textiles and food processing to higher value items like auto parts and machinery.
Vietnam's attractive valuations make it a compelling market for foreign investors. The VN Index dropped 3.9% in August, contributing to a valuation of 10.9x projected 12-month earnings, the lowest level on a weekly basis since January. Although inflation hit a 15 month high of 7.5% in August, it is expected to fall back to 6.77% for the year.
A number of recent developments have signaled Vietnam's move towards regulatory reform. One such development is the proposed merging of Vietnam's two bourses, the Ho Chi Minh City Stock Exchange "HOSE" and the Hanoi Stock Exchange "HNX". The two stock markets, with a combined market capitalization of over US $40 billion, would combine to form the Vietnam Stock Exchange, and state media has reported that Vietnam's stock market regulator, the State Securities Commission, will propose the merger in Q4 of this year.
A regulatory overhaul is also in the works to raise foreign ownership limits in the country's capital markets. The proposed change would increase the foreign ownership limit to 60% from the current 49% for companies in certain industries.
In an attempt to catch up to its Asian neighbors, Vietnam introduced legislation for the establishment of real estate investment trusts (REITs) in July. The REITs, which will take the form of exchange-traded equity REITs, are an attempt to close the estimated US $10 billion capital shortage each year necessary to finance the 2011-2015 domestic housing development plan, which will require US $20 billion a year, according to the Vietnamese Ministry of Construction. This new enactment should boost financing for the property sector by providing an attractive new investment mechanism, which will hold particular appeal for foreign investors. REITs have proved to be successful in a number of ASEAN countries, including Singapore, Malaysia, and Thailand.
One final area in which the Vietnamese government seems ready to reform is in repealing its ban on Vietnamese citizens entering casinos. Under current legislation, Vietnamese nationals cannot gamble in domestic casinos, and many end up trying their luck at casinos in Cambodia or Macau instead. The government has recently reversed its decision, however, and allowed locals to enter one casino for a temporary trial period. Such a change may lure foreign gaming operators like Las Vegas Sands (NYSE:LVS) and Genting (OTC:GMALY), who are eager to capitalize on rising income levels in a nation of 90 million people. If the current law does get fully repealed, foreign investors may view gaming as an attractive, untouched segment of the market with large growth potential.
A few companies are eyeing potential IPOs on Vietnam's stock exchanges in the near future. Vietnam Airlines, the national carrier which is facing increasingly stiff competition from low-cost domestic carriers, has announced plans for an offering in early 2014. With a market share of 67%, Vietnam Airlines hopes that going public will help the company stave off VietJet, a low-cost competitor that recently turned profitable and plans to list within the next few years. Although VietJet has been flying for less than two years, it already has 20% market share and plans to use funds from an IPO to expand to a wider number of international destinations (currently the carrier only flies to Bangkok).
With emerging markets across the board feeling the squeeze from the US Federal Reserve's announcement that it will slow quantitative easing, a number of planned IPOs for Asian capital markets have been shelved. Vingroup Joint Stock Co., Vietnam's largest real estate company, has postponed its plans to list on the Singapore Exchange (OTCPK:SPXCY), although the company plans to reevaluate the markets and has not ruled out listing in the end of this year.
As government reform and deregulation continues to unfold and foreign ownership levels are increased, Vietnam's capital markets will reflect the renewed optimism for the country and contribute to Vietnam's reputation as an emerging manufacturer and "consumer nation". Investors taking notice of the current low trading multiples can find growing companies with solid fundamentals at attractive valuations. With a productive population of 90 million and clear steps being taken on the path towards economic liberalization, Vietnam is well-positioned for a prolonged upward trajectory in its markets.
Travel Notes
As a continuation of our endeavour to be on the ground as often as possible in the countries we invest in, our Senior Investment Analyst, Ruchir Desai visited Vietnam last month where he travelled to Hanoi and Ho Chi Minh City.
It was great that one of our institutional brokers had taken the effort to organise an investor tour which allowed me to meet more than a dozen companies in a span of a week. Being on the ground also gave me the chance to get a feel of what is happening in Vietnam outside of meetings and conference rooms. I flew with the state-owned Vietnam Airlines from Hong Kong to Hanoi, my first stop. It was a full flight and the crew came across as young and professional - not a common sight on some other state-owned carriers! Although the airline controls 68% of the market, it is getting its act together as it faces competition from budget carriers like VietJet and Jetstar which have been capturing market share in the past few years.
I got through immigration fairly smoothly upon landing, as Hanoi is not a very busy airport compared to Ho Chi Minh City "HCMC". The Hanoi airport has a capacity to handle about 8-10 million passengers a year compared to HCMC's capacity of 15 million. The terminal is basic compared to more modern Asian airport terminals like Hong Kong or Singapore. I did notice that a new, more modern terminal was being constructed which will have the capacity to handle 16 million passengers a year.
Getting to the hotel from the airport was not a problem. Hanoi has plenty of private taxis with electronic meters so there is less of a chance of being fleeced, although communication is limited due to the low level of English spoken by taxi drivers.
Since the airport is about 35 km away from the commercial part of the city, it gave me a chance to observe what is going on in greater Hanoi. I noticed a number of infrastructure projects being carried out. New roads and a large bridge are being built near the airport while construction has also begun on a metro rail system and is expected to be finished by 2016.
As Vietnam continues to become a major manufacturing hub, it's difficult not to miss the Yamaha (OTCQX:YAMCF), Panasonic (OTCPK:PCRFF), and Canon (NYSE:CAJ) factories as you drive into the city from the airport. The manufacturing sector in Vietnam contributed roughly US$ 27 billion in 2012 to the economy, up from US$ 5.6 billion in 2000. Samsung (OTC:SSNLF) recently announced that it will invest a further US$ 2 billion into Vietnam to build a factory close to Hanoi. This factory will manufacture mobile phones, cameras, and laptops. Samsung (OTC:SSNLF) already produces a large part of its mobile phones in Vietnam as it shifts production from China, where labor has become more expensive. Vietnam's wage costs are roughly US$ 1,300/year while China's is roughly US$ 3,200 and the country's young and literate workforce is contributing to its appeal to manufacturers - 58% of the population is between the ages of 15-49 and the literacy rate is at 93%. This growth in manufacturing is also helping Vietnam's exports, which have grown from US$ 14.5 billion in 2000 to US$ 114.6 billion in 2012 and have helped the country improve its foreign reserves and balance of payments position.
Our meetings with companies in Hanoi began the next morning. On our way to the first meeting I noticed how similar morning rush hour is in developing countries - hectic and chaotic! Two wheelers are the transport of choice in Vietnam and the streets are flooded with them. Vietnam produced 4.3 million motorbikes in 2012 and production in the first seven months of 2013 was 2.2 million. The motorbike market, which is the fourth largest in the world, is dominated by Japanese and Italian names like Honda (NYSE:HMC), Yamaha (OTCQX:YAMCY) and Vespa, but unfortunately there is no two wheeler company which is publicly listed in Vietnam!
Between meetings I was introduced to one of Vietnam's favourite drinks, "Ca phe Sua Da" - iced coffee with milk. The taste of Vietnamese coffee is strong, as the coffee beans grown here are the Robusta type which has more caffeine content than Arabica beans, hence the higher bitterness. Vietnam is also the second largest producer of coffee in the world after Brazil with 1.2 million tons in 2012.
We had the chance to meet with Vingroup, a real estate company with the largest market capitalisation in Vietnam. It has a slew of projects coming on across the country and we took the opportunity to have a look at its newly-launched Royal City Mega Mall; the largest mall in Hanoi with an area of 226,646 square meters. The development showcases almost all of the well-known brands and also features residential towers and a school located right next to the mall.
The Royal City Mega Mall Project - Hanoi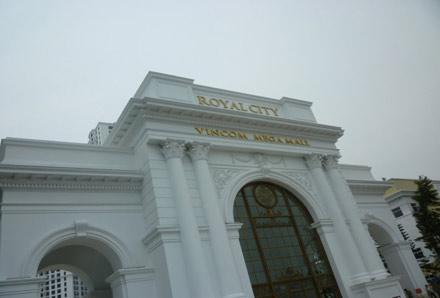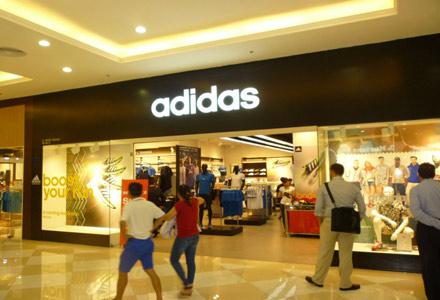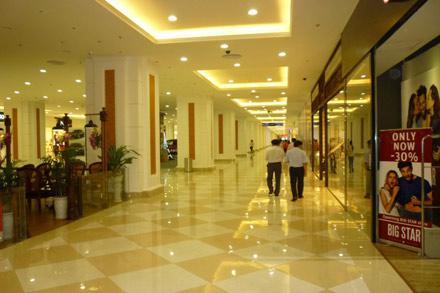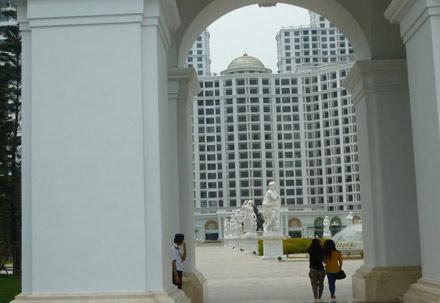 Source: Asia Frontier Capital
On one of the evenings our kind hosts took us out to dinner at an authentic Vietnamese restaurant and over dinner, we had the local favourite 'Bia Hoi Hanoi' or 'Hanoi Beer', by far the most popular beer in Hanoi. Hanoi Beer is one of the brands produced by 'Habeco' (Hanoi Beer Alcohol and Beverage Corporation) in which Carlsberg (OTCPK:CABGY) has a 17% stake (although there has been talk for a while of this increasing to 30%).
Habeco is a leading player in North Vietnam and has an overall country market share of about 19% with the market leader being Sabeco (Saigon Beer Alcohol and Beverage Corp.), which controls 51% of the market, and Vietnam Brewery Limited having about 30% of the market. Vietnam has a high beer drinking population, with consumption per capita at 38 litres which is comparable to China's 39 litres per capita.
On the way to our last meeting we took the newly-opened 9 km elevated highway, part of a larger infrastructure plan to decongest the city and improve transportation links. While on this elevated highway we saw a lot of buildings that seemed to be under construction and were told by our driver that many of these sites have stopped construction activities for the past year or so.
This real estate boom and bust has been the main cause of Vietnam's economy going through a slowdown over the past few years. In the run up to the 2008 financial crises, cheap credit was available and banks became very lenient in lending standards which led to many real estate developments across Vietnam, especially in Hanoi and Ho Chi Minh City. It's not surprising that almost all non-real estate companies in Vietnam have some kind of investment in real estate. They all had access to this cheap credit and were opportunistic, but now have real estate assets on their balance sheets which they can't or don't want to get rid of due to the fall in value.
NPLs in the banking system have also increased over the past few years to 4.46% in H1 2013 from 1.15% in 2007 while 20% of NPLs are related to real estate loans. Vietnamese banks are required to move to the international reporting standards for loan classification by June 1, 2014 and there is a suspicion that NPLs will increase when this happens. The State Bank of Vietnam (Vietnam's Central Bank) has announced the creation of the Vietnam Asset Management Company "VAMC", which will buy NPLs from the banks and has a target to remove US$ 3 billion worth of NPLs in 2014. The hope is to help the banking industry improve their balance sheets, but some of the banks may not be ready to participate in the VAMC since they may not want to get negative publicity. There is a lot of suspicion that many banks are underreporting their NPLs. The banking companies I met during the tour were not keen to participate in the VAMC as they all believed that their reported NPLs were below the 3% mark, which is the cut off for not selling NPLs to the VAMC. Based on this ambiguity over the actual amount of NPLs sitting on banks' balance sheets, banking stocks should continue to underperform for the rest of 2013.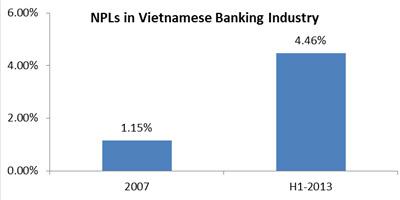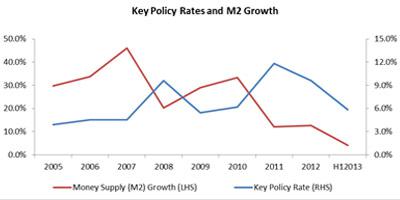 Source: Asian Development Bank, Viet Capital Securities
As the Hanoi leg of the investor tour came to an end, the company that I found interesting was FPT Corporation (Bloomberg Code FPT VN) both in terms of the future business opportunities and valuations. With 2012 revenues of US$ 1.2 billion, FPT is among the leading IT product distributors in Vietnam and is the biggest distributor of Nokia (NYSE:NOK) mobile phones in the country. Unlike the rest of the world, Nokia and Samsung are going neck to neck with respect to market share in Vietnam. The distribution business makes up about 55% of sales and 17% of profits.
FPT's more interesting businesses with high growth potential are broadband services, software development & outsourcing, system integration, and education. The software outsourcing and development business caters mainly to Japanese clients and this business already has about 5,000 employees. FPT has set up the FPT University which provides both business and computer engineering degree courses, providing an educated pool of potential employees for FPT's software and system integration businesses. FPT has also received a license to begin a cable TV network and it already has 750,000 broadband subscribers who could potentially be cable TV subscribers. Furthermore, the company already has its broadband infrastructure in place, which can be used for the cable TV business.
These non-distribution businesses now account for 45% of sales and 83% of profits and are expected to be a growth driver for FPT. With management issues which affected the company in 2012 now sorted out, a P/E of 7.5x provides value given double digit earnings growth for the next few years and healthy RoEs of >20%.
I flew to Ho Chi Minh City, the commercial center of Vietnam, over the weekend and my first impression was that the city has a faster pace to it than Hanoi. I was put up in District 1, the heart of downtown Ho Chi Minh City. Our hosts took us to dinner at a very well-known Vietnamese restaurant called "Nha Hang Ngon" on Pasteur Street. I recommend this place to anyone visiting Ho Chi Minh City.
Since I had some time off over the weekend, I checked out the historical and tourist sites in the city. I started off at the War Remnants Museum which showcases various aspects of the war. Interestingly, in Vietnam the war is called the "American War" and when the museum was initially opened in 1975 it was called the "Exhibition House for US and Puppet Crimes". In 1990, the name was changed to "Exhibition House for Crimes of War and Aggression" and in 1995, following the normalisation of relations with the United States, the name was changed to the War Remnants Museum.
Coming back to the topic of coffee, Starbucks (NASDAQ:SBUX) opened its first two branches in the city earlier this year. What caught my attention, however, was not Starbucks, but "Trung Nguyen Coffee" whose coffee shops I saw all over the city. Trung Nguyen is the biggest coffee retailer in Vietnam and specialises in Vietnamese coffee, with 60 shops across the country. It had sales of roughly US$ 200 million in 2012 and plans to increase the number of stores to 200 by 2015. It currently also operates 5 stores in Singapore. The brand has a great franchise in Vietnam and almost everyone knows of it. If this company comes out with an IPO it would be most sought after! After the end of the last meeting, I got a chance to check out the upmarket Bitexco Financial Tower in District 1. The 68 floor tower has offices as well retail space that includes food courts, shops and a cinema multiplex. The 52nd and 53rd floors have a few bars/restaurants which give a fantastic view of the city. A good way to reflect on the development Vietnam has made over the past few years!
Of the companies I met in Ho Chi Minh City, the ones I found interesting were Petro Vietnam Drilling (Bloomberg code PVD VN) and Vinamilk (Bloomberg Code VNM VN). PVD is the leading drilling rig and drilling related services provider in Vietnam. It is a subsidiary of PetroVietnam and provides its rigs to various PetroVietnam JVs that have been formed to explore oil and gas off the coast in Vietnam. It currently has 5 rigs on its books of which three are Jack Up rigs, 1 TAD (Tender Assist Drilling) semi submersible rig, and 1 land rig. It has one more Jack Up rig on order which should be delivered in 2015. 2012 revenues for the company were at US$ 573 million with net profits of US$ 64 million. The drilling rigs in the industry are coming close to their useful life which could lead to a demand supply mismatch in the industry, and this should support day rates which saw a 7% increase for PVD in H1-2013. With PVD's rigs having an average age of 4.7 years and a new rig expected to be delivered in 2015, the company's younger fleet should able to benefit from a stable to increasing day rate scenario due to the demand supply mismatch. The stock trades at a P/E of 7.8x and with double digit earnings growth expected in 2013 and 2014, it looks interesting.
Vinamilk (Bloomberg code: VNM VN) is a company that every foreign investor who has visited Vietnam has heard of. A pure blue chip! With revenues of US$ 1.3 billion and net profits of US$ 279 million in 2012, VNM is the largest dairy producer in Vietnam with a market share of 50% in the Vietnamese dairy market. Its products are widely available across Vietnam due to its distribution network and almost everyone uses one of Vinamilk's products. It competes with players such as Dutch Lady and Nestle (OTCPK:NSRGY) in Vietnam but has done well, with net profits growing at a CAGR of 36% between 2007-2012 and RoEs of greater than >30%. The stock has run up a lot over the past year but with 20% growth expected between 2013-17, Vinamilk's P/E of 18.0x compares favourably to other emerging market consumer stocks.
One topic I did not touch upon so far was my use of the 'Vinasun' taxi to get around in Ho Chi Minh City. This company is listed as Vietnam Sun Corp. (Bloomberg Code VNS VN) and reported revenues of US$ 130 million and net profits of US$ 7.3 million in 2012. Vinasun has a dominant position in the Ho Chi Minh City taxi market with a fleet size of about 4,000 taxis. It has further cemented its position in the city as its closest competitor Mai Linh is in financial difficulties. The company has done extremely well to capture market share by getting into arrangements with commercial complexes and hotels to provide its taxi services. If you walk around District 1, you will see Vinasun representatives helping you hail a Vinasun taxi. The company plans to use its experience in Ho Chi Minh City to enter Hanoi and Nha Trang in 2014, which should drive revenue and profit growth. The company is not heavily levered and has healthy coverage ratios, so it is possible that with increasing earnings its current P/E of 9.5x could see an expansion.
(click to enlarge)

Click to enlarge
The visit to Vietnam was fruitful, as I got the chance to meet a lot of companies, helping me to evaluate where the economy stands at this point. I don't think I heard any significantly negative comments about the country or the economy. The banking system will prove to be ambiguous and the real estate market could remain depressed, meaning the economy cannot be expected to see GDP growth rates much greater than 5% in the coming quarters until the banking issue regarding NPLs is resolved. But things seem better than they were in 2011 and the first half of 2012 when inflation was in the high double digits. Industrial production has been stable for the first 8 months of 2013 at 5.3% compared to 4.8% in 2012 and the well managed non-banking companies have grown earnings over the past few quarters. The VN Index is up 13.6% YTD and has lost some ground over the past month, which has made valuations attractive relative to other Asian emerging countries. The VN Index trades at 12.3x trailing 12 month earnings and 11.0x its 2013 earnings with a dividend yield of 4.0%, making it attractive while still below its all time high in September 2009. In light of the current volatility with respect to emerging market flows, investors could look at well managed companies in Vietnam such as PVD, VNM, FPT and VNS. My conclusion is that this country wants to move forward and you can see that when you are on the ground