Vietnam Market Update - December 2013
In light of our recently launched 'AFC Vietnam Fund' we thought it would be a good idea to give our readers an update on Vietnam since we last wrote on the country in August 2013.
We liked what we saw then and mentioned that the economy was stabilizing from the boom of 2008-09. Inflation had come down from high double digits in 2012, industrial production and GDP growth appeared to be improving and credit growth was stable.
Just over a quarter later, the situation appears to be better and economic data points are improving. Real GDP growth in 2013 was estimated to be 5.42% compared to 5.25% in 2012. Further, GDP growth picked up over the past few quarters with 4Q2013 GDP growth at 6.0%. The Industrial Production Index reported growth of 5.9% in 2013 compared to 4.8% in 2012 while industrial growth picked up in the last quarter of 2013 to 8.0%.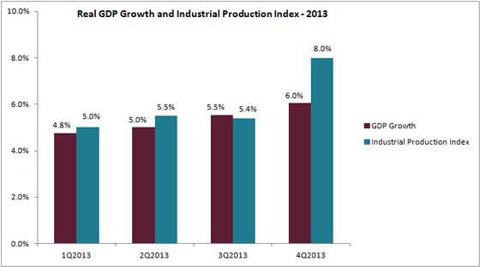 Source: General Statistics Office of Vietnam
Exports grew by 15% in 2013 to USD 132 billion as Vietnam continues to be an attractive destination for foreign manufacturers. This is not surprising given its young and educated population with a median age of 28.5 and literacy rate of 93%. One of the major benefits of manufacturing in Vietnam is the lower wage rates relative to China, which is causing companies to tap Vietnam as a manufacturing base since it fits into their supply chain nicely due to the country's close proximity to China and Southeast Asia's shipping channels.
A recent HSBC (NYSE:HSBC) report, "2014: the Year of Exporters," listed Vietnam as one of the countries that stands to gain the most from the recovering demand of the US and European economies, with exports projected to grow at 20% in 2014. Foreign direct investment, much of which was in manufacturing, grew sizeably in 2013 to USD 21.6 billion, helping Vietnam record a trade surplus of USD 900 million last year, bucking the country's trend of repeated trade deficits.
Samsung (OTC:SSNLF), which already has operations in Vietnam, is expected to begin production at its USD 2 billion manufacturing facility in February 2014. This facility will be manufacturing Samsung mobile phones and it is estimated that Vietnam will account for 40% of Samsung's mobile phone production by 2015.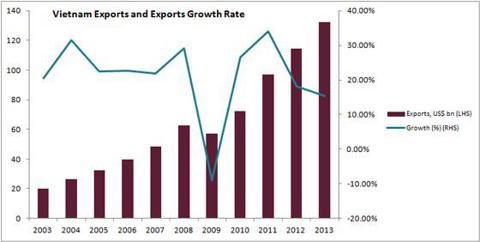 Source: Asian Development Bank, General Statistics Office of Vietnam
The table below illustrates why Vietnam is becoming an important manufacturing destination for many conglomerates. Vietnam is on par with its peers with respect to literacy rates and has a labour force of 52.9 million, which is higher than that of Thailand. More importantly, minimum wages are less than half of those in other neighbouring economies. In the 2013 Deloitte Manufacturing Competitiveness Index, Vietnam compares favourably with its peers such as Thailand, Indonesia and the Philippines. The country is also expected to increase its competitiveness in the next five years to put it on par with most of its peers in the region.

On the monetary front, credit growth has been stable and is expected to be between 9-10% in 2013 compared to 8.8% in 2012. This is not a surprise as the banking system is still grappling with the issue of NPLs (non-performing loans) but the market has been aware of this issue for a while. NPLs have picked up from 4.64% to 4.73% since we last wrote in August 2013 but it is quite a well-known fact that a more accurate approximation of NPLs is anywhere between 10-14%.
The NPL issue had given rise to the creation of the Vietnam Asset Management Company (VAMC) in July 2013. The VAMC is essentially like a bad bank and will be used to buy the banks' NPLs in exchange for bonds. It is estimated that the VAMC bought bad debts worth USD 1.8 billion in 2013 and these purchases are expected to reach USD 3.3 - USD 4.7 billion in 2014. Purchases of NPLs by the VAMC are expected to help loosen credit growth but we will have to wait and watch how that pans out.
As mentioned in our previous note which you can read here, in spite of issues surrounding banks and real estate, the economy continuous to stabilise and there are quite a few non-financial companies which continue to do well. We have researched both large cap as well as small-mid cap names which offer value, growth, and more importantly, are doing well fundamentally.
There continues to be a host of companies which are under-researched and we endeavour to capture those opportunities through both the AFC Vietnam Fund and the AFC Asia Frontier Fund. For instance, the VN Index has 302 stocks listed, of which 40 companies have a market capitalisation of over USD 100 million. The fact that most investors have so far focused primarily on the larger companies has left room to uncover opportunities in the small and mid-size space (there are 262 companies with a market cap below USD 100 million).
To take this a step forward, if we leave out banks, financial services and real estate companies on the VN Index, we have a sample of about 243 companies consisting of large cap and small/mid cap names, and the valuation gap between larger names and small/mid cap names is evident, as reflected in the table below. The same is the case for the Northern bourse in Hanoi, where the VH Index has many more companies below the USD 100 million market cap range which allows us to find value in this large sample.
The tables below indicate that there is enough juice in the small-mid cap names, as the sample companies trade at lower valuations than larger names and also offer attractive dividend yields. Our assertion is not that all the companies below a market cap of USD 100 million will be winners, as some may trade at a low valuation for a reason (poor fundamentals or poor business) but with consistent research we have found stocks that are fundamentally sound, are growing, offer value, and are overlooked by most institutional investors. This is where one can find an edge. We have used Median multiples instead of Mean in order to leave out the effects of outliers.
Small/Mid-Cap Names are Under-Researched and offer Value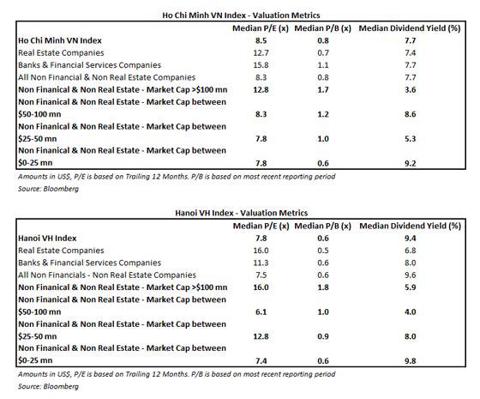 The Vietnamese economy continues to stabilise and get back on its feet and the authorities appear to be committed to improving market sentiment and continuing reforms. Strategic foreign investors will now be able to buy up to a 20% equity stake in Vietnamese banks (previously 15%), which should help strengthen banks' capital needs. Furthermore, there is talk of raising foreign ownership limits in listed stocks of some sectors from the current 49% to 60%, as there are about 20 large cap companies whose foreign ownership limits have been reached.
Besides these policy moves, there appears to be a sound platform for Vietnamese equities to do well: favourable demographics, increasing consumption, attractive valuations, and under-researched companies. We expect to be on the ground in Vietnam again in 1Q2014 and will report back. In the meantime, we expect to continue reporting on the positive news flowing out of Vietnam!