Country Snapshot: Bangladesh
Every month we highlight economic developments in one country within the Asia Frontier Capital Universe.
Despite a Tarnished International Image, Bangladesh Presents Opportunities
If you've picked up a newspaper lately, you've most likely seen an article about Bangladesh, and it almost certainly will not have been good news. The South Asian nation is one of the most densely-populated countries on earth, with over 160 million people living in a country the size of the state of Iowa. This year, two separate series of events have created a storm of negative press coverage for the country.
The 2013 Shahbag Protests broke out in February after the International Crimes Tribunal sentenced Abdul Quader Mollah from the Jamaat-e-Islami Party to life imprisonment, convicting him of war crimes. Protesters felt that the verdict was too lenient, and violent clashes erupted in Dhaka. The protests stirred ethnic and sectarian tensions in the country and led to bloody conflict between opposing parties, protesters, and policemen, resulting in the deaths of over 60 people.
To add to Bangladesh's nightmare media portrayal, in April, an 8-story commercial building near Dhaka collapsed, killing 1,129 and injuring roughly 2,500. The catastrophe was considered the deadliest garment factory collapse in history and brought significant international attention and inquiry to Bangladesh's textile industry. This industry spotlight only got brighter in May when a Dhaka garment factory fire killed 7 employees.
These catastrophes in Bangladesh's textile industry forced Western apparel companies to face tough questions about potentially dubious links in their supply chains. It was revealed that Walmart (NYSE:WMT) and J.C. Penney (NYSE:JCP) had considered an agreement to improve factory safety in Bangladesh for over two years, but in 2011, Walmart (WMT) rejected reforms that would have improved safety standards by increasing prices for apparel.
In the aftermath of these horrific events, both domestic and international players have worked to make a commitment to improve safety standards in Bangladesh's factories. A week after the collapse, retailers and NGOs met and created a new Accord on Factory and Building Safety in Bangladesh, with 38 companies signing the accord. Improved regulation and increased enforcement of illegal building codes and improper safety standards will all greatly benefit Bangladesh's textile sector, which remains the driver of the economy due to the country's low labor costs and preferential trade access to Western consumer markets. As Bangladesh improves safety and building standards while maintaining its competitiveness internationally, the country will continue to win contracts from apparel producers and grow its economy.
Textile exports from Bangladesh were up 12% in May from last year, and although a number of Bangladeshi suppliers were blacklisted by Western clothing companies in the wake of the factory disasters, rising wages in China and Southeast Asia have continued to lure manufacturers of low-margin apparel goods to cheaper countries like Bangladesh. In 2011, Bangladesh was named the second largest exporter of ready-made garments "RMG" in the world after China by the World Trade Organization. The textile sector makes up roughly 20% of the market capitalization of the Dhaka Stock Exchange "DSE" and although a number of US and European clothing retailers have cut ties with Bangladeshi suppliers, other companies are seeking solutions to improve the country's safety procedures while continuing to place production orders there.
Another key industry for Bangladesh is the pharmaceutical sector. This sector now exports to over 80 countries and produces generic tablets, capsules, syrups, inhalers, suppositories, and injectable medicines. Sustained growth in this hi-tech sector will fuel economic development in Bangladesh as suppliers begin to move up the production chain and develop more advanced pharmaceuticals with cutting-edge technology.
One final attractive play in Bangladesh is investing in consumer stocks. With a population of over 160 million, Bangladesh has immense potential for consumer growth due to its rapidly-growing middle class that is buying detergents, biscuits, fast food, and everything in between. Asia Frontier Capital is bullish on consumer-related stocks throughout its universe of Asian frontier markets, but sees the consumer sector as especially promising in Bangladesh, the world's 8th largest country by population.
The tragedies that occurred in Bangladesh's textile factories will lead to serious changes in the industry and improve working conditions, safety precautions, and risk mitigation strategies for all production facilities in the country. Western companies can put pressure on suppliers to improve safety standards while still producing their goods in Bangladesh, and the country's textile exports should continue to attract investment and propel economic growth. Bangladesh is still an attractive market in which to invest and will continue to be a hub for garment manufacturing as safety standards improve.
Travel Notes
Research Trip to Dhaka, Bangladesh
I arrived in Dhaka, Bangladesh on the weekend - which is Friday and Saturday in this majority Muslim country. Sundays are normal working days. The Bangladeshi stock exchange is open for trading on Sunday, which makes the 5 day work week for a fund manager domiciled in Hong Kong a 6 day work week.
After having a local lunch of Bangladeshi cuisine, the CEO of the local brokerage company took me to "Old Dhaka", where we visited the Ahsan Manzil Museum, located near the Buriganga River. The construction of the building started in 1859 and is still one of the most impressive pieces of architecture in Bangladesh. It took us hours to get to the building, driving by car through Old Dhaka's narrow roads where even two rickshaws have difficulty passing each other.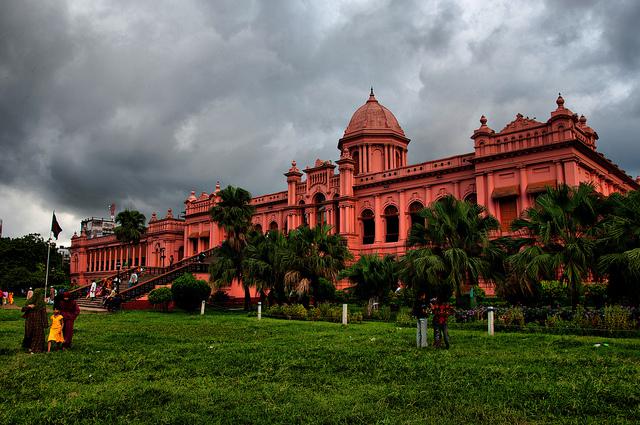 Ahsan Manzil Palace in Dhaka
The next two days were filled with various company visits of existing AFC portfolio companies and potential interesting companies.
Bangladesh is famous for its textile industry - which gained huge negative press recently after the latest textile factory collapse in which 1,129 workers lost their lives. I visited the head office of a producer of denim fabrics. The company started operation in 2008 and listed on the Dhaka Stock Exchange in 2011. The company currently has a capacity of 24 million yards, but later this year will increase to a capacity of 50 million yards. The company sells the denim primarily to local garment factories which sew and tailor the finished product "jeans" and sell it to all of the major jeans companies like Wrangler, Walmart (WMT), Zara (OTCPK:IDEXF), H&M (OTCPK:HNNMY), Carrefour (OTCPK:CRRFY), and C&A. The company does not produce for Levis (OTC:LVISF), however. I had an excellent impression of the company.
I visited also my largest Bangladeshi holding: a pharmaceutical company which produces generics like Tamiflu, Panadol, eyedrops, and inhalers. The company has grown by 30% over the last four years thanks to recent exports to Asian and Middle Eastern countries and more recently to Australia, New Zealand, and Europe. The CFO of the company expects to receive FDA approval for US exports in early 2014. The company is also a major player in the domestic market with a sales force of 2,500 people. In the export market, however, the company relies on dealers and marketing agencies to make sales. Q1 2013 sales figures were a bit disappointing due to the fact that there were several general strikes in Bangladesh (hartals) which caused public life in the big cities to slow to a standstill. Despite this setback, exports grew as expected and should continue to do so given that the company benefits from the "Least Developed Country status" "LDC" which gives the company an advantage in the export market, particularly in Europe and the US. I had a solid impression of the company and will continue to hold the position.
A final interesting visit was to a company that started with dry-cell batteries and ballpoint pens. The company has since diversified production and expanded capacity and is now the leading producer of biscuits and confectionery in Bangladesh. Thus far, I have not invested in the company because it simply did not appear on screening lists (it only showed up as a battery and pen producer). Since consumer goods are a primary focus sector of Asia Frontier Capital, I will certainly take a closer look at this company to potentially invest in. This company visit was the perfect example of why country visits are essential for a fund manager to identify opportunities and add value to the portfolio.