Last week, Wall Street closed down unnerved by China's poor economic performance and the crisis over Ukraine. A referendum will be held in the Crimea region of Ukraine this Sunday, March 16/14. The population of this region will vote whether to rejoin Russia, or stay as part of Ukraine. Already, Russian troops moved into Crimea where Russia has a key naval base and much of the population is Russian speaking.
What has Wall Street on edge is the probability that if Crimea votes to secede, the U.S. and European union plan to slap sanctions on Russia for undermining Ukraine's new government.
So, it is not the result of the referendum that is at issue here, it is the reaction from both Russia and the western nations afterwards, which matters. Adding to the nervousness in the markets was a warning from Russia that it reserves the right to intervene in the defense of ethnic Russians that Russia perceives to be under threat in eastern Ukraine.
So, it appears that the cold war is back on again.
Meanwhile, China's deteriorating growth prospects added to the pressure on the market last week, when the metal sectors were especially hard hit. Metals, especially copper are viewed not only for their industrial use, but also as an economic proxy for financing international transactions. The Ukraine conflict and looming sanctions overhanging this fiasco has sparked massive liquidations of metals in the market, which is adding to the downside pressure on the major indexes.
Now, what all of this does is to confirm that the United States is the only economic super-power still standing, and that makes Wall Street "the" safe haven for international investors. It also means that this current selling-squall is a precursor for great buying opportunities in the months ahead, but surely not now!
For the past weeks, these charts are reflecting the fact that it is not the "bear" which presents the danger to this rally, but the major indexes' empty gas tanks where even the fumes are beginning to evaporate.
Check the weekly charts of this Troika and note that the two bull components SPX and SPXL remain well supported by strongly bullish Moving Average lines configurations [green lines below the red lines] which are also keeping the RSI strength indicator up in bullish territory. But also note that the MACD momentum bars [fuel tanks of the market] are spending more time below the demarcation line, which indicates that this rally is running on empty.
Now check the bear component of this Troika [SPXS] and note that even though it has twitched lightly off the bottom, it remains comatose and in no shape to attack this rally. There is no MACD momentum even to the downside, and the RSI strength indicator keeps sitting at the bottom of its range.
This is why the current political standoff in Ukraine could be the catalyst to put the fuel back in this rally, or cause the bear to awaken with a vengeance.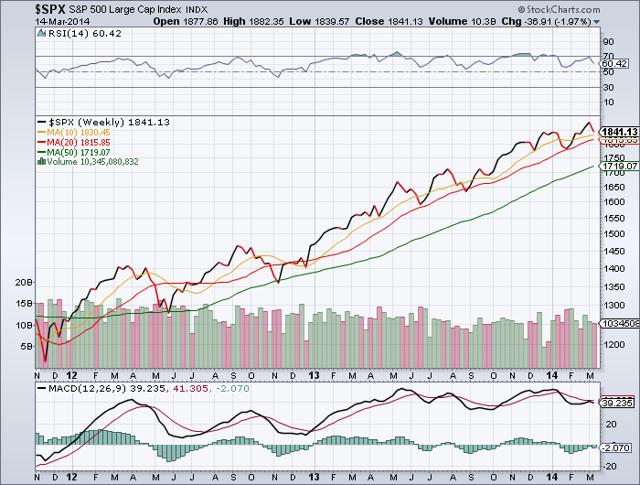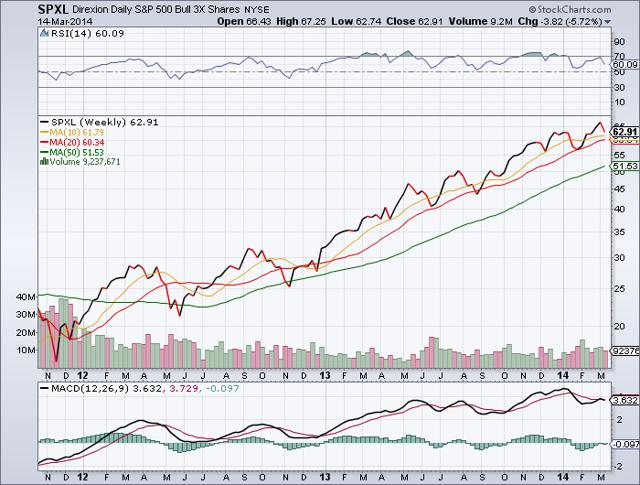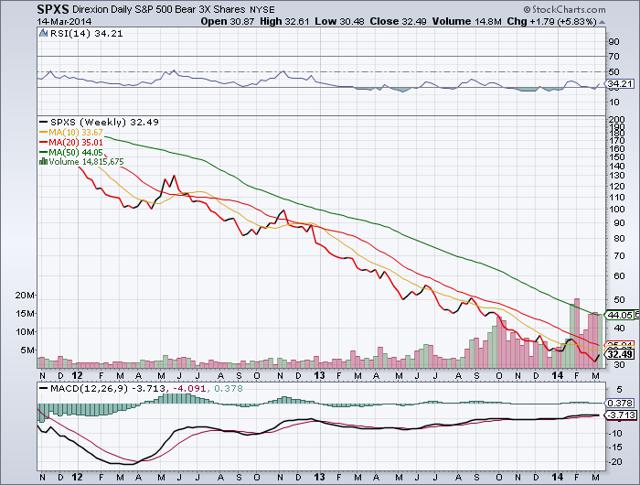 After a steep drop in January, the small-cap sectors of this market [SML] engaged in a pretty powerful snapback rally in February. Since small-caps are the main drivers in this bull-run, that bodes well for the market in the months ahead.
But while this index is still well supported by its exceedingly bullish MA lines configuration [green line below the red] its MACD momentum bars have faded to zero, which indicates that this rally is running out of steam.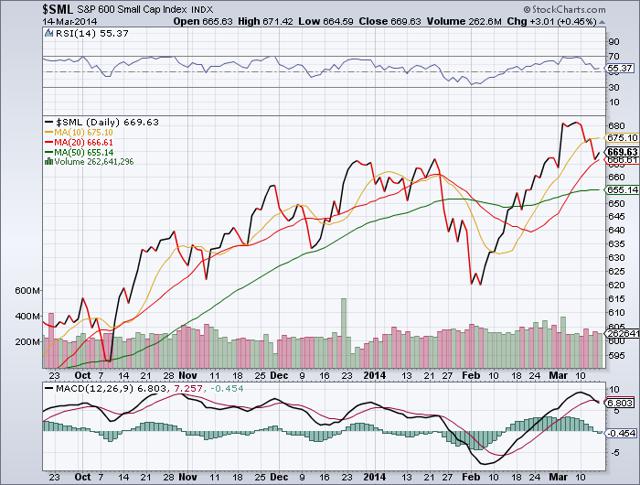 This NASDAQ 100 index displays the same characteristics as other major indexes, strong MA lines configurations and weak or non-existent MACD momentum bars. So the market is floating higher on nothing but fumes, and how much longer can that last?
Check this commodity index [CRB] which has been soaring on the back of a very bullish MA lines configuration [green below the red.] But again, the MACD momentum bars have slipped into bearish territory, and that makes the commodity rally suspect.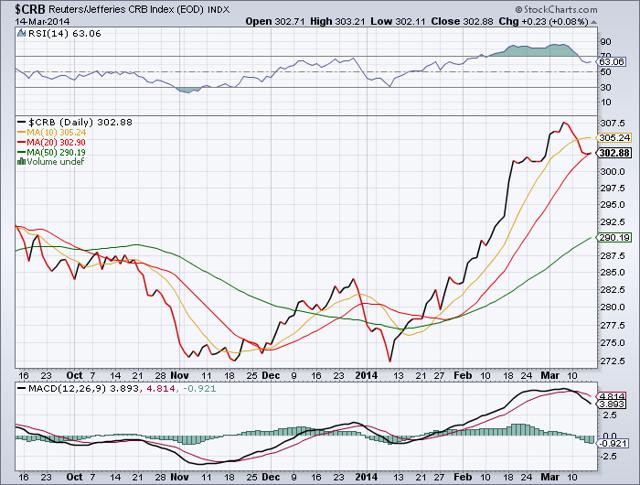 After a strong rally last February, metals took a steep nosedive over the past two weeks. As explained previously, these metals and especially copper were stockpiled not only for industrial purposes, but also for international, financial transactions. Now, liquidations in some of these metal stockpiles are taking place, with the results vividly reflected by these two charts, [COPPER] and [DBB.]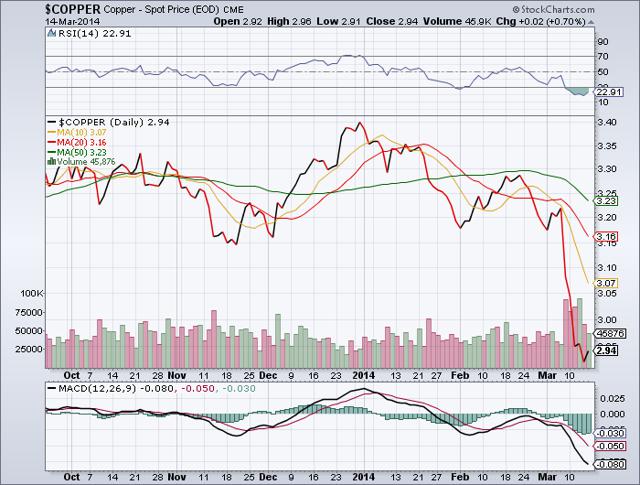 Gold of course is the doomsday metal [GOLD] which shines brightly when fear grips the market. But even here with all the troubles in Ukraine and China - where is the snort of the gold-bull? Sure, this gold index soared on the back of a very bullish MA lines configuration [green line below the red] but the neutral positions of the MACD momentum bars show that the upside opportunity of the yellow metal isn't all that hot. Of course, in response to the Ukraine and China troubles this could change quite suddenly.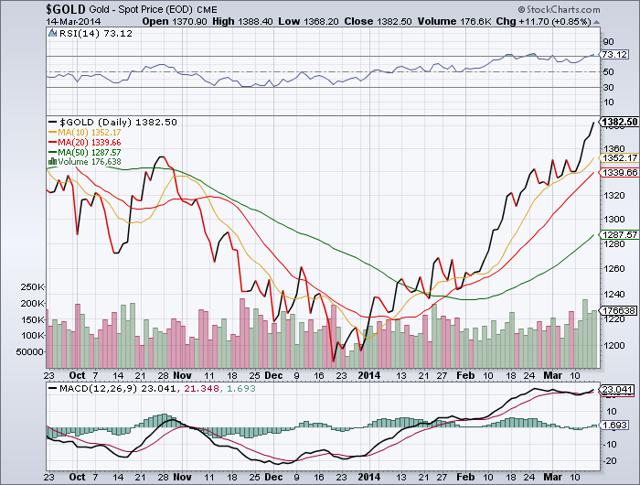 Oil [WTIC] took a steep nosedive along with its MACD momentum bars and its RSI strength indicator, which could indicate that there is a flood of oil out there, somewhere. But with crude's MA lines configuration so exceedingly bullish, [green line below the red] it implies that something could happen which would catapult the price of oil straight up again.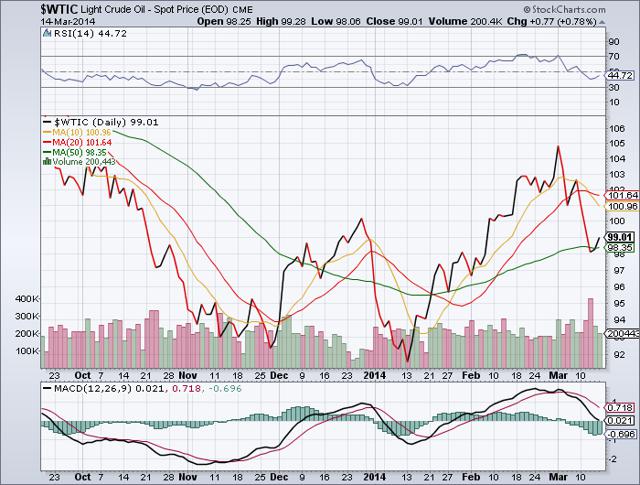 Late Sunday, the news broke that 93% of Crimea voters chose to secede from Ukraine and rejoin Russia. As some savvy observers have it, this is not the end of the game, only the first inning.
Already, the White House issued a statement that this referendum was illegal, that the U.S. won't recognize it and will start to impose penalties on Russia immediately.
How the market will react to this is anyone's guess, and so it is best to stay out of this game and watch how things unfold. But for those of you with ironclad stomachs, here are some favoured bear ETFs should the market sell off, and some bull ETFs to take advantage of the inevitable rebound.
Leveraged Bear ETS:
Emerging Markets 2x (NYSEARCA:EDZ), China 2x (NYSEARCA:FXP), Oil & Gas 2x (NYSEARCA:DUG), DOW 30, 2x (NYSEARCA:DTO), Financials 2x (NYSEARCA:SKF), Energy 3x (NYSEARCA:ERY), S&P 500 2x (NYSEARCA:SDS), DOW 30, 3x (NYSEARCA:SDOW), Basic Materials 2x (NYSEARCA:SMN), Europe 2x (NYSEARCA:EPV), Russell 2x (NYSEARCA:TWM), Financials 3x (NYSEARCA:FAZ), S&P 500 3x (NYSEARCA:SPXS), Russell 3x (NYSEARCA:SRTY), NASDAQ 2x (NYSEARCA:QLD), Mid Caps 3x (NYSEARCA:SMDD), NASDAQ 3x (NASDAQ:SQQQ), Semis 3x (NYSEARCA:SOXS).
Non-Leveraged Short ETFs:
NASDAQ (NYSEARCA:PSQ), DOW 30 (NYSEARCA:DOG), EAFE (NYSEARCA:EFU), Financials (NYSEARCA:SEF), S&P 500 (NYSEARCA:SH), Emerging Markets (NYSEARCA:EUM), Real Estate (NYSEARCA:REK), Small Caps (NYSEARCA:TZA), Russell (SRTY), Russell 2000 (NYSEARCA:RWM), S&P 500 (NYSEARCA:BXDB). Small Caps (NYSEARCA:SBB).
Leveraged Bull ETF:
Jr. Gold Miners 3x (NYSEARCA:JNUG), Semis 3x (NYSEARCA:SOXL), Energy 3x (NYSEARCA:ERX), Mid Caps 3x (NYSEARCA:MIDU), Financials 3x (NYSEARCA:FAS), Developed Markets 3x (NYSEARCA:DZK), Health Care 3x (NYSEARCA:CURE), Gold Miners 3x (NYSEARCA:NUGT), S&P 500 3x (NYSEARCA:SPXL), S&P 500 3x (NYSEARCA:UPRO), DOW 30, 2x (NYSEARCA:DDM), Gold 2x (NYSEARCA:UGL), Oil & Gas 2x (NYSEARCA:DIG), Silver 2x (ULSLV), Russell 3x (NYSEARCA:URTY), NASDAQ 3x (NASDAQ:TQQQ), Technology 2x (NYSEARCA:ROM), Industrials 2x (NYSEARCA:UXI). DOW 30, 3x (NYSEARCA:UDOW), Materials 2x (NYSEARCA:UYM),
Non-leveraged Long ETFs:
NASDAQ (NASDAQ:QQEW), Spin-Offs (NYSEARCA:CSD), Pharma (NYSEARCA:PPH), Health Care (NYSEARCA:XLV), Technology (NYSEARCA:MTK), Industrials (NYSEARCA:FXR), Gaming (NYSEARCA:BJK), Semis (NASDAQ:SOXX), Discretionary (NYSEARCA:XLY), Small Caps (NASDAQ:PSCT), Commodity (NYSEARCA:GSG), Materials (NYSEARCA:XLB), Transports (NYSEARCA:XTN), Big Caps (NYSEARCA:FBG), S&P 500 (NYSEARCA:RPV).
GOOD LUCK!
Disclosure: I have no positions in any stocks mentioned, and no plans to initiate any positions within the next 72 hours.