With all good intent, in the mobilization to fight World War I, the Federal Government monopolized communications and socialized power and transport infrastructures as "natural monopolies."

The unintended consequences are a century of rotary telephones, ever more dependence on the centralized electrical grid, we still have the gas mileage of the Model-T, and oil was made the lifeblood of the US economy.

Because the highway networks are a government monopoly, subsidies to highways and oil undercut commercial railroads. Despite freight railroads averaging over 400 ton-miles per gallon efficiency, thousands of miles of railroads were abandoned.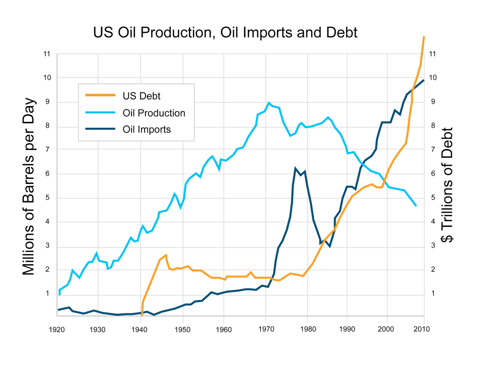 Because the highway networks are a government monopoly, and consistency is primary objective of such institutions, as costs climbed after US oil production peaked in 1970, costs that could not be capitalized into the price of a gallon of gas were socialized into national debt.

Graph illustrates US Peak Oil in 1970 (light blue), US National Debt (dark blue) and US National Debt (gold). World crude oil production peaked in 2004 at 74 million barrels per day, so these socialized costs will continue to add to sovereign debt.

Economic recovery will only occur after power and transport are returned to free market so economic lifeblood can be changed from oil to ingenuity.

Investments in railroads and Personal Rapid Transit networks will boom after transportation is returned free market.



Disclosure: I have no positions in any stocks mentioned, and no plans to initiate any positions within the next 72 hours.

Additional disclosure: Author is founder and investor in JPods, Inc., a Personal Rapid Transit manufacturer.