Intel: The Risk Is Not Worth The Reward. Sell $17)
Investment case: Intel has enjoyed a monopoly for a long time, but now competition is coming in while at the same time its core market is shrinking. The mobile opportunity will not be enough to offset this downside. The stock is overvalued today.
Summary:
Intel's investment case today is hinged on the fate of the declining PC market and Intel's ability to replace PC chips with mobile chips used in smartphones and tablets.
The company has invested significantly (>$10bn in each of the last three years) in its manufacturing capability in order to accelerate its mobile processor (SoC) roadmap, bringing it closer to the level of power efficiency of ARM that has a literal monopoly and a very strong established ecosystem in mobile processors.
I believe Intel can only become an "alternative" supplier of mobile chips. This belief stems from the fact that ARM's monopoly in mobile processors is strengthened by its very strong ecosystem - a value chain designed around ARM processors (Foundry/Fabless), thousands of trained developers, development tools, and already written hundreds of thousands of applications. The only risk to Intel uprooting ARM's ecosystem is if the company creates a revolutionary product that is several times better than ARM. That is a risk we will see coming very clearly (and so far there is no such sign).
The conclusion of my analysis then is that the stock today provides a skewed risk/reward. The best case of Intel could be valued at under $30 per share, and the worst case valued at $13. On my expectations, the stock is worth $17.
Detail: Intel is a near monopoly making microprocessor chips for use in PCs (laptops and desktops) and Servers. Chips account for the large entirety of the company's revenues, with 63% of company revenues from PCs, 22% from servers and 6% from Atom. The rest of the revenues come from Embedded and other products/services.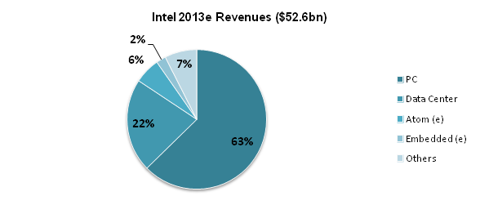 1. Revenues.
The PC market is saturated and entering a decline phase. In first half of 2013, chip units are already down 13% yoy, and revenues are down 9% yoy, as ASPs improved 4% (mix improved). As Intel gained share, its PC chip revenues are down 7%. For the full year, I expect the market to be down still 11% in units and slightly less in revenues.
Longer term, I expect the PC market units to be decline at a CAGR of ~4% till 2017, as there is continued slowdown in new users and replacement rates elongate. And, here I am not assuming yet cannibalization of PCs by Tablets. I am merely modelling a market getting saturated and becoming a "replacement only" market.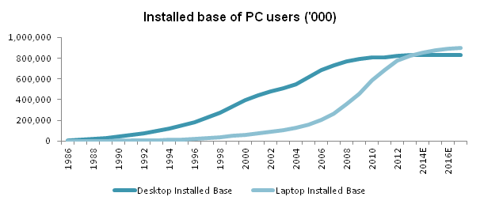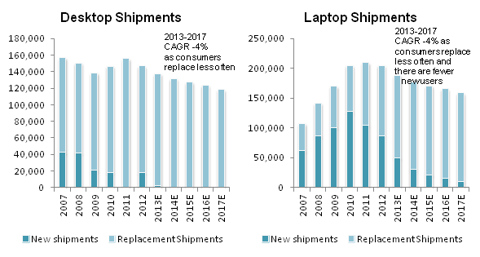 Increasing chip Asps is a recent phenomenon, as revenue mix has moved towards high end chips. Traditionally, chip ASPs have declined over time. Over the coming years, in the best case, it is fair to expect chip ASPs would not grow (in fact there could be a headwind on ASP growth from mix normalizing).
With 4% unit decline, the PC Market value can decline between 4%-10%, depending upon whether ASPs remain stable or normalize over time.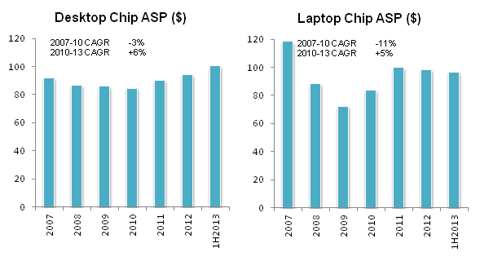 The Mobile opportunity for Intel is not HUGE. Today, the company doesn't have a significant presence here, but has been working on creating competitive mobile soc designs (Atom Silvermont). I most optimistically assume no cannibalization from these chips to the PC business.
The opportunity for Intel is nevertheless limited because:
ARM is the established ecosystem in mobile devices (smartphones and tablets), with several hundreds of thousands of applications written on it and many developers trained to develop chips and software on the architecture. This is a very strong moat in favour of ARM, which means that Intel cannot displace ARM but can only become an alternative second supplier.
A mobile chip sells for 5 times less as the current average chip Intel sells ($20 vs >$100).
I believe Intel could gain anything between 5 to 20 pts of share in tablets and smart phones. On a market of almost 2bn chips (1.7bn smartphones and 0.3bn tablets by 2017) that make between 100m to 400m chips at $20 a piece ($2bn to $8bn), or less than 5% to 15% of Intel's 2013e revenues.
Why do I believe Intel can only be an "alternative supplier" in mobile chips, with a max 20% share.
Product - Architecture: x86 has been designed for high processing performance vs ARM designed for good power efficiency. That, as a starting point, puts x86 behind ARM, and then x86 needs to significantly simplify its architecture to match ARM.
Product - Manufacturing: Having the chip manufactured at a lower node (22nm vs 28nm) allows closer packing of transistors. A lead on this manufacturing node can also provide better power efficiency (or processing performance or both). In the past, Intel could easily maintain a manufacturing lead over its competitors by outspending its competitors (thanks to its relative scale in PCs). However, its competitors (Samsung and TSMC) are now able to spend as much as Intel to support their manufacturing processes thanks to the profits from smartphones, where Intel is not competing. This makes it much more likely that competitors will catch up with Intel as it spends on its capex (which so far they are doing).
Customers - OEMs: Most mobile OEMs use an ARM based processor in their products. Only a few smaller ones/Chinese use the Intel chip in some of their products. This means the business processes and product designs (including components, OSes, applications) of most OEMs (and the important ones) are already designed around an ARM architecture and it would take a miracle on Intel's side to make the OEMs drop ARM and use Intel. And, yes a miracle could very well happen, but it is nowhere on the radar, and there is no way to predict it.
Customers - End users: Customers don't care about what is in their phones. They care however about good battery performance AND good processor performance. And so far ARM does a much better job than Intel on both these fronts. After objective product characteristics, there are existing applications/OS etc that create some stickiness among customers to keep using ARM.
Suppliers: The developers (suppliers of software) are already trained and accustomed to ARM for many many years. They use many tools that are also based on ARM to develop their software.
Conclusion: I believe Intel can only be an "alternative" supplier to OEMs and cannot compete at par with ARM or displace it.
In its other businesses, I expect revenue growth in line with history (and most investors). Servers should continue to be up ~10% p.a., with increasing cloud adoption. And I expect nominal growth in other businesses.
In summary, Intel's revenues could grow anything between 0% to 7% up to 2017. I expect 3.3% growth.

2. Gross Margins
Heavy Capex over the past 3 years is yet to take its toll on D&A and other fixed costs. Intel has been investing significantly in capex over the past three years. Given the competitive setup between Intel (x86) on one side and Samsung, TSMC and Global Foundries (all ARM) on the other side, it is unlikely this heavy capex spending is going to stall anytime soon.
While the company has invested in 14nm fabs, it hasn't yet produced any chips at 14nm. As these chips start to hit production next year, those investments will start to hit the P&L (via D&A charge). Moreover, assuming capex is fully depreciated over 10 years, the burden of D&A will steadily continue to go up over time till it meets the level of capex (by end of year 10).
It may be worth noting here that this D&A may go up faster than I expect. Recently, in its quarterly earnings, TSMC (that has invested less than Intel over the past three years) suggested that it expects depreciation up 35% (!!!!!) in 2014. I have assumed D&A up only a mere ~5% up into each year.
However, 450mm fabs would offset this increase to some extent, by creating savings. Assuming one new 450mm fab (one-third of total capacity), bringing 30% savings in fixed costs (usually the case), which correspond to 30pts of sales, the gross saving in fixed costs would be 3pts of sales.
Overall, I expect fixed cost charges (D&A and fixed cash charges) to remain flattish by 2017. They may infact reduce by 3.5pts in the best case or go up by 3.3pts by 2017.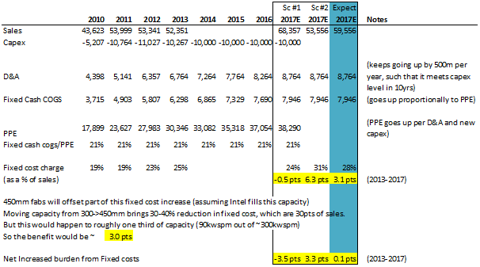 Increased competition will also bring contribution margins[1] down. Over the last five years, the company has gained share across the board. And that I believe is why the company's contribution margins are up by 9pts and its gross margins are close to all time highs. (yes, mix shift helped here, but that was possible only because of reducing competition).
Going forward, there is going to be increased competition from ARM (new entrant) and AMD (existing competitor) in both PCs and Servers. The same way as gross margin has improved with reduced competition it will contract with increasing competition.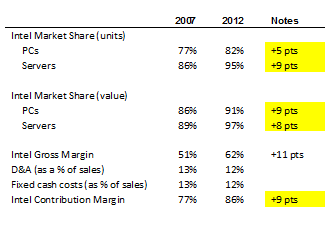 Finally, as the company sells more and more of mobile chips (which are roughly 1/5th the price of its microprocessor chips), the lower contribution margin on these lower asp chips will also bring down the overall contribution margin of Intel.
The atom chip is 5x cheaper and 3x smaller (assuming average Intel chip at 300mm2 and Atom chips to average around 100mm2). As such, I expect Atom chip's contribution margin to be 10pts below current average chip.
| | | | | |
| --- | --- | --- | --- | --- |
|   | ASP | Chip size | Variable costs | Contr. Margin |
| Av Chip today | 100 | 3.0 | 14.0 | 86% |
| New Atom Chips | 20 | 1.0 | 4.8 | 76% |
By 2017, depending upon the atom's units in mobile, Intel will see its contribution margin contract up to 5pts just because of mix. Including the effect of competition in this, the contraction in the margin can be as much as 9pts.



Overall, Intel's gross margin in 2017 could be between 50% and 60%. I expect it to be 52%.

3. Scenario Analysis and Valuation.
So far, I have modelled revenues and gross margins according to three scenarios:
Scenario #1 -
This I believe is the best case. In this scenario, I expect PC business to remain where it is in terms of revenues, and atom business to add on new revenues, assuming no cannibalization. I assume Intel gets a 20% of mobile market (tablet and smartphones, totalling 400m units @$20 a piece). And because the company is able to fill fabs, and reduce fixed costs with 450mm fabs, it can overcome largely the margin dilution that would come with Atom chips.
Scenario #2 -
This I believe is the worst case (although I have remained optimistic here). In this scenario, I expect PC business to decline at a CAGR of 9% p.a. (Units down at 4% p.a. ASP down at 3% p.a. and 10 pts of share loss to AMD/ARM). I expect the atom business to add on new revenues, assuming no cannibalization and assume Intel gets a 5% of mobile market (tablet and smartphones, totalling 100m units @$20 a piece). However, this means the company is unable to grow revenues and despite reduced fixed costs with 450mm fabs, Intel loses 10 pts of gross margin, due to mix effect (from Atom) and increased competition (from AMD/ARM).
Expected -
This is the scenario I believe in. In this scenario, I expect PC business to decline at a CAGR of 9% p.a.. I expect the atom business to add on new revenues, assuming no cannibalization and assume Intel gets a 20% of mobile market (as in Scenario 1). However, this means the company is unable to grow revenues much (only 3%) and despite reduced fixed costs with 450mm fabs, Intel loses 8 pts of gross margin, due to mix effect (from Atom) and increased competition (from AMD/ARM).
Putting everything together, I believe there will be significant gross margin compression over the next 4 years (for the reasons mentioned previously).
This will then mean earnings will in the best case grow at a CAGR of 9% and in the worst case decline at a CAGR of 13%.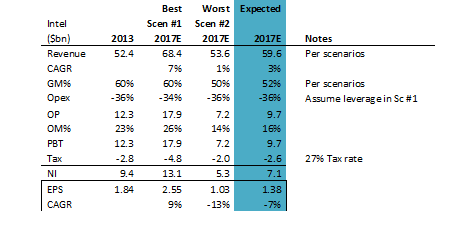 A back-of-the-envelope discounted cash flow (10% discount, market multiple for terminal value, FCF conversion at 90% of Net income) suggests the stock should be worth between $15 and $29. Based on my expectations, it should be worth $18.6.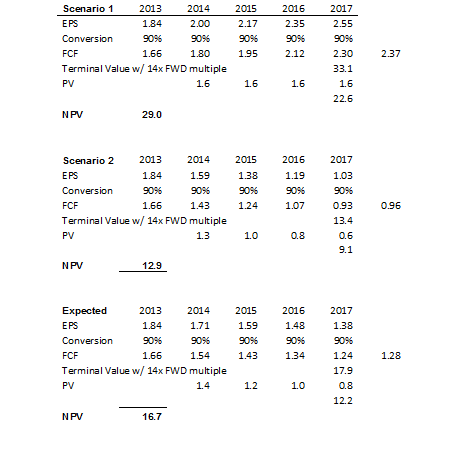 This piece of analysis shouldn't be interpreted as a stock recommendation and comments/opinion presented here are solely mine.Disclaimer:
No data or analysis should be considered error free without significant due diligence.
All investors are advised to conduct their own independent research into individual stocks before making a purchase decision. In addition, investors are advised that past stock performance is no guarantee of future price appreciation.
Copyright: All rights reserved.
Contact: investar@mail.com
investarblog.wordpress.com
---
[1] Contribution margin = Revenue - Variable costs (ie excluding the fixed costs, cash or non-cash)
Disclosure: I have no positions in any stocks mentioned, and no plans to initiate any positions within the next 72 hours.
Additional disclosure: Disclaimer: This piece of analysis by itself shouldn't be interpreted as a stock recommendation and comments/opinion presented here are solely mine. No data or analysis should be considered error free without significant due diligence.All investors are advised to conduct their own independent research into individual stocks before making a purchase decision. In addition, investors are advised that past stock performance is no guarantee of future price appreciation.Copyright: All rights reserved. Contact: investar@mail.com investarblog.wordpress.com