After years of turmoil, the home furnishing industry has finally started showing considerable signs of improvement.
Just look at recent earnings reports - Home Depot (NYSE:HD), Lowe's (NYSE:LOW) and Lumber Liquidators (NYSE:LL) have all bested analyst expectations during their most recent announcements.
Home Depot
Home Depot's profit, for instance, increased by 32%, from $774 million the previous year to $1.02 billion. The stock has been pushed higher by investors who continue to believe there's more upside, betting that more and more people will seek housing products to upgrade their homes.
There's good reason to think that there is momentum behind this trend: remodeling activity is gaining a LOT of momentum. The National Association of Home Builders reported that the Remodeling Market Index reached 55 in the fourth quarter, hitting the highest level since the first quarter of 2004. The first-quarter projection was upwardly revised to 56. (Any number above 50 indicates remodeling activity is positive and better than was expected)
Lowe's and Lumber Liquidators
Lowe's development may have been less spectacular than Home Depot's, but equally positive.
Benefiting from rather unfortunate natural events such as hurricane Sandy, with many home owners having to rebuild, the company estimates an increase of sales 4% this year.
And although the company is almost 50 times smaller than Home Depot, Lumber Liquidators has certainly showed improvement. With a current ratio 2.85 ($288 million in assets and $101 million in liabilities), the company looks stable. Cash flows, a strong indicator of corporate health, has skyrocketed, from $2 million in 2008 to over $34 million in 2012.
Overwhelming Optimism: Cause for Concern?
Despite all the bullish trends and solid price momentum for the home furnishing industry, we are a little concerned about the overwhelming consensus that is fueling the current rally.
A sentiment analysis of news headlines on the industry, sourced from prominent media sites like Reuters, Bloomberg, Marketwatch and even SeekingAlpha, shows that the media has become overwhelmingly optimistic on the prospects for the industry.
Out of a sample of 100 headlines on the home furnishing industry, sourced over recent days, almost half of headlines have been classified as positive, while only 6% of headlines have been classified as negative.
And by plotting the percentage of positive headlines on a vertical axis, and comparing it to the percentage of negative headlines on the horizontal axis, you'll see the extent of the bullishness driving the industry, when compared to other industries: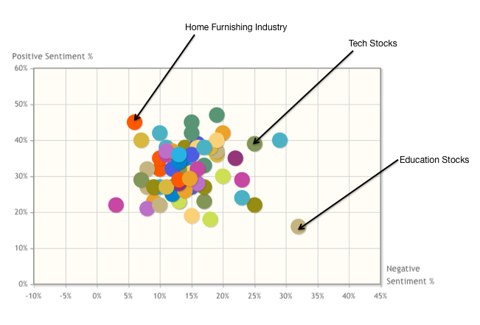 The media clearly thinks the home furnishing sector will continue to improve in the short and medium term, but is this optimistic "groupthink" a red flag for investors looking to make an entry into the industry?
History has shown us that downturns tend to happen immediately after everyone has turned bullish. With everyone becoming super optimistic on the home furnishing industry's outlook, will there be any buyers left?
Disclosure: I have no positions in any stocks mentioned, and no plans to initiate any positions within the next 72 hours. I wrote this article myself, and it expresses my own opinions. I am not receiving compensation for it (other than from Seeking Alpha). I have no business relationship with any company whose stock is mentioned in this article.