General Moly, (NYSEMKT:GMO), a good stock to invest now
General Moly, (GMO), a good stock to invest now, Sept, 2012
This analysis is time sensitive.
My new update will be published @
http://kunlunrunyu.blogspot.com/
GMO announced today,Oct 8, 2012:
Title: General Moly Announces That the Notice of Availability for the Mt. Hope Final Environmental Impact Statement Has Been Processed and is Scheduled for Publication in the Federal Register October 12, 2012
ROD will be obtained very soon, maybe in 1 month.
I don't take any benefit from this article, and just share my thinking.
Brief Introduction of General Moly Company (GMO)
General Moly is a U.S.-based mineral development company. Headquartered in Lakewood, Colorado. The company is to grow into the largest pure-play molybdenum producer in the world and a molybdenum supplier of choice to customers around the world.
GMO owns and operates two primary molybdenum projects, both in Nevada, USA. The Mt. Hope project is one of the world's largest molybdenum development projects and is a joint venture between General Moly (80% ownership) and POSCO (20% ownership), one of the world's largest steel producers based in Korea. The Liberty project is wholly-owned by General Moly, contains both moly and copper, and is another major project following Mt. Hope.
Most Recent Activity
June 14, 2012.
General Moly Inc. posted a nearly 22 percent gain. Shares of General Moly, which trades as GMO, rose by 21.69 percent, or 59 cents, to close at $3.31. The company normally has an average volume of about 327,000 shares per day, but on Thursday the volume jumped to 1.4 million.
This increase is mainly due to the success in the appeal of water right with Eureka County Commissioners. On Jun 14, 2012, Nevada State District Court ("the Court") issued its Order affirming the Nevada State Engineer's ("the NSE") Ruling of July 2011 approving the Mt. Hope Project's water rights and the NSE's December 2011 and January 2012 issuance of water permits for the Mt. Hope Project.
Chart for The Past 6 months
(click to enlarge)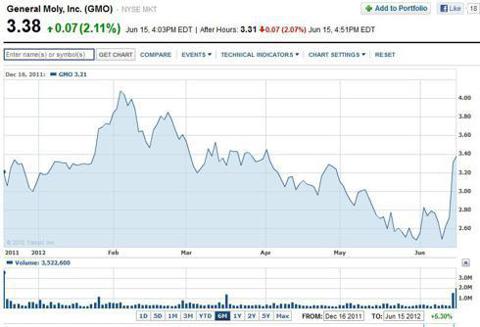 Click to enlarge
My Analysis:
1. Great CEO
The CEO of General Moly, Bruce D. Hansen, is an excellent leader. He leaded the company through the 2008 crisis, and found a Chinese Investor, Hanlong Mining Company, which would supply all the money needed in the future, as long as the permit is obtained. The financial sustainability problem has been solved.
He also was selected as the Chair of Nevada Mining Association in 2009. He has pretty good relationship with BLM (Bureau of Land Management). In the water right appeal, Battle Mountain BLM District Manager Doug Furtado standed firmly behind GMO, and GMO won that appeal. BLM also plays a key role in the permit application, and the support of BLM will give GMO more chance to obtain the permits in time.
2. Permit Application Progress
As Bruce D. Hansen (NYSE:CEO) mentioned, it was moving forward in 2011. All permits applications are in good direction.
Since 2006, they have put large amount efforts into the preparing of materials and doing research for Mt. Hope project. It is a time-consuming, costing and difficult job, especially in a turbulent economic environment. 6 years later,five major permits, Air Quality Permit and water right permit are in hand. Mt. Hope Project's Water Pollution Control Permit and Reclamation Permit are on the way, which will be obtained before the end of this year.
The last and most important major permit, Record of Decision (ROD) from Bureau of Land Management (BLM), is the major uncertainty and concern now. The Draft Environmental Impact Statement (DEIS) has been published in Dec, 2011. The BLM will publish a final version of Environmental Impact Statement recently. GMO management group expected that it could be done in 6-9 months since the publishing of DEIS. Once the final EIS is published, the Record of Decision is expected to be published in one month.
This time, they have a large chance to get it in the following 6 months. When I studied GMO' s 2012 annual shares holder meeting report, I found that their amendment of some loan contract with Hanlong Company implied a quite narrow time scale for the ROD. The ROD will high likely be obtained between Sep 2, 2012 and Dec 2, 2012.
Now GMO got the Preliminary FEIS on Sept 5, 2012. It is a strong signal that they will get
the ROD in Nov, 2012.
3. True Value of GMO Stock
In GMO Company's presentation, the estimation is around 15$/ share, when Moly price at 15$/lb. Now, the moly price is 13.6$/lb. However, if the permit can't be obtained, this calculation means nothing.
Investors are waiting for their permits, and every success of permit application will add more value of the stock. The Nevada State District Court rules about water right triggered a 20% increase of GMO stock.
The Record of Decision(ROD) from Bureau of Land Management's ("BLM") is the most important permit to GMO. Once the Record of Decision is obtained, the share may soar anther 20% or more, because this will be a milestone for the company, from application to construction, from burning money to making money.
Now, GMO is on the critical edge, at the eve of a tremendous victory. That is the reason why I choose this title.
4. Capital Raising
GMO found a big investor from China, Hanlong Mining Company. GMO and Hanlong finalized the details of 745 million $ finance arrangement in Feb, 2012. Once GMO obtains the Record of Decision(ROD), the money will be accessible in 3 months. This money is enough to support the whole project. So people are waiting for the news of ROD.
Hanlong Mining Company is a steel company, and will be a big customer of GMO. This relationship also makes the finance arrangement inherently stable.
Risk:
The Eureka county commissioner could file new appeal on the water right permit. This has happened a few times before. Nobody can guarantee what will happen in the future.Some other potential risks also could exist also.
Forward-Looking Statements
Statements herein that are not historical facts are "forward-looking statements" within the meaning of Section 27A of the Securities Act, as amended and Section 21E of the Securities Exchange Act of 1934, as amended and are intended to be covered by the safe harbor created by such sections. Such forward-looking statements involve a number of risks and uncertainties that could cause actual results to differ materially from those projected, anticipated, expected, or implied by the Company. These risks and uncertainties include, but are not limited to, metals price and production volatility, global economic conditions, currency fluctuations, increased production costs and variances in ore grade or recovery rates from those assumed in mining plans, exploration risks and results, political, operational and project development risks, including the Company's ability to obtain required permits to commence production and its ability to raise required financing, adverse governmental regulation and judicial outcomes.
Disclosure: I have no positions in any stocks mentioned, and no plans to initiate any positions within the next 72 hours.