Our insights on opportunities in the alternative energy sector from May 2013.
During the last 10 years the alternative energy sector has gone through an incredible transformation from a niche player to an accepted and important part of the global energy mix. A trend that is only set to continue with increasing drivers behind it.
In recent years the sector has gone through serious upheaval with some of the initial innovators in Wind and Solar falling to the wayside as a standardization has taken place which has led to the 'commoditization' of products which where once considered high-value innovative items.
As has always been the case, some companies rested on their laurels and ceased to be innovative and became victims of the trend as opposed to being trendsetters.
At the same time the political influences, which have always been a strong factor in the industry, has been extremely changeable both within the sub-sectors as well as geographically.
But as the article below from the Librarium Associates Q4 2012 Review highlights, the disconnect between improving realities in the sector and the extremely depressed levels of share prices of companies within the sector offers the potential for a good value trade if you can separate the 'noise' from the reality and the wheat from chaff.
Article on the opportunities in the Alternative Energy sector from Librarium Associates:
The alternatives = opportunity?
"I'd put my money on the sun and solar energy. What a source of power! I hope we don't have to wait until oil and coal run out before we tackle that."
-Thomas Edison - 1931
If you followed the renewable energy industry in the last couple of years and you simply looked at the share prices of the largest related companies, you would have seen what appeared to be a collapse.
The RENIXX - Renewable Energy Industrial Index, an index published by IWRand of Germany and containing the largest global companies with more than 50% of revenues coming from the wind energy, solar power, bioenergy, geothermal energy, hydropower or fuel cell sector - has fallen dramatically since 2008 as the illustration below clearly highlights.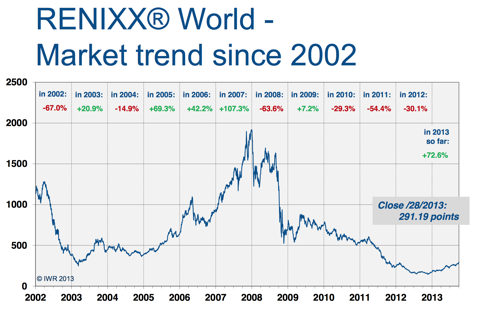 Source: www.iwr.de/renixx/pdf/RENIXX-presentatio....pdf
But if you looked at the behaviors of the governments of some of the major industrial powers such as the EU - headed by Germany, China, Japan, South Korea, India and of course the U.S. you would have seen some positive developments.
Alternative energy is playing an increasingly important part of the energy mix in significant economies around the world as the illustrations below clearly shows.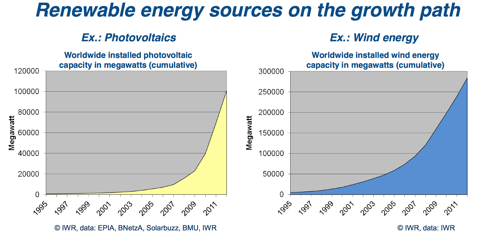 Source: www.iwr.de/renixx/pdf/RENIXX-presentatio....pdf
With nations around the world reassessing the economic realities of their economies in the wake of the financial crisis and increasingly looking for smart ways to invest into their economies that will provide, long-term benefits and enhance their independence plus provide high value jobs for their populations while dealing with the threat of global warming. It would appear that the renewable energy sector is an obvious source of interest and added financial and legislative commitment. It is a sector that goes hand in hand with the development of so-called 'smart-grids' that most developed nations aspire to implement in the coming decade.
Considering the long-term trend of increasing usage of electricity and its likely increase as a component of the global energy mix and the challenges faced by the nuclear industry, alternative energy broadly would appear to be a winner of the changing realities.
Clean energy investment slid 11 percent during 2012 to $269 billion, but it was from a record level in 2011 of $302 billion - it was still the second highest ever and it was five times the level in 2004 according to data complied by Bloomberg. The largest drops came, as could be expected, from the European peripheral nations - with Spain declining 68% and Italy not far behind with 51% India, with its economical challenges and continued political gridlock, carried the baton for the developing nations with a 44% drop in investment.
Germany is currently the leader in alternative energy and has set out ambitious plans for its energy and industrial future including plans for 25,000 megawatts to be provided by sea-based wind turbines by 2030 that is the same capacity as 25 nuclear plants.
China is also committed to large-scale investment in developing their own supply and production capabilities. The U.S. as part of its wider energy related progress - see our thoughts on U.S. shale oil and natural gas for further insights - have been aggressively building up its alternative energy sector and increasingly derives its energy from these sources. Wind-turbine installations are poised to exceed natural gas-fueled power plants in the U.S for the first time ever in 2012, as developers have been taking advantage of special renewable energy tax credits. According to Ventyx Inc. - a specialized research company - new wind capacity reached 6,519 megawatts by Nov. 30th, beating the 6,335 megawatts of gas additions and more than double those of coal. So it was not all Solyndra in the U.S. and Japan, the U.K. and France have all recently committed to expanding their use of alternative energy as well as committing to further investment and legislative support.
Considering these real developments and the low valuations across the global renewable energy industry, as illustrated by the RENIXX index, it appears that a price/value distortion has taken place and that long term value can be found by assessing the winners within the sector and taking advantage of the low prices.
SECTOR REVIEW - FINDING THE WINNERS WITHIN A WINNING INDUSTRY.
As a starting point we have chosen to use the RENIXX (Renewable Energy Industrial Index) which compromises the performance of the world's 30 largest companies of the renewable energy industry. This is in keeping with our key ethos of always ensuring a 'liquid' positioning with high transparency levels.
Though smaller listed entities and private 'start-up' type companies may provide outsized gains, they can also go to zero and illiquidity is a certain and the lack of track records and often more opaque structures leaves a lot to be desired in terms of transparency.
The current composition of the RENIXX: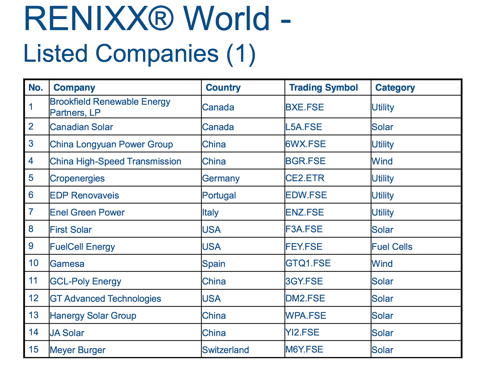 (click to enlarge)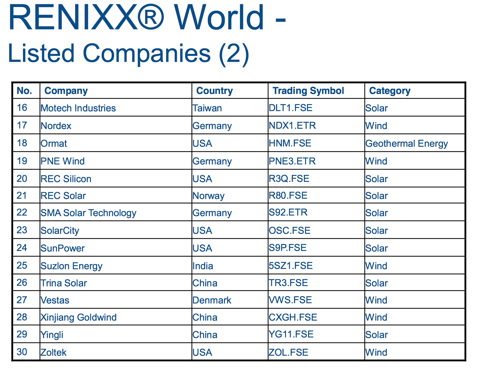 Source: www.iwr.de/renixx/pdf/RENIXX-presentatio....pdf
The process:
In line with our views that the standard solutions within Solar and Wind are now a 'commodity' style product, which has gone through a similar process of price destruction as to what took place within the computer chip industry in the past.
As such we see companies who are solely focused on this area as generally unattractive and have avoided such companies for consideration to our top 5 high conviction plays.
There may be a case for potential sector consolidation through increased M&A activity which could result in rising share prices from the depressed levels we see today in most of the companies. However if one considers the macro backdrop of slowing global economic growth, unsustainable debt levels and increased geopolitical competition and a weak financial sector it would be a speculative and high risk strategy to broadly take position in such companies.
Our line of thinking is that the price destruction in the products of the components makers and subsequently with their sub-suppliers will benefit end users such as utility companies and the increased installations will demand upgrading of the related infrastructure which demands high-end innovative solutions.
The transformation towards more diverse electricity use through so-called 'smart-grids' and innovations in batteries will lead to increases in the electricity driven transportations fleets. The high conviction plays outlined in this report are all placed within these sectors.
Lastly we have avoided companies operated and listed in emerging markets such as China and India. As expressed in several of our latest reports we feel that the emerging economies are looking increasingly fragile and we feel that transparency and the potential for liquidity constraints such as capital exchange controls and increased taxation plus the potential for sharp downturns in local currency markets makes them broadly unattractive.
Government interference is also likely to carry stronger consequences, both negatively and positively, for the industry and this makes it hard to get a sense of the situation on the 'ground,' a situation which anyway could be overturned at the stroke of a politicians pen.
If one has access to the relevant decision makers in China and India one could perhaps look at these companies with some comfort but as we do not have such contacts we prefer to go by the old adage that; "Knowledge is not what you know but certainty in what you do not." We do not know what will come next for China or India in general and attempting to figure out the plans and thoughts of their political elites, currently let alone into the future, appear a poor use of our time.
The EU based companies are the most affected of the recent 'austerity' led cuts in public investment and general support for the sector. With Europe going through a severe downturn coupled with general political paralysis and the long-term trend for a weaker Euro and generally little impetus for real rises in the local stock markets we have chosen not to focus on this geographical segment initially.
In the future, once the 'austerity' wave has passed and politicians come under increasing pressures for the creation of employment and economic growth we could see a broad public investment wave in the European energy grid and supply mix towards local and 'clean' energy sources. In such a scenario the EU based sector could become an attractive value play but we feel that such developments are some way away.
High conviction plays:
Brookfield Renewable Energy Partners LP.
Company overview:
Brookfield Renewable Energy Partners LP produces electricity exclusively from environmentally friendly hydroelectric resources. The Company owns, operates and manages hydroelectric generating stations in the United States, Canada and Brazil.
The company appears well positioned and well run with sturdy dividend growth. It operates one of the largest publicly-traded, pure-play renewable power platforms globally. Its portfolio is primarily hydroelectric and totals approximately 5,900 megawatts of installed capacity. Diversified across 70 river systems and 12 power markets in the United States, Canada and Brazil, the portfolio's output is sold predominantly under long-term contracts and generates enough electricity from renewable resources to power more than three million homes on average each year. With a portfolio of high-quality assets and strong growth prospects, the business is positioned to generate stable, long-term cash flows supporting regular and growing cash distributions to shareholders.
Bloomberg Ticker: BEP-U:CN
Website: brookfieldrenewable.com
Meyer Burger Technology Ltd.
Company overview:
Meyer Burger Technology AG supplies systems and production equipment to the photovoltaic, semiconductor and optoelectronic industries. The company produces equipment for solar production from wafers to building integrated solar systems.
It is a leading global technology group. With its innovative systems and production equipment, Meyer Burger creates sustainable added value for customers in photovoltaic's (solar industry), in the semiconductor and optoelectronic industries as well as other selected industries which focus on semiconductor materials. In its core business - photovoltaic's - customers rely on comprehensive solutions and complementary technologies along the entire value chain including the manufacturing processes for wafers, solar cells, solar modules and solar systems. The Group employs over 2,000 people across three continents.
Bloomberg Ticker: MBTN:SW
Website: meyerburger.com
ABB Ltd.
Company overview:
ABB Limited provides power and automation technologies. The Company operates under segments that include power products, power systems, automation products, process automation and robotics. The company in its current form was created in 1988, but its history spans over 120 years. ABB's success has been driven particularly by a strong focus on research and development.
The company maintains seven corporate research centers around the world and has continued to invest in R&D through all market conditions. The result has been a long track record of innovation. Many of the technologies that underlie our modern society, from high-voltage DC power transmission to a revolutionary approach to ship propulsion, were developed or commercialized by ABB. Today, ABB stands as the largest supplier of industrial motors and drives, the largest provider of generators to the wind industry, and the largest supplier of power grids worldwide.
Bloomberg Ticker: ABBN:VX
Website: abb.com
New Flyer Industries Inc.
Company overview:
New Flyer Industries Inc. manufactures heavy-duty transit buses in Canada and the United States. The Company also provides aftermarket parts and service. New Flyer manufactures a variety of buses in several body lengths with an array of propulsion systems, including diesel, liquid natural gas, and electric trolleys.
New Flyer is the leading manufacturer of heavy-duty buses in the U.S. and Canada. Offering the broadest line of transit vehicles, they have secured a strong position by providing reliable transportation solutions that meet the needs of today while anticipating the needs of tomorrow.
Known for breaking new ground with the first low-floor bus, the first diesel-electric bus and most recently, the world's first zero-emission hydrogen fuel cell fleet, they remain dedicated to innovation and excellence as they provide customers with a wide range of products such as clean-running, fuel-efficient hybrid buses; zero-emission electric trolleys; buses with alternative fuels, like hydrogen and CNG and clean diesel buses.
Bloomberg Ticker: NFI:CN
Website: newflyer.com
Ormat Technologies Inc.
Company overview:
Ormat Technologies Inc. designs, develops, builds, owns and operates geothermal power plants. The Company also designs, develops, and seeks to own and operate, recovered energy-based power plants using equipment that it designs and manufactures.
It is a world leader in the geothermal power plant sector. As a geothermal company they have over four decades of experience in the development of state-of-the-art, environmentally sound power solutions, primarily in geothermal and recovered energy generation. In addition to designing, developing, building, owning and operating geothermal energy and recovered energy-based power plants in the United States and other countries, Ormat also designs, manufactures and sells power units and other power generating equipment for geothermal power plants and recovered energy-based electricity generation.
Ormat is today's only vertically-integrated provider of geothermal and recovered energy-based equipment, services and power that designs, develops, builds and manufactures most of the equipment used in its plants. The in-depth knowledge gained from these operations gives us a competitive edge by enabling efficient maintenance and timely response to operational issues.
Bloomberg Ticker: ORA:US
Website: ormat.com
All our high conviction plays have showed good performance since May when we highlighted their potential and we continue to see interesting developments in the sector for 2014 and beyond.
Disclosure: I have no positions in any stocks mentioned, and no plans to initiate any positions within the next 72 hours.
Additional disclosure: We may or may not take positions in any of the companies mentioned in the future. We have no professional relationship with IWRand, the publisher of the RENIXX Renewable Energy Index.