More or less,
we all agree that 2013 was a year of controversial leadership attempts-majority of which originating in "Luteria Parisorum".
All started when the French President increased taxation over successful individuals to 75%, then promised tax brakes for companies that are hiring. In June was claiming that "Eurozone crisis is over", but in October his Industry minister Arnaud Montebourg says-"the Euro is too high" (the same author of "We're just doing what Obama does" from a year earlier www.cnbc.com/id/50022833 )
Clearly l'Hexagone is looking for direction and unlike its political leaders,
private sector has already found its course.
The Blueprint: (NYSE:JPM)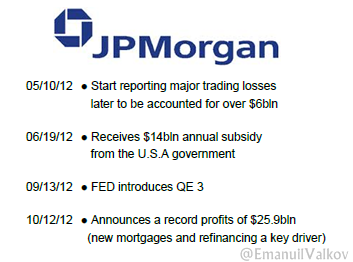 Albeit not with the same speed nor size, that formula of turn-around
success it has worked pretty well for Peugeot-Citroen (OTCPK:PEUGF)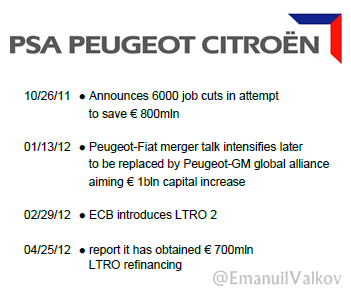 In fact, has worked so well that when PEUGF said it will rise 3 Billion Euro for new models www.bloomberg.com/news/2014-01-20/peugeot-sales-rise-in-fourth-quarter-on-china-deliveries.html ,it rose immediate suspicion of attempting it again.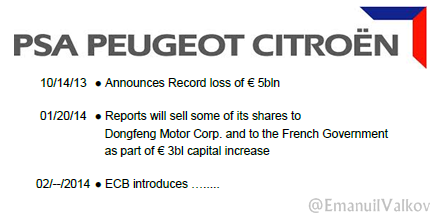 Household wisdom is that - the hungry are first around the pod.
So when private, public and foreign money unite, at a time of mounting pressure over ECB easing,
past experience rightfully suggests a similar follow through.
Have no doubt, from ECB prospective the moment is right,
deflationary benefits from appreciating € are one-time event and when they have been consumed without being replenished, game is over.
Either way, calling it Quantitative Easing, Money for Lending Scheme or some other creature of Unconventional Monetary Policy,
large scale easing cycle is upon us and the major players are already positioning to sail with the tide.
Disclosure: I am short FXE, EURS, ULE, . I wrote this article myself, and it expresses my own opinions. I am not receiving compensation for it. I have no business relationship with any company whose stock is mentioned in this article.