With the major indexes showing an increasing amount of selling pressure, with the number of distribution days rising, and with several "correction catalysts" on the horizon (FOMC this month, debt haggling next month, etc.), it seems prudent to begin to shift focus away from finding the next big winners for 2014 to finding a set of candidates for short-selling.
I have a number of screens I run to build watch lists of viable short-selling candidates. One of the simpler screens I use includes the following parameters:
recent 50sma cross under the 200ma
several weeks past the 52-weak peak price
in the top 10% of market performers over past year
Further chart needs to be done to determine the best trades. I like to see lower pivot highs on lower volume, among other things.
Here is this morning's list (note I'm already short a few of these):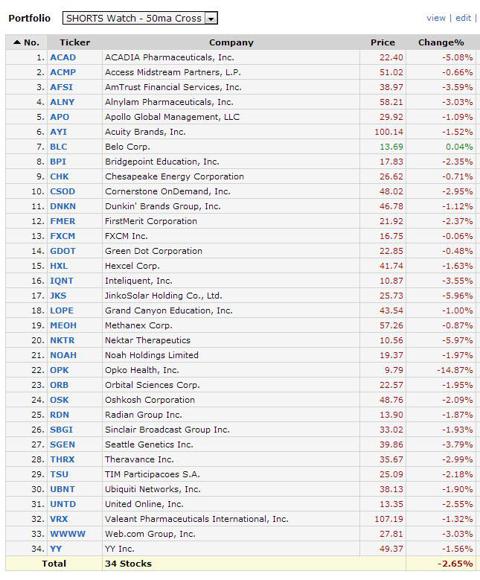 Disclosure: I am short APO, IQNT, JKS, NKTR, NOAH, OSK, SGEN, WWWW.
Additional disclosure: Please note that my positions are all short-term swing trades.