Watch shares of GASS here as they approach a critical breakout threshold. This Greek shipper is undervalued and is carving out a hefty niche for itself as a carrier of liquid natural gas in smaller sized vessels. These smaller vessels are essential in the transportation of the LNG carried by the huge hulls of the big oil companies.
UBS recently initiated GASS with a buy and $14 price target.
EPS grew 243% this year and nearly 300% in 2012.
Shares are being accumulated here as price breaks out of a 2-week consolidation. Next step higher is 11.75, then 12.75.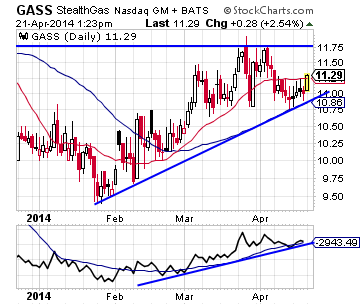 Disclosure: I am long GASS.