It's no secret that economists have an inferiority complex.
We've looked upon our associates in the natural sciences, especially physicists, with absolute envy for decades.
This is because of the stunning equations physicists have developed to explain virtually everything, while economists have repulsive equations based on duct tape and dreams.
The envy runs so deep, there's actually a name for it; physics envy!
So to make ourselves feel smarter, we developed math models to explain the financial markets.
Unfortunately, our attempt at developing a "grand unifying theory of security pricing" has failed miserably, because no equation can exist where the endogenous risk of irrational investor behavior is present.
This means that investors putting their trust in the Efficient Market Hypothesis (EMH) and Modern Portfolio Theory (MPT) are replacing reality with elegant equations that have failed for decades!
Take the MPT admonition to diversify a portfolio of investments.
From the beginning of the market downturn that lasted thru June 2009, an un-diversified portfolio of stocks performed better than a diversified portfolio, contrary to our models.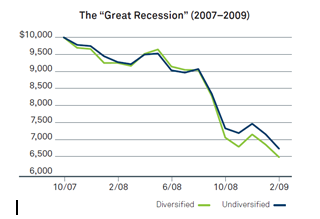 It seems the Great Recession destroyed the duct tape holding our models together - leaving in its wake, pipe dreams for a better equation.
Undeterred, economists continue pursuing an equation that will prove their math skills are equal to the physicists!
Investors are better served by heeding Warren Buffet's sage advice, to wit: "Diversification is protection against ignorance; it makes little sense for those who know what they're doing."
Attempting to diversify a portfolio by owning too many stocks ensures mediocre results, not protection.
Instead, invest in low priced dividend payers, which increase the odds of withstanding the endogenous risk that causes almost all investor harm in tumultuous markets.
However, if you still feel the need to quench your MPT diversification thirst, check out these Canadian stocks that are less correlated to U.S. markets, but which also meet an income investor's guidelines of reduced risk by possessing low prices relative to earnings, book value, and cash flow.
Company/Symbol
Dividend Yield
P/E
EV/EBITDA
P/CF
P/B
Profit Margin
DPR
5-Yr Avg. Dividend Increase Rate
GENWORTH

(MIC.TO)

4.19
6.46
6.52
6.07
1.05
64.7
24.7
16.2%
CORUS ENT.

(CJRb.TO)

4.33
8.2
9.02
3.99
1.5
31.56
33.2
12.15%
SUNCOR ENERGY

(SU.TO)

2.5
14.1
5.21
5.9
1.3
10.01
34.1
21.35%
Genworth Financial, a private mortgage insurer, is priced at 6.4x earnings, a discount of 50% to the industry average of 12.8. Being situated in Canada, Genworth is better insulated against the credit problems that plague U.S. firms, while also maintaining an incredible profit margin of 64%.
Corus Entertainment is a media and entertainment company, which owns the broadcasting rights to Nickelodeon and OWN (Oprah Winfrey Network). The company trades at 8.2x earnings, a discount of 58.60% to the industry average 19.8, while sporting a profit margin of more than 31% and a 4.33% yield (Canadian) or 3.94% in US dollars.
Suncor is Canada's largest integrated oil company, and is the dominant producer from the Alberta oil sands. It trades at 14.1x, a discount of 55% off the industry average of 31.36, and comes with an impressive 5-year avg. dividend growth rate of 21.35%.
Act quickly while these stocks remain undervalued. Not only do they help in risk diversification, they also eliminate the need for dubious equations from envious economists.
Richard Robinson, Ph.D.
Disclosure: I have no positions in any stocks mentioned, and no plans to initiate any positions within the next 72 hours. I wrote this article myself, and it expresses my own opinions. I am not receiving compensation for it. I have no business relationship with any company whose stock is mentioned in this article.