In 1720, an English printer developed a prospectus for an IPO with no earnings.
Blazoned across the prospectus was the company's mission statement, "A company for carrying on an undertaking of great advantage, but nobody to know what it is."
Crazy, right?
The printer offered up 5,000 shares of his worthless company for 100 pounds each.
By 3 PM the next day, the owner had sold the allotted shares. He then skipped town and was never heard from again.
Nearly 300 years later, the IPO market is experiencing very similar problems…
Earnings Take a Backseat
The number of companies that IPO'd in Q1 was higher than any first quarter since 2000.
A total of 64 companies went public - double the number of IPOs in Q1 2013.
And much like the English printer above, nearly 70% of the companies had no earnings prior to their IPO.
Don't expect the trend to reverse course, either. In fact, it's only getting worse…
Historically, Q1 is the slowest quarter for IPOs - accounting for just 20% of IPO activity in any given year. So we should only see the number of offerings increase as the year continues.
Sure enough, the IPO pipeline now stands at 122 companies, based on data from Renaissance Capital. And an additional 103 firms have recently submitted filings, resulting in a 186% increase in IPOs quarter over quarter.
Of those companies, only 26% boast any profits at all.
Essentially, these companies are staying afloat on momentum alone (i.e., investor hype), instead of actual revenue.
How can this model be sustainable?
Spoiler alert: It's not…
IPOs Stuck in the Danger Zone
The chart below shows how profitable companies that go public fare against firms with zero earnings…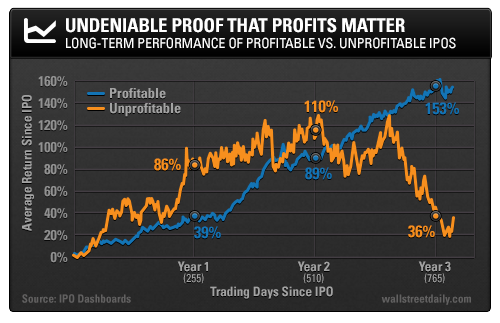 As you can see, unprofitable companies outperform in the first year of an IPO - due entirely to investor hype. By the third year, though, they're only up 36% - compared to 153% for profitable companies.
What's more, analysis by SBA Research shows that fully one-third of unprofitable IPOs fail in three years. By year five, 55% hit the skids. And 61% are history by year 10.
Bottom line: The IPO market is clearly full of landmines right now. And it's only going to get more chaotic, as we could see a total of 320 IPOs this year - the highest number since 1999.
Ultimately, the safest bet is to avoid IPOs at all costs. If you can't stay away, however, be sure to cut through the hype and focus only on companies that sport actual profits.
Ahead of the tape,
Richard Robinson, Ph.D.