Investors love the diversification of dividend ETFs.
Because dividend-paying stocks have a history of outperforming other equities during market downturns, many investors assume that dividend ETFs will provide an even greater margin of safety.
But a look at the ETF performance at the height of the financial crisis in 2008 and 2009 will dispel the safe harbor myth of these investments.
(click to enlarge)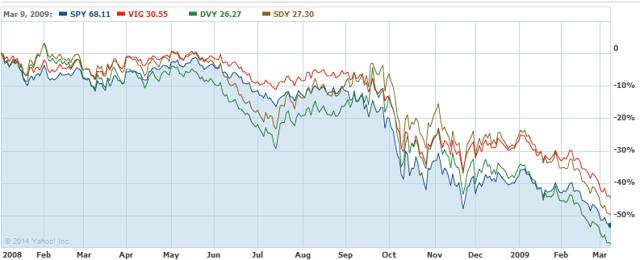 Click to enlarge
In the chart above, I compared three equity income ETFs to the SPDR S&P 500 Trust ETF (SPY).
From December 31, 2007 to March 9, 2009, the SPY declined 53.4% in one of the largest corrections in history.
But proving that ETFs tracking dividend-paying stocks were just as volatile as the broader market indices, the Vanguard Dividend Appreciation Index ETF (VIG) declined by 45.4%, while the SPDR S&P Dividend ETF (SDY) and the iShares Select Dividend (DVY) lost more than 50.4% and 59.2%, respectively.
Lest you believe the 2008 - 2009 period to be a one-off event, similar results were recorded during the decline from July to October 2011.
These results reinforce the notion that dividend ETFs are not built for defense.
Rather, they are tools best used for income and capital appreciation when bullish periods warrant their application.
A better investing alternative is to find value priced dividend stocks with a consistent history of increasing dividends - which has the added benefit of limiting drawdowns in higher volatility.
Does this mean investors should trust such dividend stalwarts like McDonalds (MCD) and Wal-Mart (WMT)?
McDonalds saw a decline of just 9.95% during the financial crisis, while Wal-Mart actually saw a small gain of 1.3% during that time.
Unfortunately, MCD and WMT aren't as healthy today…
MCD sits near its 52-week low due in part to a 7% decline in July same-store sales in Asia as well as a 3% drop in the US - which poses a huge threat to the stock.
Wal-Mart continues to see stagnant sales and dwindling traffic patterns, as evidenced by its fifth consecutive quarter of negative U.S. sales and its sixth straight quarter of falling traffic.
So it's unlikely either will outperform in a future correction.
But that doesn't mean investors don't have alternatives… Below are three stocks with a market cap of at least $500M that not only held up well during the financial crisis, but also have valuation levels consistent with our goal of buying value plays.
| | | | | | | | | |
| --- | --- | --- | --- | --- | --- | --- | --- | --- |
| Stock | Yield | P/Ettm | P/B | EV/EBITDA | 5-Yr Avg Div Growth Rate | DPR | Years of Consecutive Div Increases | Max Drawdown 2008-2009 |
| 1st Source Corp (SRCE) | 2.30% | 13.03 | 1.17 | 6.74 | 3.49% | 29% | 19 | -13.61% |
| Tompkins Financial (TMP) | 3.30% | 12.78 | 1.35 | 8.28 | 5.29% | 43% | 17 | -8.68% |
| Community Trust Bank (CTBI) | 3.30% | 13.9 | 1.39 | 8.9 | 1.3% | 46% | 34 | -15.2% |
Each of these companies sport golden ratios well below the median S&P 500 constituents, as well as attractive price-to-book ratios.
In the second quarter of 2014, 1st Source experienced an increase in loan growth of $145.97 million more than in 1Q14. These spectacular results were more than $230 million more than their results from 2Q13 - and the company shows no evidence of slowing its growth.
Tompkins is well-capitalized with strong performance. Since 2005, the company has maintained annualized deposit and loan growth rates of 11% and 12%, respectively. With its entry into Pennsylvania, this growth rate should continue.
Community Trust Bank has good financials with a low free cash flow payout of 28% and a reasonable debt to total capital of 41%. CTBI announced their intention to increase their dividend by 3.4% effective Oct. 1. This marks the company's 34th consecutive annual dividend increase.
If the markets correct as many expect, taking cover in dividend ETFs could destroy your portfolio.
By using a better strategy of buying stocks with long histories of raising dividends in combination with low EV/EBITDA ratios, investors can mitigate exposure to market corrections.
And by doing so, increase the likelihood of achieving their financial goals.