TSX-V LOY, US-OTCBB: LGLTF
INTRODUCTION
A lot has been going on at the offices of Loyalist Group Ltd. ('Loyalist' or the 'Company') since we first covered them at the end of November. The management team has been very busy continuing the Company's accretive pace towards becoming the premiere English-as-a-second-language (NYSE:ESL) educator:
Commenced a fully operational pilot program offering housing to its students
Launched a franchise program to license its ESL curriculum in overseas schools
Arranged a $10.01-million bought deal

TRADING UPDATE
If you purchased LOY when we first mentioned it on November 28th at $0.49, the company hit an intraday high of $0.79 (also its 52-week high), and closed this past Friday at $0.68. That's about a 39% gain if you sell this morning at open.
Despite the slightly erratic trading on Friday, the technical analysis on LOY is bullish. In fact, early this week looks like a good time to add to your LOY holding. The 50-day MA just crossed the 200-day MA, setting up a 'golden cross' on the chart, a bullish technical indicator, and the Relative Strength Index (RSI) has levelled off nicely, currently 49.77, indicating that the stock in neither overbought nor oversold. support currently at $0.58 and resistance at $0.72. We would feel comfortable buying in the mid-to-high $0.60s, setting a stop-loss at $0.60, and then waiting to see if the share price can break through the resistance at $0.72. If so, we think we test the 52-week high.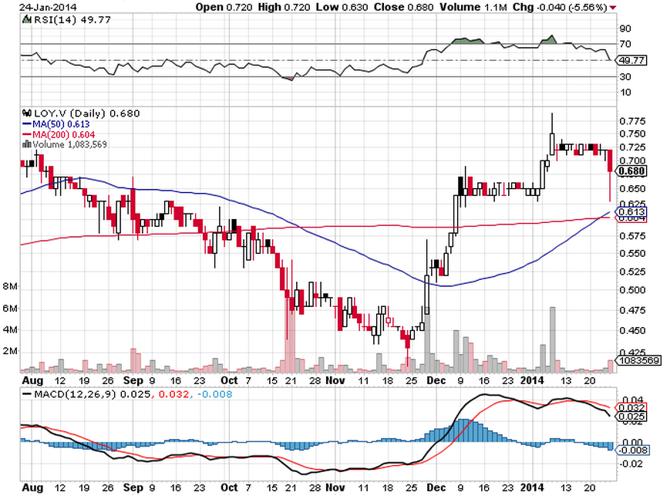 STUDENT HOUSING OPPORTUNITY
On December 6th, the Company announced a fully operational pilot program offering housing to its students. The company leased properties in Toronto, Vancouver, Victoria and Halifax capable of housing 104 students. The properties are 100% pre-sold through June 2014.
While we don't know specifically how the numbers break down, the financial returns to Loyalist are supposed to be "extremely compelling". Besides the positive financial implications and new revenue stream that this new opportunity brings, there are qualitative aspects that it adds to the company that can't specifically be accounted for. Loyalist can now offer its students a full complement of services when they come here to study abroad. In our opinion, the decision to enter the student housing market now solidifies Loyalist's reputation as Canada's premiere ESL educator.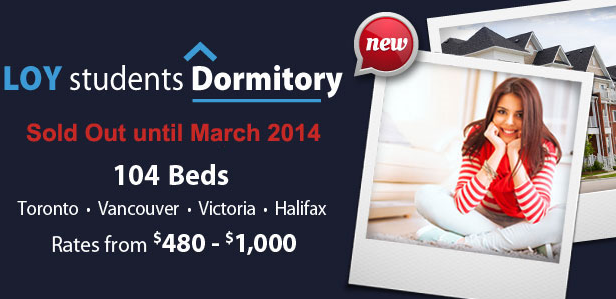 Loyalist chief executive officer, Andrew Ryu, commented: "We are listening to our students, many of whom worry about accommodation prior to arrival in Canada. We would rather our students concentrate on their studies so we are offering safe and secure housing that meets Loyalist's best in class. Our shareholders will also be rewarded by this initiative, which has been contemplated for some time. Mr. Ryu continued, "If the pilot project is successful, which we fully expect, Loyalist will continue adding properties to ensure the needs of its students are met."
Pilot Project Metrics -
The rates advertised on the company website range from $480 - $1,000
104 beds @ $700/student per month (assumed average) x 12 months = $72,800 x 12 = $873,600 per annum
Considering that Loyalist now has a few thousand students, when you add in more beds the revenue becomes quite significant. My questions are, is the Company renting and/or are they planning on purchasing real estate? As well, what exactly are the margins, I presume different based on the geographic marketplace? I expect in due time that we'll find these answers out, nonetheless, the figures are attractive for investors.
FRANCHISING OPPORTUNITY
On January 8th, the Company announced that it launched a franchising program to license its ESL curriculum for overseas schools and also grant its own diplomas to franchisees and their students. Loyalist expects that franchising will create "substantial high-margin revenues" by allowing the Company to earn income from overseas students who choose to study domestically rather than abroad.
"Franchising is the logical next step in our evolution towards becoming a truly global brand in the ESL market," said chief executive officer Andrew Ryu. "We are easily the No. 1 choice of foreign students who want to come to Canada. But there are millions of other students who will choose to study in their home countries rather than coming to Canada. These students still want a first-rate curriculum and the ability to earn a recognized diploma, and Loyalist can offer both of those things. We expect this to be highly accretive to our income as the cost of setting up and running this business is small relative to the potential revenues."
Loyalist is targeting four countries for the launch of the program: Mexico, China, Turkey and South Korea. The Company has also already signed five franchise agreements, and expects to add several more franchise agreements per quarter over the coming years.
In terms of a revenue model, set-up fees payable by the franchisee to Loyalist range from $0 to $100,000, and there will also be royalty payments rates ranging from 5% to 20% of gross revenues (or $50/student per month). The Company also expects to facilitate its services to a monthly average of ~1,000 students by the end of 2014.
Franchising Metrics -
1,000 students @ $50/month x 12 months = $600,000 annual royalty run rate
It's expected that the ~$600,000 annual royalty run rate has very high EBITDA margins, and also doesn't include the initial set-up fees payable by the franchisee. Overall, this is a low-risk, low-cost strategy for the Company to expand its brand awareness outside of Canada. As the business continues to scale, this opportunity could translate into a very high-margin recurring revenue stream. We still think that another interesting possibility would be to offer online correspondence, integrating live chat via an application like Skype to offer personalized tutoring, or classroom-like services to students.
$10.01 MILLION BOUGHT-DEAL FINANCING
On January 9th, Loyalist entered into an agreement letter with Beacon Securities Ltd., on its own behalf and on behalf of a syndicate of underwriters, including Cormark Securities Inc. and Paradigm Capital Inc., to purchase for resale to eligible substituted purchasers, on a bought deal basis, an aggregate of 14.3 million common shares of the company at a price per common share of 70 cents for aggregate gross proceeds to the company of $10.01-million. Loyalist will grant to the underwriters an option to purchase up to an additional 2,145,000 common shares, exercisable in whole or in part, at any time until the closing of the offering. If the overallotment option is exercised in full, the aggregate gross proceeds to the company will be $11,511,500.
The Company has stated that it intends to use the proceeds from the offering to support general working capital purposes and to provide the base for potential accretive acquisition opportunities. The offering is expected to close on or about Jan. 27, 2014.
Including the funds from the November financing, the Company is very well financed and should now have ~$15 million (not including the overallotment option which may be exercised). While we didn't think that it was necessary for further dilution, we can only presume that management has a plan in place that they intend to use this new capital for. Since Loyalist generates positive cash flow, one might presume that time was of the essence to get this deal done now. Another acquisition like KGIC & KGIBC would really act as a catalyst for the Company going forward and rapidly accelerate its 5-year $200M+ revenue plan.
FINANCIAL ANALYSIS
Our financial estimates have not factored in the new opportunities discussed in this update. Too much is unknown at this time to extrapolate quantitatively. We accept that both of these opportunities are high-margin ventures, with low-risk, that will continue to bring more and more recurring revenue as the company scales.
That being said, we feel the need to re-iterate previous price target of ~$1.54 per fully diluted share. We believe that the Company could exit 2014 with a revenue run rate of ~$60M, EBITDA of ~$15M, and no need for further dilution. Debt can be used to supplement cash in acquisitions, and organic growth will improve the bottom line as well as the EBITDA margins. While we haven't adjusted our price target, we certainly feel much more comfortable about reaching it given the recent news.
CONCLUSION
The Company's strategic initiative to date has been to acquire schools, consolidate operations, and build its brand in the market. Management furthered that initiative by adding student housing and franchising into the Loyalist portfolio. We believe that these initiatives will accelerate the Company's top-line growth and also its profitability over time. It's encouraging that the Company is diversifying its revenue base beyond just tuition fees. As the Company continues to scale its operations, standardization of practices, and enhanced brand value, these will all lead to a higher influx of students into its programs, and ultimately drive revenue.
Key investment highlights include:
The market for short-term language training in Canada is large and extremely fragmented
The ESL market is recession-proof by nature, during hard economic times people go back to school to re-train
Loyalist has the experience and capital required to consolidate this industry (large insider holding and institutional support)
There are considerable synergies to consolidation (many options to decrease opex and capex while increasing revenues)
Long-term upside potential exists through expansion into the student housing market (pilot projects are currently in operation) and through franchising opportunities
Disclaimer: This report is prepared for informational purposes only and is not to be construed as an offer to sell or the solicitation of an offer to buy any security in any jurisdiction where such an offer or solicitation would be illegal. This report does not constitute or contain investment advice. We are not soliciting any action based upon this material. It does not take into account the particular investment objective, financial situation or needs of individuals. Before any action, an individual should seek professional advice. All expressions or opinions are subject to change without notice. The author has no position in any of the mentioned or related securities including derivatives in such securities. Any photocopying or retransmission of this report without permission is prohibited and subject to liability. The author does not guarantee any returns nor guarantee the outcome of what has been portrayed in this report.
Disclosure: I have no positions in any stocks mentioned, and no plans to initiate any positions within the next 72 hours.