When reviewing the components of the 30 Dow Industrials, there is one stock that really stands out technically - Hewlett-Packard Co. (NYSE:HPQ).
The purpose of this article is to show investors or potential investors of where there is support for and resistance to HPQ.
There is no better place to determine that information than looking at the point-and-figure chart (a pictorial representation of supply and demand), seen below, which goes back to late 2002.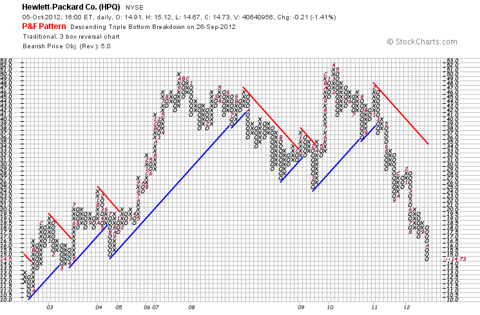 Currently the stock is in a column of Os indicating that sellers prevail. The price has dropped from over $18 in the last few weeks to its last Friday's close of $14.73 (on high weekly volume).
And, since the high of April, 2010, when the stock traded at $52, HPQ has broken through every support level that existed since printing that high point. The all time high for HPQ was $62 in 2000.
The first point-and-figure sell signal came in August of 2010 when the price traded through support at $40 and went down to $35. Another support level was broken in May 2011 as HPQ dropped to $29, and then in May of this year, $22 did not hold. Then, finally, last month, $17 was broken which brings us to the current price.
As can be seen on the far left of the chart is that HPQ has not traded at these levels since 2003, March and April of 2003. One must also keep in mind that we lived in a different economic world at that time; however, this information needs to be considered.
Be that as it may, those two levels, $13.50 and $14 respectively, represent current support. Below that support is at $10.50.
Before HPQ's point-and-figure chart can go into a column of Xs, the ticker will have to print $16.
As far as resistance goes, and if the chart does go into Xs, it should be noted that buyers were last challenged by sellers at $18.50 - above that, the column of Xs terminated at $20 and $29.
Obviously, the price of HPQ is in a downtrend. How low is low has not been determined yet. It is hoped that by looking at the point-and-figure chart investors will benefit from the historical reality of where HPQ has traded in the past.
Investors can find mountains of data about HPQ, written by my fundamentalist colleagues, to which they can refer as to whether or not the financials will support an investment in HPQ at this time, wherever it is trading.
The point-and-figure chart is clear; HPQ is at or near a bottom. The final low will be decided between the buyers and the sellers.
Disclosure: I have no positions in any stocks mentioned, and no plans to initiate any positions within the next 72 hours. I wrote this article myself, and it expresses my own opinions. I am not receiving compensation for it. I have no business relationship with any company whose stock is mentioned in this article.