PowerShares DB Base Metals Short (NYSEARCA:BOS) is trading 37% below its NAV. PowerShares DB Base Metals Double Short (NYSEARCA:BOM) is trading 15% below its NAV.
PowerShares DB Base Metals (NYSEARCA:DBB) just broke to a new 52-week low.
Average daily volume for the past 3-mos in DBB is 112,000 shares. This shows there's some investor interest in these products. Interest in BOM and BOS, not so much: the same figure for BOM is 3,800 shares per day and for BOS 2,000 shares per day. However, these types of funds can be ignored by traders for a long time and then suddenly spring to life when the trend is in their favor. (click to enlarge)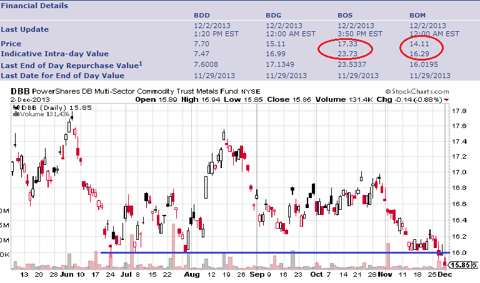 Click to enlarge
The assumption here is that DBB is going to sink and these funds will see their volume pick up, with large trading eventually closing the discount, making for a very solid gain. Otherwise, this is dead money and if the base metals rally (DBB is one-third each of copper, zinc and aluminum) then you're going to be selling out of a very illiquid fund into a weak market. These shares cannot be bought and sold at this time except with limit orders.
I initiated small positions in both BOS and BOM earlier this year. BOM is the better bet for seeing high volume, but the discount in BOS is so low.......