In my first article about Dow Theory and the current Bull Market which began in the Spring of 2009, I promised subsequent articles showing applications of the Theory to later stages of our Bull Makret, which in my opinion is still in progress. My apologies for the delay: this beautiful New England weather has me cycling (thus my namesake) alot more than I ever imagined.
The Dow Theory can be cumbersome to explain, so lets summarize only the relevant portions of this article. Given that a Bull Market is now in progress, 'confirmation' of that Bull Market occurs when
a secondary reaction against the trend meets the dual criteria of extent and duration, and
subsequent price action takes both the industrials and transportation averages (DIA and IYT) to new highs.
Let's look the first test of our bull market in the summer of 2010. In fact the summers have been a nightmare for followers of stocks, with weakening economic data in the US and scares from Europe causing stocks to zigzag erratically. Below is the chart for the Dow Industrials showing price action in the second half of 2009 and all of 2010.
(click to enlarge)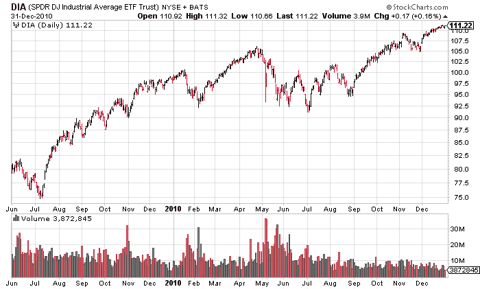 Click to enlarge
All the zigs and zags in Autumn and Winter met neither test for duration (more than 3 weeks, and preferable much more) nor extent of price action. However, the selloff that began in late April and ended in early June was a matter of concern. Did the rally in June and subsequent fall to lower prices in July signal a new bear market? Perhaps a look at the Transports will help us make a clearer judgment.
(click to enlarge)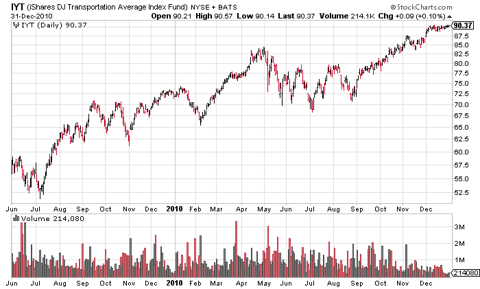 Click to enlarge
The Transports chart looks eerily similar. But notice the rallies against the secondary reaction in June: they were short pops lasting only a few days! Thus, most analysts reached the conclusion that the declines from late April, to early July of that summer constituted one, single secondary reaction. If a rally could take prices to new highs, the bull market would be confirmed. If a major price advance failed, and prices fell below their July lows in both indices, a new bear market would be signaled.
As you can see, despite another head fake in August, that is what happened. Both Averages rallied to new highs in late October. So, happily for longs, the bull market was still in progress.
My Third article in this series will pick up market action through all of 2011 and into 2012.