Cancer Genetics Inc. (NASDAQ:CGIX) is a leader in DNA-based cancer diagnostic s. The company has developed molecular diagnostic tests for hematologic, urogenital, and gynecologic cancers. The company estimates the addressable market in the U.S. to be $6 billion, and $15 billion worldwide. The testing company that is underpriced relative to valuations of competing companies and recent M&A activity for molecular diagnostic companies. The current market cap of CGIX is $164 million.
Foundation Medicine, Inc. (NASDAQ:FMI) offers a molecular information product for analysis of cancer specimens has a market cap of $842 million.
Exact Sciences Corporation (NASDAQ:EXAS) is a molecular diagnostics company that has developed a non-invasive cancer screening test currently has a market cap of $921 million.
Genomic Health Inc. (NASDAQ:GHDX) provides an invasive breast cancer test and colon cancer test and has a current market cap of $925 million.
In January 2013 Illumina paid $450 million to acquire Verinata Health, a private non-invasive fetal chromosome testing company.
In December 2012, Amgen paid $415 million for diagnostic testing company deCODE.
In January 2011 Novartis paid $470 million for diagnostic testing company Genoptix.
In October 2110, General Electric Healthcare paid $580 million for a leading provider of cancer diagnostic testing, Clarient.
These competing companies all carry valuations of 2.5 times or greater than that of CGIX.
The stock is also trading well below analyst targets.
On May 21, 2013 Feltl & Co. initiated coverage on the stock at a Strong Buy with a price target of $24 and has since raised their price target to $30.50 on October 2, 2013.
On September 26, 2013 Aegis Capital initiated coverage as a Buy with a price target of $25 has also since increased its price target to $32 on November 14, 2013.
On October 10, 2013 RedChip Research reported a target price of $26.75.
These estimates are 50% - 80% higher than the stock's recent trading price of $17.74.
The stock has been very strong in a weak market. Shares are up over 25% in 2014 and appear ready to move into the $20 to $22 price range and test its old highs. Activity in the stock has picked up recently as the company's CEP Panna Sharma was featured in an interview on "The RedChip Money Report: Small Stocks Big Money" television program which aired January 30, 2014 on Fox Business. Three of the four highest trading volume days of 2014 took place the last three days of January 2014
(click to enlarge)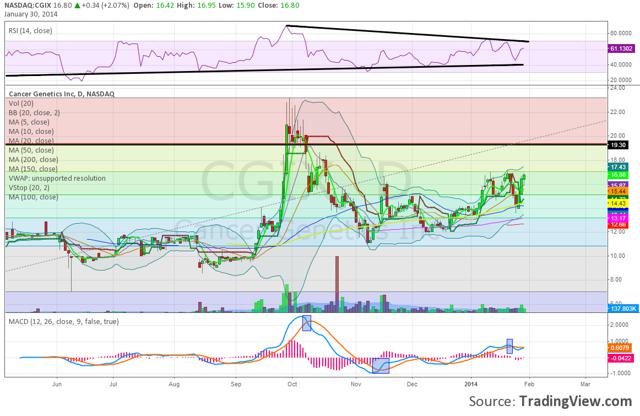 Click to enlarge
After the company's IPO at $10, the stock traded as low as $7 in June 2013 after announcing a secondary offering in August that would price at $10. After the secondary was completed the stock traded over $20 in late September and October and would trade as high as 230% of the secondary price.
A similar pattern looks to be unfolding after another secondary offering at $14. The dropped down and traded as low as $11 in November 2013 and then moved up after the secondary was complete to trade between $14 and $16 for the remainder of 2013. If the pattern repeats itself, expect the stock to break into a new trading range above $20 and create a new high for the stock.