Friday's action was quite bearish for the market, or was it? It is not a good thing to see the market gap higher then fall flat on its face. We'll take a look at the QQQs to see what happens when the ETF stages an outside reversal day.
Friday's Chart: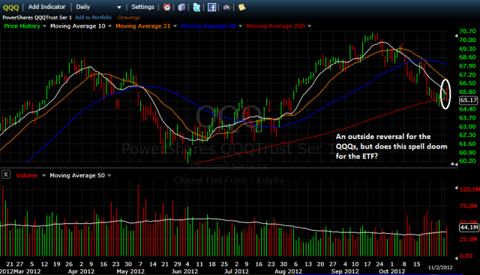 Crunching the numbers here is what stands out:
The average return following the outside reversal:
1 Day - (.23%)
5 Day - .00%
20 Day - .68%
30 Day - .44%
Comment: Things aren't all that bad, right?
The Best Performance:
1 Day - 10.42%
5 Day - 16.63%
20 Day - 12.12%
30 Day - 28.25%
Comment: As you can see, if you go short this signal you best cut your losses REALLY FAST.
The Worse Performance:
1 Day - (8.21%)
5 Day - (13.63%)
20 Day - (10.38%)
30 Day - (58.28%)
Comment: When it gets bad, it can get real bad!
Final Thoughts:
The odds of this pattern working (short side) across the four time frames is 43%. I wouldn't be all that excited, but remind you this analysis does not take into consideration if the QQQs was in an existing downtrend or any other special situation. This analysis is the 50,000 foot view of what happens when the market notches an outside reversal.
Disclosure: I have no positions in any stocks mentioned, and no plans to initiate any positions within the next 72 hours.