By: BigWaveTrading Team

It finally happened, stocks could not find the muster to continue their march higher.  Volume was running hot during the first half of the session.  Sellers stepped up and hit stocks, but volume began to ease and it continue to ease into the close.  Stocks simply can not go straight up EVERY day and there will be normal reactions and today we were handed a normal reaction.  Even with positive economic news including a big jump from the Philadelphia Fed Factor index couldn't help stocks continue their winning streak.  Regardless, the market had other ideas and was simply far too extended to continue the winning streak.

There was one blow up today among leading stocks as STEC dropped nearly 17% on an analyst's note the firm would face competition in the near future.  The analyst dropped its price target and the stock followed suit. Volume was massive on the decline and if it weren't for STEC the leading stock index would have been flat on the day on lower volume.  If more leading stocks suffer the same fate this market will not go any further.  However, before we sound the alarm on the market we only have one big blow up and it isn't time to get skittish.  On the flip side, we had plenty of nice stocks move higher on nice volume.

I do expect the market to have natural reactions as we move higher, it is apart of the natural cycle.  We still do not have ANY distribution days on the NASDAQ so any pull back here is not concerning to me in the slightest.  If we did have 5 or 6 and with leading stocks acting like STEC I would be a bit nervous.  Until we begin seeing more leading stocks breaking down and distribution pile up this market will want to continue to move higher.

Interestingly enough Point and Figure chart for the NASDAQ shows a price objective of 2500.  Here it is: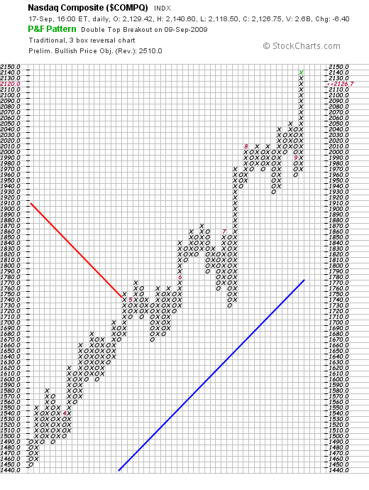 Click to enlarge

As you can see this point and figure chart price action is indicating higher ground.

At this point in time, if you are going to chase a stock that has broken out you are going to be too late.  Chasing stocks is a terrible habit to get into, getting stocks as they breakout or bounce off support is the ideal entry.  Volume is an important key to the picture as it tells you the strength of the move.  Without volume you are not increasing your odds on grabbing a stock that could be a Monster Stock.

This market will continue to be elusive to those who are trying to outsmart.  The market will always be the winner in the end and it is best to play along rather than fight it.  Remember the golden rule of speculating:  do no harm.