The wild ride continued on Monday follow Friday's action stocks sold off easily as the NASDAQ moved down with ease.  Volume simply couldn't keep up with Friday's option expiry pace.  By noon time it appeared the market was unable to find a bid and lower the market was going to go.  Many leaders were selling off along with the market confirming the move lower, but the market wasn't about to change character just yet.  Since February 5th the market has been able to find support at their lows and it has been its character ever since.  Monday wasn't any different as support did show up, but a few leaders lagged behind the support at the end of the day.

It could be a changing of the guard, but there were a few leaders that were left behind as the market closed well off its lows.  This isn't necessarily an overly bearish signal as they did sport small tails on their daily charts.  Ideally, we would have liked to see these leaders actually close positive on the day rather than limping into the close well behind where we would have liked to have seen these stocks.  Is it the end of the world, no it isn't, but it'll be something we'll be keeping an eye on.

Check out the the VIX around its 50dma, the "fear index" certainly didn't look like it could hold higher levels.  The rejection at the 50dma suggests sellers simply lost their luster today.  A normal reaction will be for the index to march lower and consequently will have the market move higher.  Check out the reversal the VIX index put in.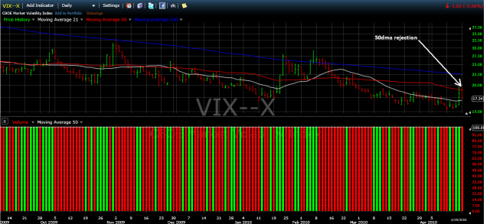 The breadth and new highs we saw on Thursday is showing that this uptrend will have longer-term trend is sustainable.  Bull markets, or uptrends, or whatever you would like to label this market will often undergo a handful of corrections before ultimately topping out.  On average these uptrends will last 18 months.  Right now this uptrend is just over 13 months old and we have plenty of top callers foaming at the mouth to "pick the top."  It really should become a national past time for many as they can't seem to NOT call tops.

Are we closer to a top, more than likely, but was Thursday the top, probably not.  Odds are this uptrend will continue when we see the amount of new highs and breadth at our most recent highs.  It is possible we get a 4-8% correction like we have seen since March, but an ultimate top is not as likely as many may think it is.  Further weakness in leadership would certainly increase the odds this market will correct further than the 2.6% correction we have seen from Thursday's high.  It is a little crazy to think we are thinking about a top when the market is less than 3% off its highs.  We'll keep on top the leaders and if any weakness continues we'll certainly adjust ourselves accordingly.

Always cut your losses and stay disciplined!


Disclosure: No Positions