Narrowing down the best stocks, a key component in finding market leaders, is finding big growth in fundamentals.  Huge sales and earnings per share growth are pieces to the puzzle, but not everything.  Not only does a stock need the growth it needs to be in a leading industry.  The biggest winning stocks of all time all have come from a leading industry.  A leading industry currently is the Internet-Network Solutions. 
We are in a virtual world and part of this world is the internet and delivering services means you need solutions to provide for your customers.  Akamai Technologies Inc (NASDAQ:AKAM) is a top stock in the group assisting its customers in delivering content and applications over the internet.  It is a top stock for its ability to churn out growth and not to mention institutional support.
Over the past three quarters earnings growth has been as follows:  5, 13, and 17%.  Acceleration in earnings growth is a big positive, but it goes for sales growth too.  Over the past four quarters sales grew from 5, 12, 14, and 20%.  These aren't explosive numbers, but the 284 funds who own the stock are betting on continued acceleration in fundamental growth. 
We can even point out a return on equity of 16% and cash flow at two dollars a share adding to the fundamental picture, but the added benefit is the chart.  AKAM has gone onto form a double bottom base, a first stage base.  A normal double bottom base looks like a big "W" where the second leg down takes out the first leg down.  The midpoint of the "W" should form in the upper half of the pattern, but being a first stage base can cough up great returns. 
AKAM second leg down has volume much higher than the first leg which is a flaw, but if volume accompanies a breakout the flaw can be overlooked.  The proper buy point is 46.09, but we'll need to see volume 50% higher than its 50dma to trigger a buy signal.  Your cut loss would be if the stock closed below its 50 day moving average.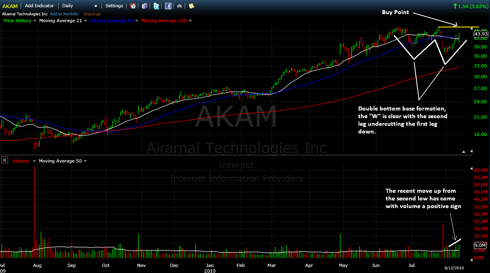 Disclosure:
No Positions