The S&P 500 lost 1425 and this chart from NFTRH 210 shows why this former support level is important. Get above it and SPX is off to the bull races; stay below and be subject to the next level of support at 1375, which is the current target based purely on technicals.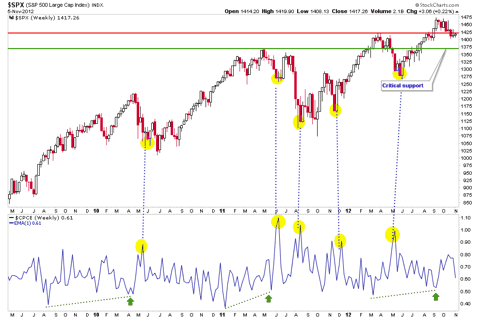 The US presidential election is a big wild card in the middle of the analysis right now, but the raw technicals say that any negative reaction to the election had better be contained at 1375 or else the near term bullish phase - that remains intact with a series of higher highs and higher lows out of 2011 - would be under threat.
The lower panel shows the Equity Put/Call Ratio's 1 week moving average. The green dotted lines show that it tends to make a higher low into significant tops, which have come three times within the bull market out of 2009. This is a warning sign on the SPX that while the bull trend is technically not over until it makes a lower low beneath 1275, a lot of damage could happen if the correction gains momentum.
So it is critical to the bull case that SPX get above 1425 and failing that, hold 1375.