They will tell you that the market is celebrating the Intel results, the Goldman results... the man on the moon. Whatever investors want to lap up.

What the market is celebrating is a global economy, led by the United States, willing to eat its seed corn to keep the illusion of growth and prosperity alive. In short, we are celebrating denial. The true measure of our celebration should be honestly defined as our ability to devalue the currency.

Tell me, with these great results and economic indicators, why is Uncle Buck not rising? Why?

Why? Because inflation is baked into this cake as far as the eye can see. A while back, with long term interest rates threatening a secular break to the upside I showed a compelling chart, the underlying message of which was that policy makers needed a bout of deflation fear to reload their inflationary guns. If this is all we are going to get for a deflation impulse - and surely you know that is far from a given - then it is look out below for the dollar and Bananaville here we come.

Oh, by the way, I have covered the shorts (at a manageable loss - you don't fight these guys as a hero) and just enjoy the proceedings as a gold stock bull for now. It looks like 'C' leg here we come. A time to short once again may yet present itself.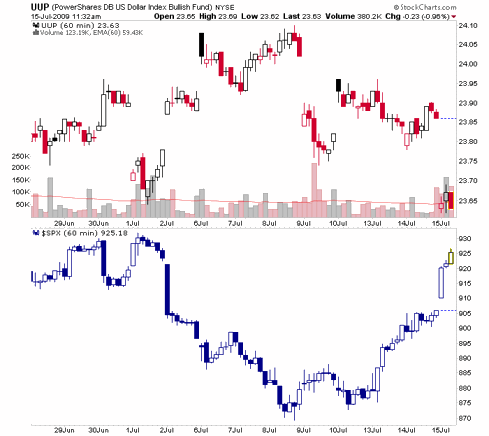 Click to enlarge