I worked up this daily chart in the comments section of the weekly view posted below.  *** Hey, why not sign up for Disqus and comment?  I require sign up because there are some freaks out there that like to post crazy things anonymously (I get a record of IP addresses), but it is easy and non intrusive.  I know many blog readers are people who's opinions I greatly respect, and I'd love to hear more of 'em.

Anyway, I have added some panel indicators to the log chart and theorized a neck line of an H&S-like object.  Interesting how the neckline intersects the 200 day moving average and the next preferred weekly target.

Confluence is a good thing in markets because the more data points you can get to indicate an outcome, the better.  So, while a reader put up a nice chart showing SLV holding a trend line, I am going to lean toward it breaking and flushing out some hangers on before any kind of strong rally activity can be expected.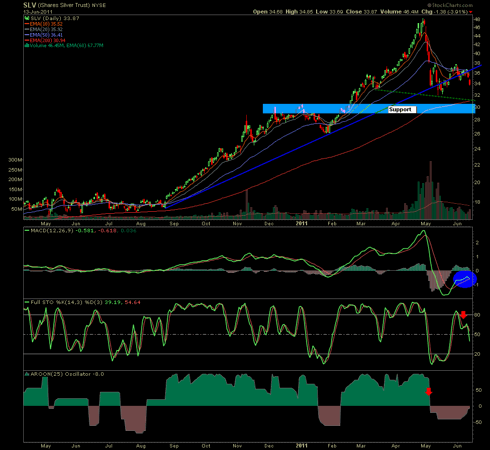 http://www.biiwii.blogspot.com
http://www.biiwii.com