Take a look at IYR. Take a look at the target, it's a measured 51.50 off of the broken neck line of an inverted H&S-like object. The reason I say H&S-like is because, like the broad markets, this is thing did not fall far enough and chop around before the upward thrust and we are floating higher on summer volumes.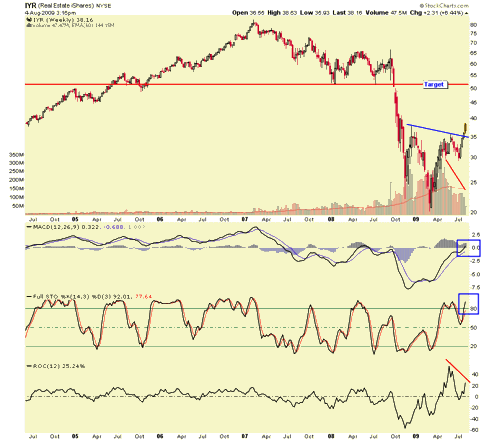 But the target is the target and it probably doesn't care how it gets achieved. If it's summer hopefulness then so be it.

I did short China again yesterday however, in my chronic attempt to catch one or more of these ponzi schemes. Also, I have a bid in for calls on the VIX that may or may not fill if the market gets one more strong spike higher. Yikes. But I think I will leave real estate alone for now. Oh, I also tried to short that HYG chart in the post below, but no shares available. Now, I am well long - mostly miners - and cash. Don't get me wrong. I think shorting here is anything but a no brainer.